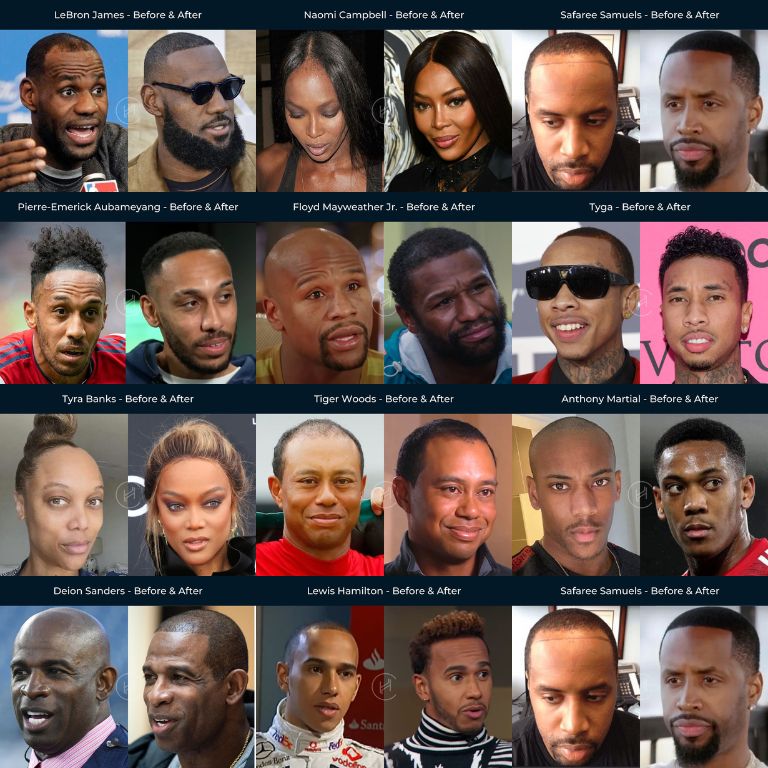 Most, if not all celebrities will undergo one or more cosmetic procedure throughout their career to preserve a youthful, pleasant, and put-together-looking persona.
In this article, we will analyze the changes in the hairlines of some of the most popular black celebrities who may have had hair transplants. We will also go into the technicals of the technique used and number of hair grafts transplanted.
Now, let's take a closer look into possible hairline restorations of black male and female celebrities from a technical perspective.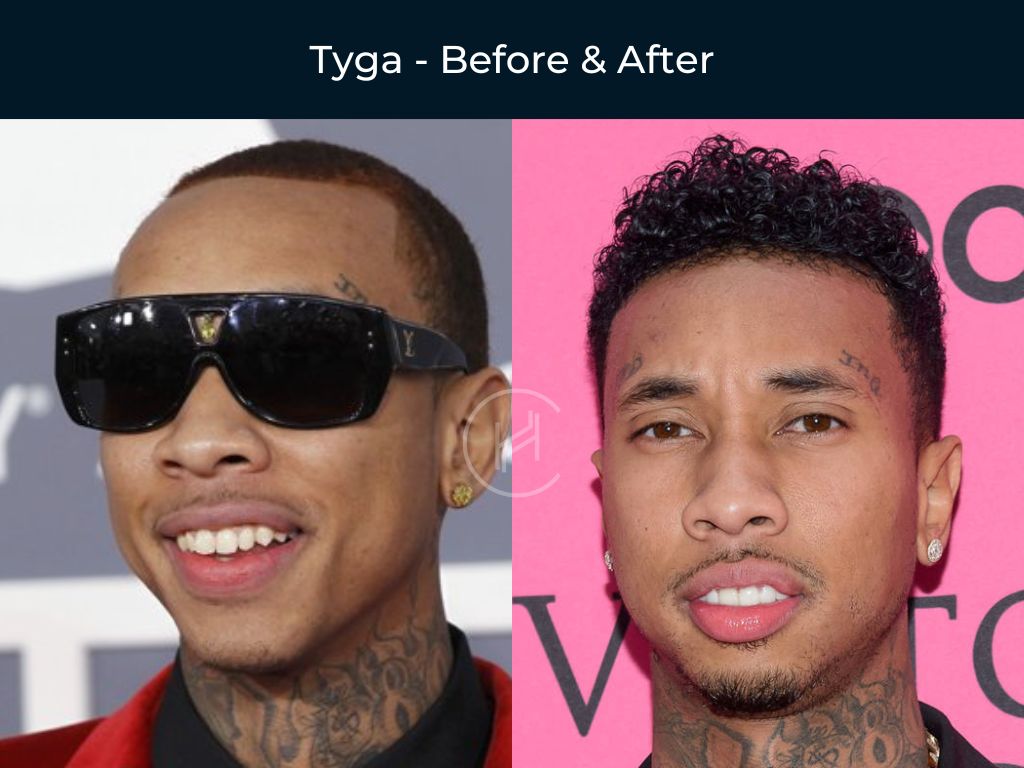 Tyga
The joyful rapper, singer, songwriter, actor, and television personality has unquestionably the greatest hairline of all time as a result of a hair transplant procedure. He was quick to claim his hair transplant after someone else spilled it on social media. Tyga was pretty comfortable about it and has even recommended his surgeon by revealing his name and surname.
The technical details of what he had exactly got done are our business and we say that prior to the procedure, Tyga was at a Norwood stage 3 with a wide forehead. He had his hairline lowered and filled with an estimated 2000 to 3000 grafts transplanted. A job well done before the level of baldness became more obvious.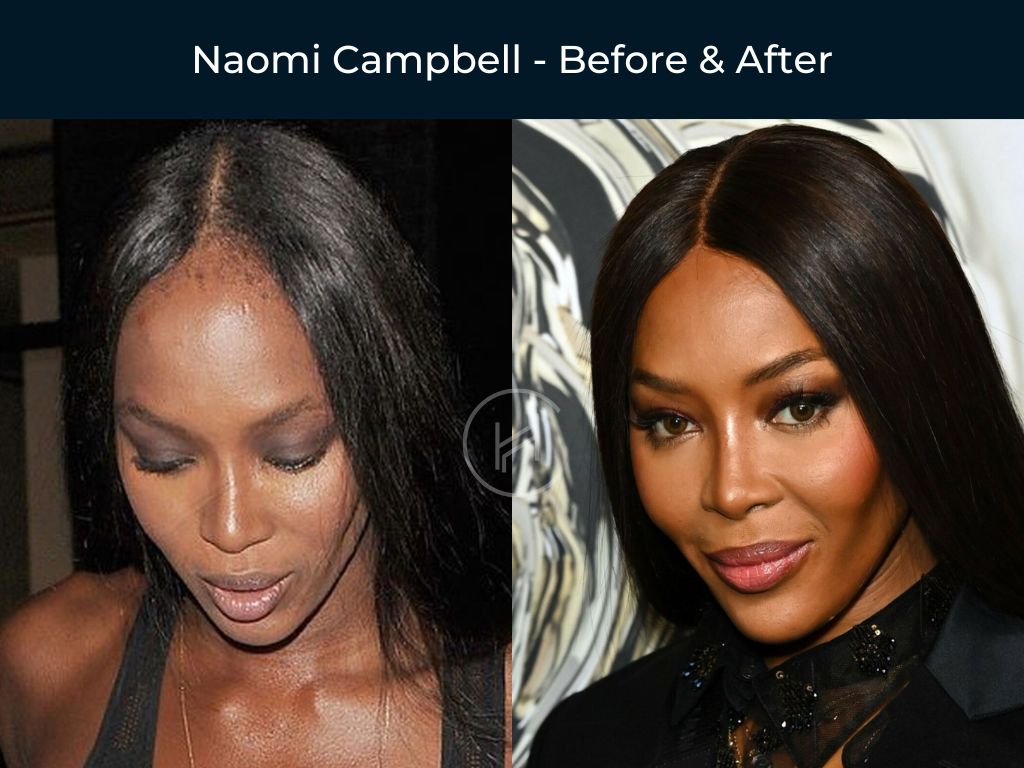 Naomi Campbell
It's no secret that the former top model was suffering from significant hair loss, especially around her temples. Over many years she hid the signs of a condition called traction alopecia with bangs and covered the thinning areas with different hairstyles. Her condition may have been caused by using hair extensions and braids when the hair follicles are stressed with constant strain.
In the case of females, it is much harder to determine how many grafts there have been transplanted because they don't go around with a shaved head or short hair like men do. In Naomi's case, although she says she is simply taking better care of her hair to grow new hair, we suggest she has had at least 1500 grafts transplanted on both sides of her scalp.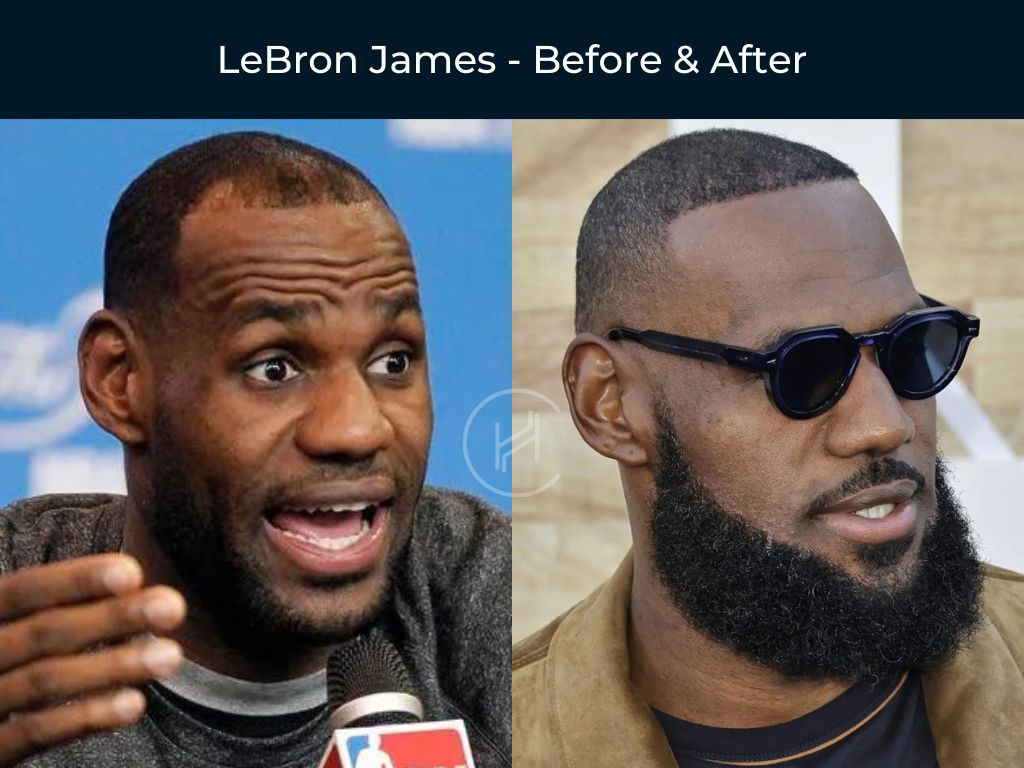 LeBron James
LeBron James used to hide his thinning hairline with large headbands in the not-so-distant past. In time, he must have realized that it didn't cover the obvious balding of his crown area.
When he appeared with a head with youthful, lush, and dense hair, it provided enough evidence that he had done something. His last pictures before the alleged hair transplant in fact reveal that he may have had several hair transplants most likely being a strip surgery followed by a FUE. He was probably a Norwood scale 5 before the interventions with at least 3000 grafts transplanted to restore his hairline in our view.
On top of that, he must be using hair fibres and concealers to make sure his hair looks nice and thick.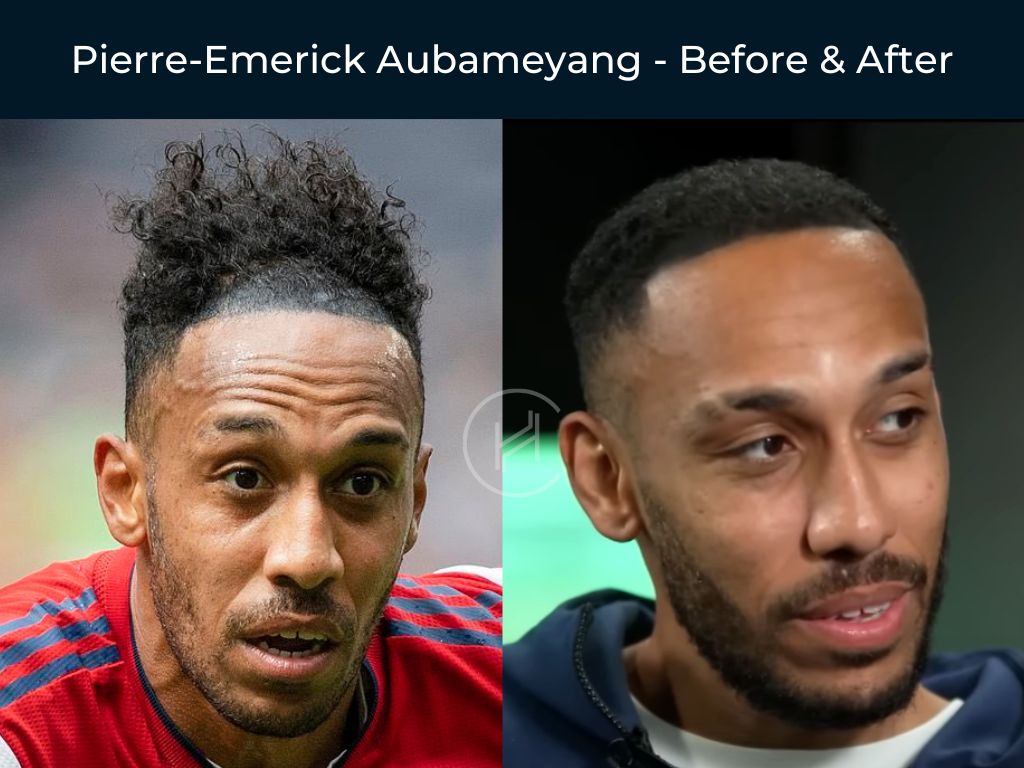 Pierre-Emerick Aubameyang
The lightning-fast premier league striker looks like he has brought his receding hairline visibly forward for a fresher look. The 33-year-old has sparked the interest of fans due to this sudden and dramatic change in his hairline.
The change is more likely to be a hair transplant. However , Aubame has not made any comments on this topic. Hair fibers, or another type of temporary implant are also the potential solution, but since he's a sportsperson running after a ball and sweating, using a glued headpiece or marking his hairline are really bad ideas.
In the event that the hairline correction is a proper hair transplant, as we suspect, it probably took 2000 to 2500 grafts to bring forward his receded hairline.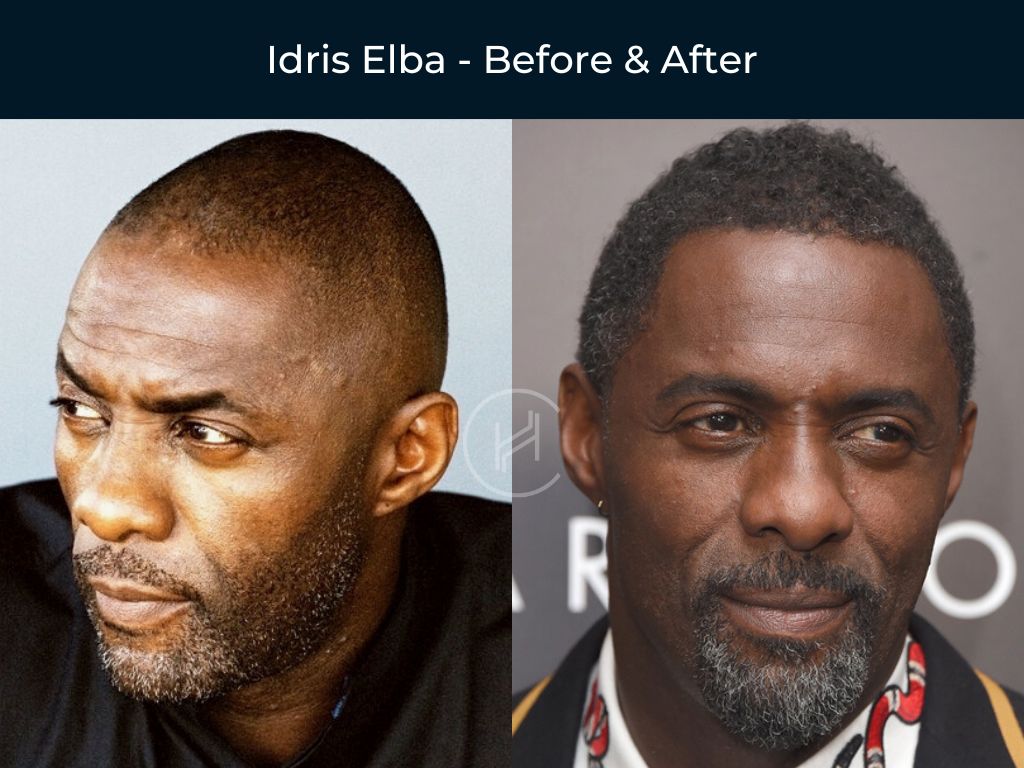 Idris Elba
Starting from his late 30ies, Idris Elba's receding hair can be easily observed from his pictures and movies. His hair has been probably just thinning due to aging which he managed to reverse before anything too obvious was noticeable to the public eye.
There have been claims on Twitter by his close friends that he had undergone a hairline correction procedure and we must agree. Although ever so slight, the big difference in Elba's hair is not necessarily a dramatic change in his hairline but the density. It can be observed that the Golden Globe winner has had around 2000 hair grafts transplanted at his temples and hairline.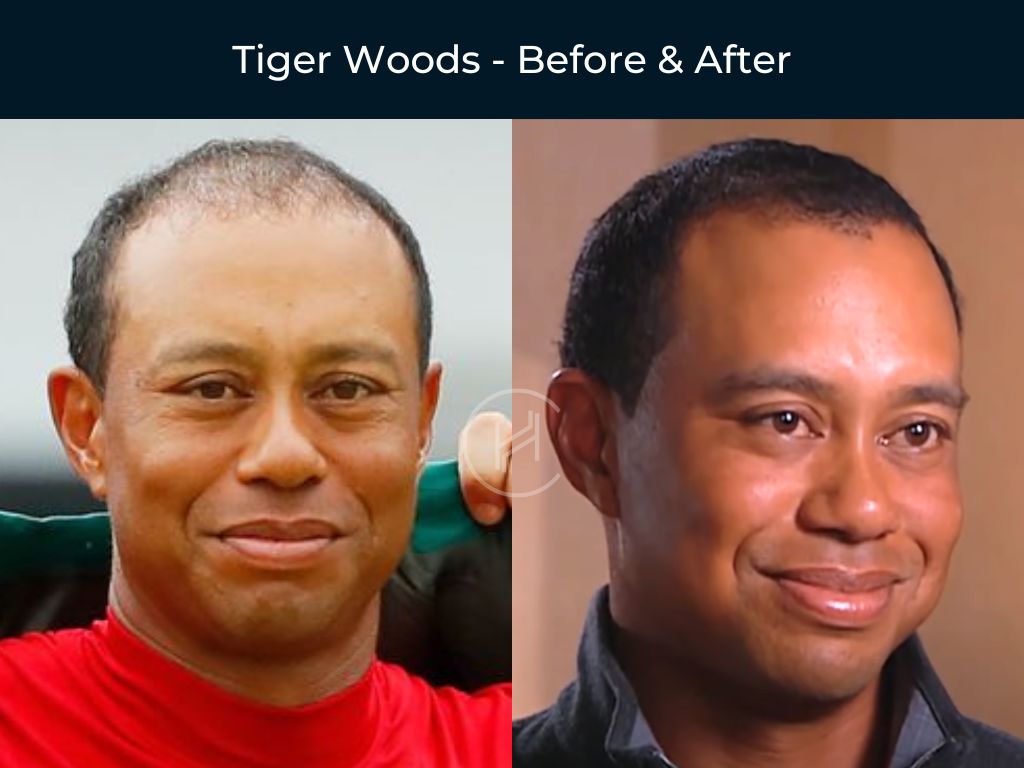 Tiger Woods
The world-class golfer has been battling with thinning hair since he was in his early 30s. Observed in 2019 with a Norwood scale of 4 to 5 balding, Woods finally started talking about his rapidly thinning hair in interviews.
Despite the fact that there's also the typical strip surgery scar at the back of his head, there isn't solid evidence just yet to indicate a hair transplant surgery. Our recommendation is that he gets his second hair transplant done sooner rather than later to avoid going completely bald.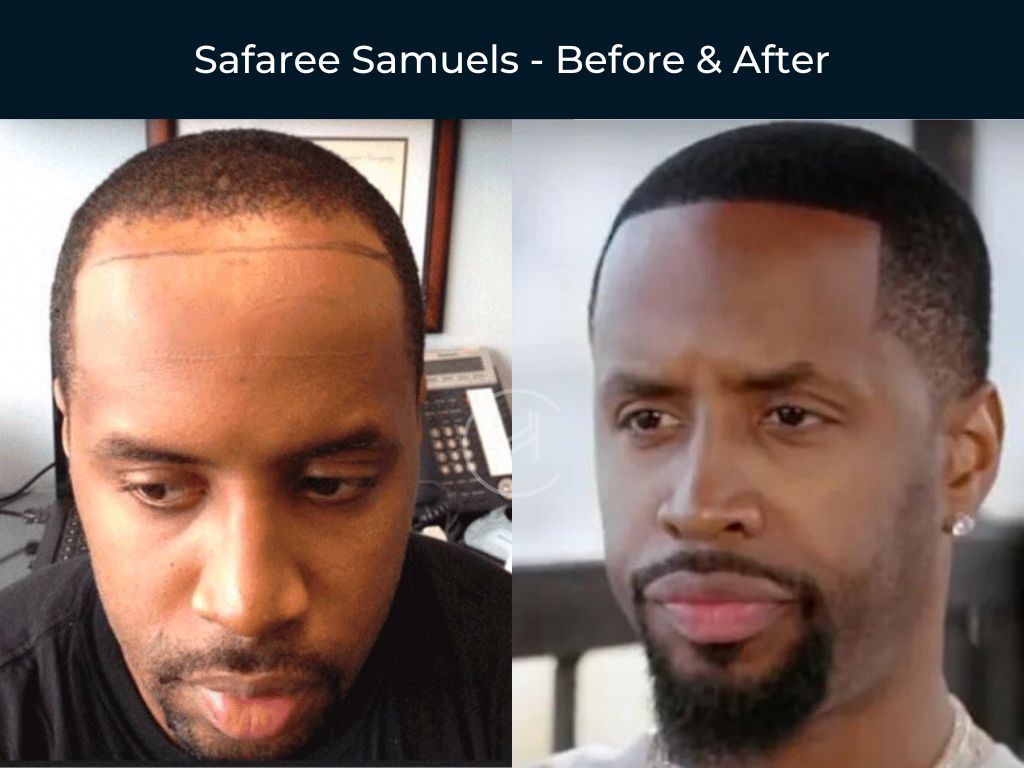 Safaree Samuels
It is known to the entire world that the hip-hop artist has had his hairline retouched. He chose to get a straight hairline which brought quite a few inches to the front. The topic was made public on social media by his ex, Nicki Minaj when she started a public discussion with her ex, Safaree Samuels.
It looks like a clean hair transplant of probably 2000 – 3000 hair grafts, which is sufficient for a Norwood 3 stage hair loss. Taking the temple areas into consideration, the hairline correction seems to be done using the FUE technique.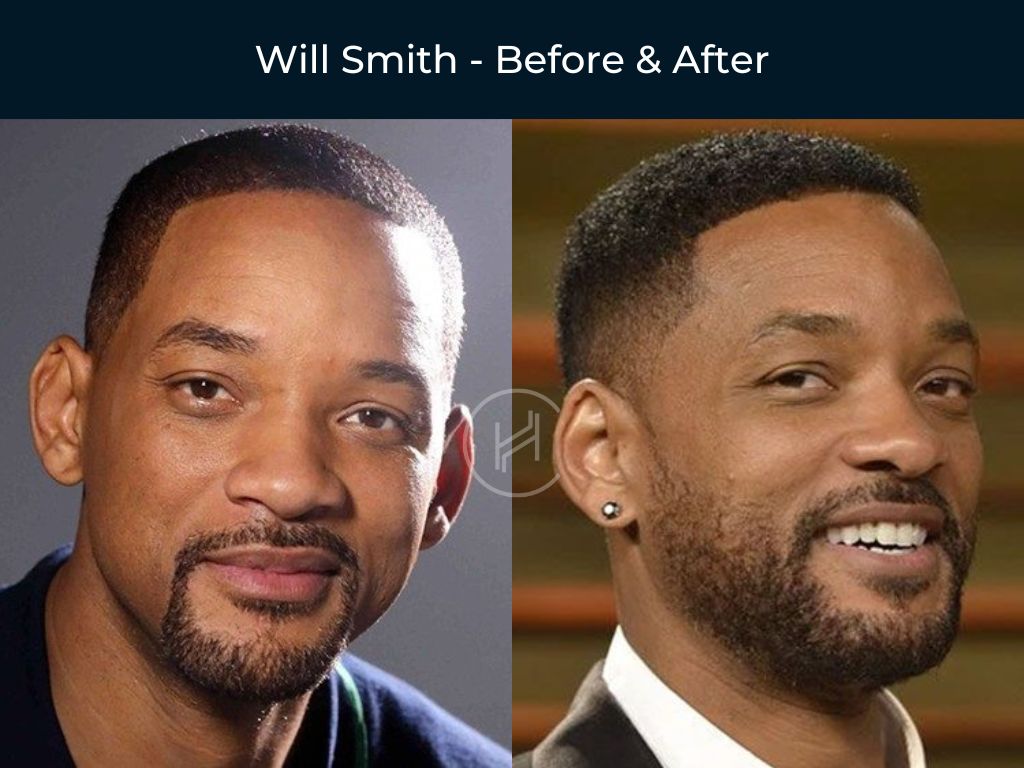 Will Smith
Talked about more than ever after making an unexpected scene at the Oscars, the 54 year old is still sporting a baby face with perfect, dense hair.
Will Smith may be one of the most difficult cases to determine if he has undergone a hair transplant. Comparing his age with his temple areas and hairline, they are still in perfect condition which biologically is not possible as we age. We could say that he may have had gentle touches to keep his hairline intact. A smart move indeed, to prevent the looks of visible hair loss and that of portraying a post-op healing time with scabs.
It is therefore hard to say whether he had a hair transplant or how many hair grafts he may have gotten transplanted to keep a perfect hairline.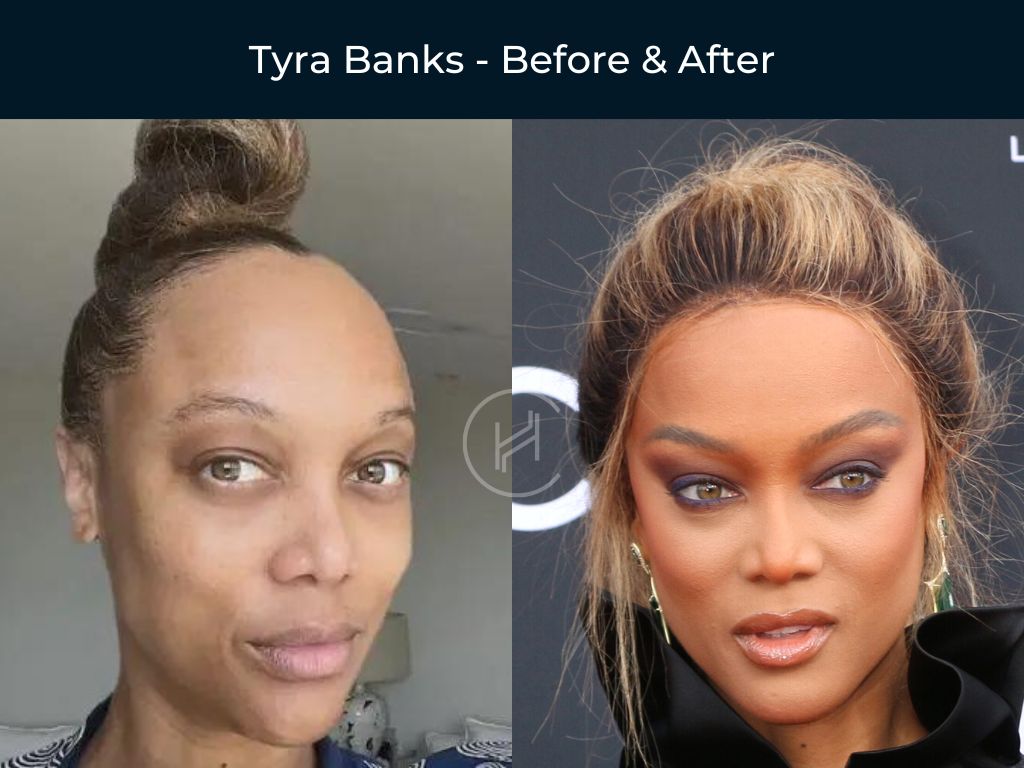 Tyra Banks
Tyra Banks, the host of America's Next Top Model, has acknowledged having alopecia areata. Stress is a common cause of alopecia areata, which may cause patchy balding. In her book from 2011, the former top model discussed hair loss in detail. She stated that she lost self-confidence as a result of excess hair loss, brought on by high-stress levels.
This was the point when she decided to get a transplant and joined the list of black female celebrities with hair transplants. Like other female celebrities, it is hard to tell how many grafts Tyra had transplanted on her scalp and where.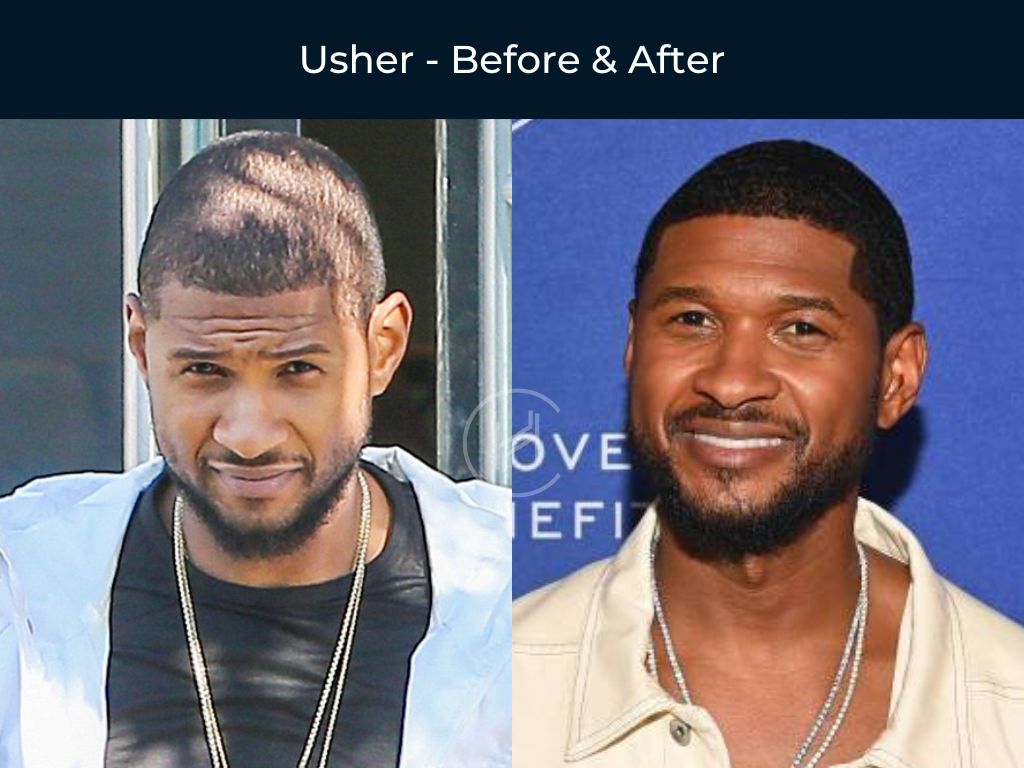 Usher
The famous R&B star who never seems to age still boasts an abundance of dense, afro-textured curly hair at age 44.
We do not see any evidence of hair loss nor a reason for a hair transplant for someone who is in the public eye this much. Always rocking his hairdos, Usher's pictures over the past two decades look pretty much the same, as if he has not aged at all.
So, not much to comment on from a hair transplant point of view here. Maybe in the decades to come…
Lewis Hamilton
Pre-transplant pictures of Hamilton signal a Norwood scale 4 level of baldness relatively early in his mid-twenties. Although he never admitted to having undergone any hair procedure, he must have come to realize that he needed to do something to save his looks.
Our opinion is that his hair loss was corrected and densified playing around with 3000 to 4000 hair grafts. The truth is that he may have ended up with a bald head, may he not have paid attention to his severely diminishing hairline. Able to opt for his favorite hairstyle of braids again, Hamilton now appears not only more confident but also more "himself".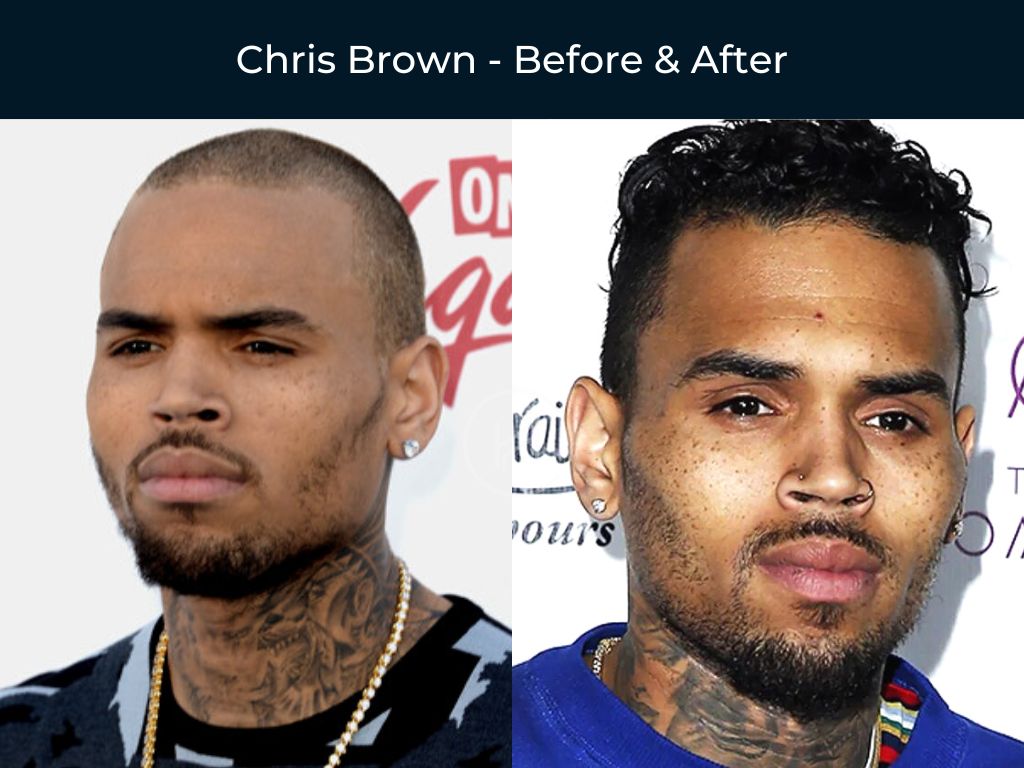 Chris Brown
Despite being observed with more hair density than before, Chris Brown, experiencing hair thinning since an early age, has not admitted openly about having had any hair transplant surgery done. A typical celebrity behavior that we aren't here to judge.
Dyeing his hair frequently to vibrant colors, it is possible that Brown unwillingly mistreated and damaged his hair as a result of being in showbiz. Back to his hairline and hair density, we could talk about a possible hair transplant that is characterized by his very straight hairline and forehead. If true, it must have been just around 2000 grafts, filling in where necessary, naturally.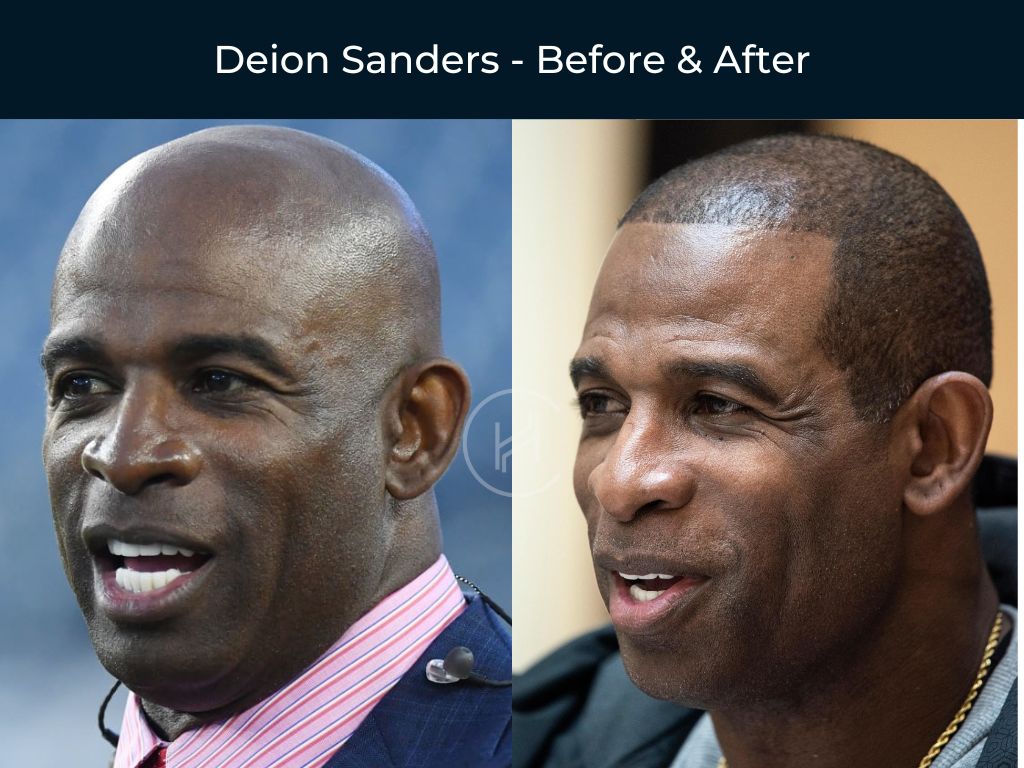 Deion Sanders
Sanders is a brave man for acknowledging how hair loss affected his self-confidence prior to having the hair transplant procedure. He was aware that afro-type hair has a higher failure rate in hair transplants unless your surgeon specializes in carrying out these procedures on afro-type curly hair strands.
Sanders got a dramatic change following the hair transplant where his own hair grafts were harvested from where he had it plentiful to the frontal, balding areas. At the time of his hair transplant surgery, Sanders was at a Norwood scale 6 level of baldness. He has got more than 7000 grafts transplanted with the FUE technique and has made it clear how much he loves his new, youthful hair.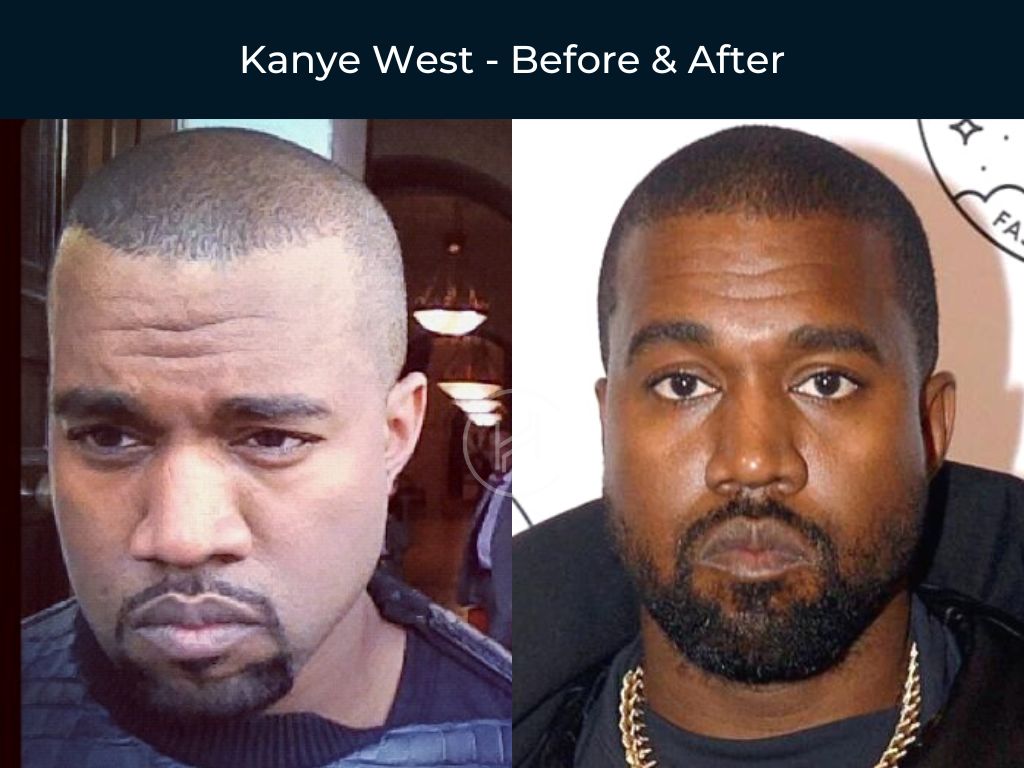 Kanye West
When observed in fine detail, Kanye's photos from his mid 20ies already indicate frontal temple recession along with hairline thinning.
Kanye West seems to have managed his hair-thinning situation until his mid-thirties when he no longer could control it without undergoing a hairline correction. In his pictures aged 38 and 39, we see an altered hair density on both sides of his head.
Similar to Chris Brown above, he must have undergone a subtle, natural FUE hair transplant less than 2000 grafts being transplanted.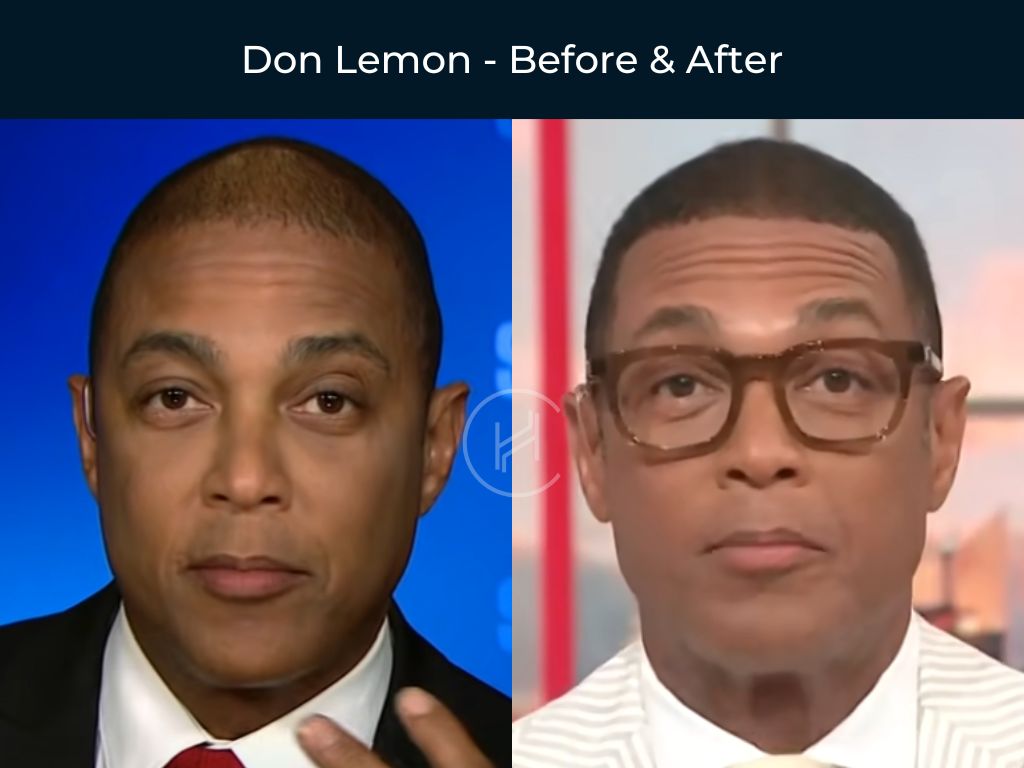 Don Lemon
The CNN anchorman must have opted for a hair restoration solution over a comb-over as he did not find any logic in sparing too much time covering balding spots every day. It's not certain whether he is using hair system or had a hair transplant, but being on TV daily for 2 hours, he sure took the wisest decision.
If his corrected hairline is the fruit of his latest hair transplant procedure, around 2000 grafts must have been implanted.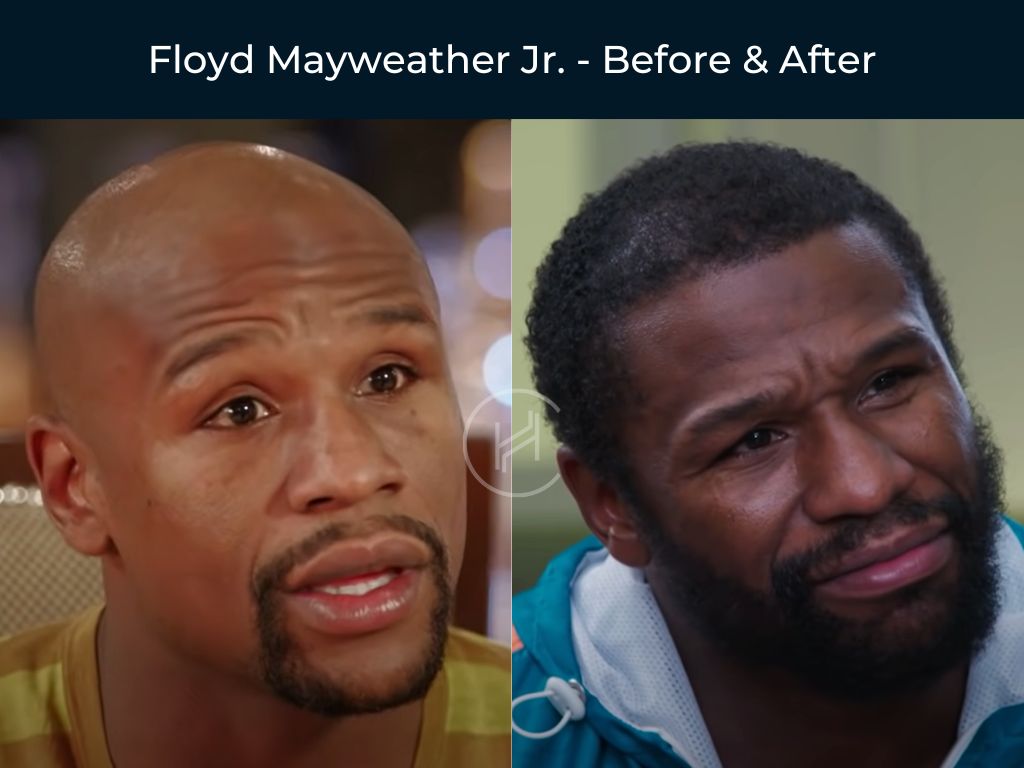 Floyd Mayweather Jr.
Among celebrities open about their hair transplant, Floyd Mayweather has been quite the showman. In order to treat his receding hairline, Floyd Mayweather Jr. underwent a hair transplant and he also had a beard transplant done on his cheeks. Leaving the beard aside, the thinning on his hairline can be classified as a Norwood scale 5.
6 to 8 months following the procedure, his beard could be observed nicely and smoothly blending with his hair, indicating a successful and skillful operation.
The total number of hair grafts harvested and transplanted must be around 4000 grafts and the procedure was clearly done using the FUE technique.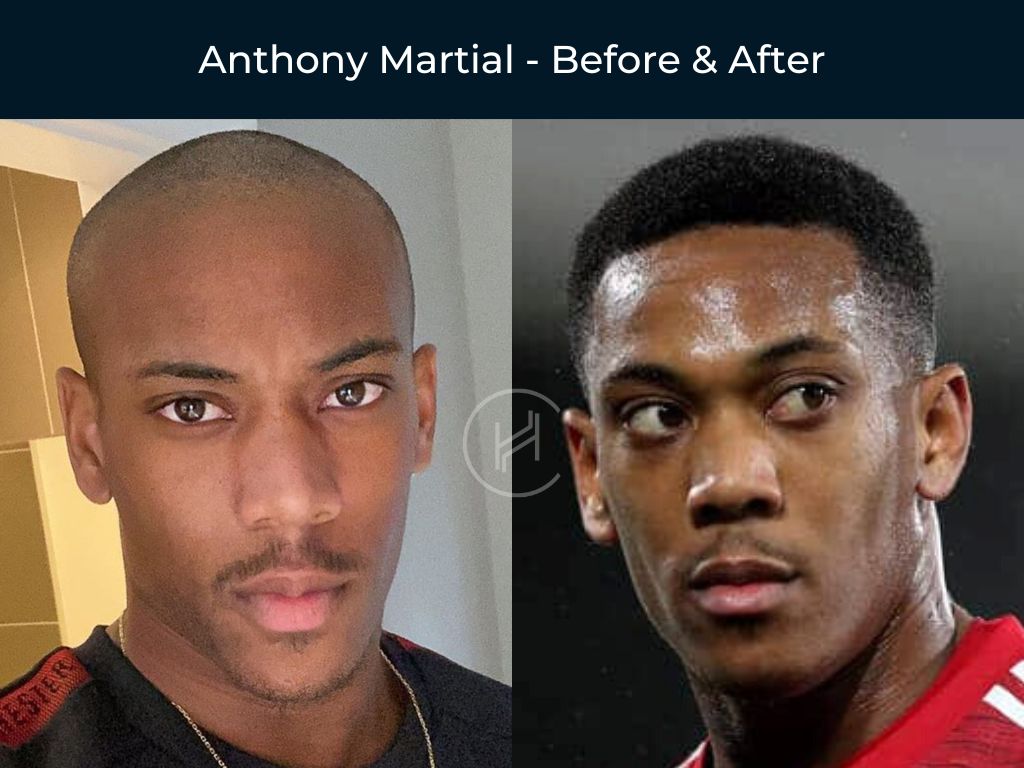 Anthony Martial
The young, French footballer of Manchester United is still revitalizing after an injury as we speak, before returning to the stadiums. Having all the skills and tools to shine, Martial has lately caught our attention from a hairline point of view.
Whether it's scalp micropigmentation, hairline lowering, or both, Anthony Martial's hairline looks visibly sharper and more straight compared to his pictures before. Anyone can spot that his hairline moved almost 2 inches forward.
If this has been done through a hair transplant, it would indicate the transplantation of around 2000 hair grafts to redefine his hairline.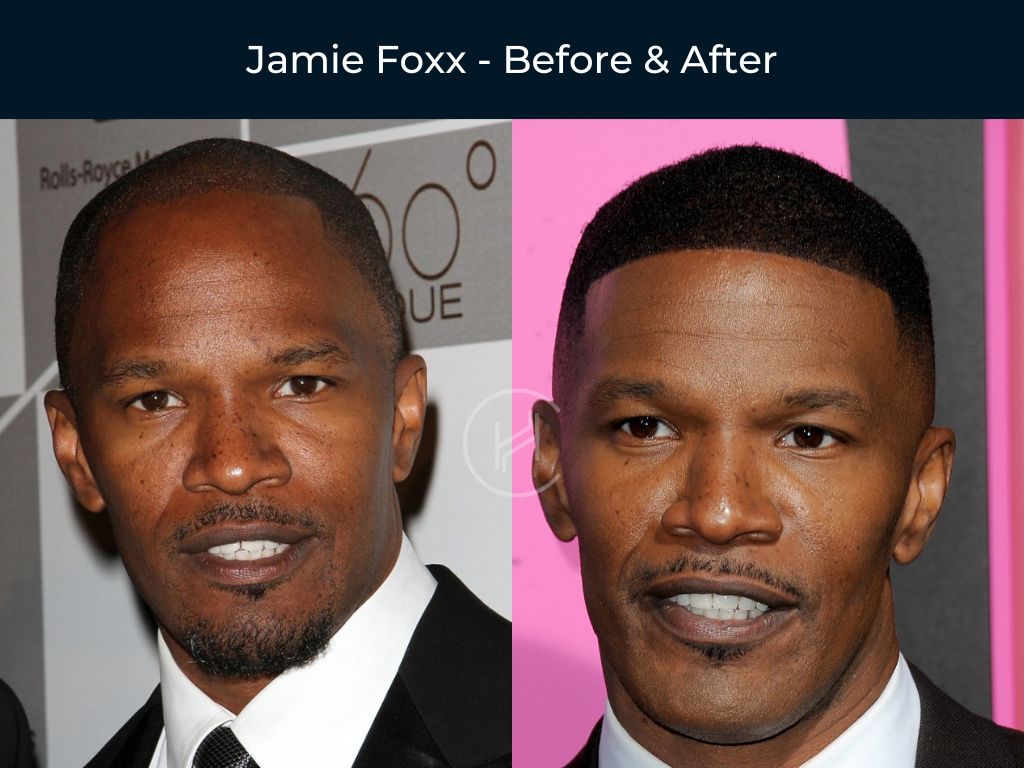 Jamie Foxx
The charming 55 years old actor may have upgraded his looks with a hair transplant, according to the pictures taken over time. He simply emerged one day out of nowhere with a healthy head of hair and a neat hairline. Foxx, like the majority of other black celebrities, has not publicly owned the news of having a hair transplant.
In our professional view, he seems to have had a previous strip surgery with a probable 2000 grafts transplanted. He covered up the scar from this procedure with a tattoo. He later had an obvious and beautifully made hairline correction ten years later in 2014 with another 2000 hair grafts transplanted, this time with the FUE technique.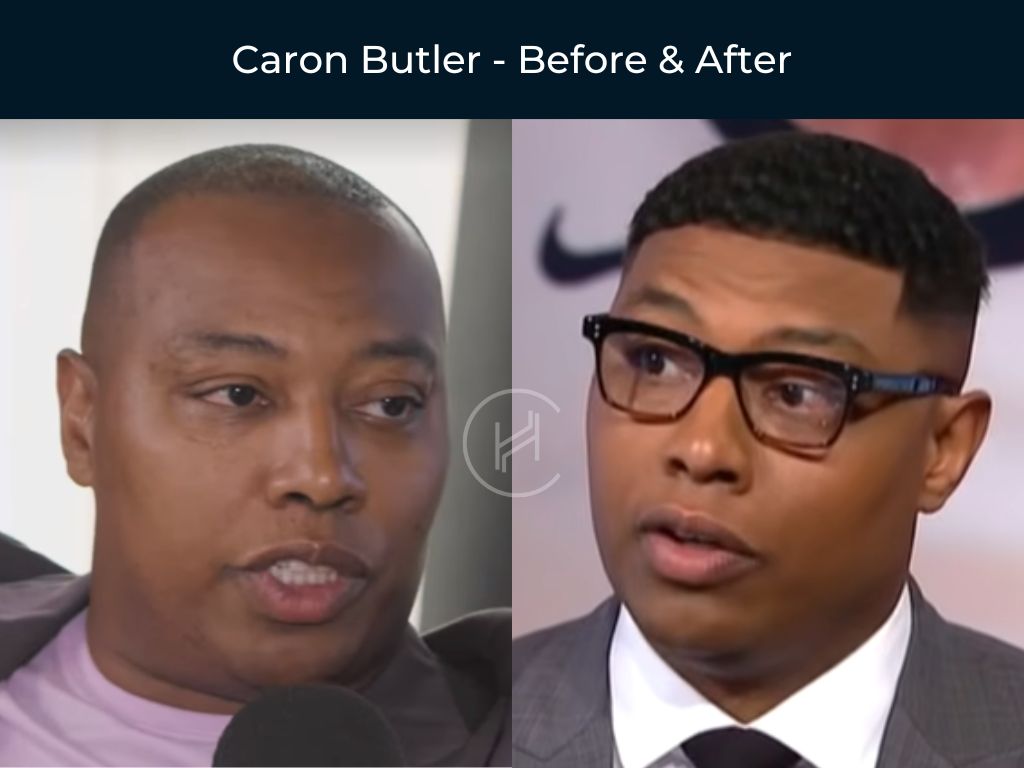 Caron Butler
Featured on national TV with an obvious hairdo covering the thinning hair at the crown and temple areas of his head, Butler's condition looks like a Norwood scale 5 baldness to us.
Choosing to use salon-made hair-do's that last anywhere from a couple of weeks to a few months, it is unknown why Butler has not yet opted for a proper hair transplant to grow his own hair, naturally.
It's a choice after all but a hair transplant may certainly cost less than salon-made glued plugs over the long haul.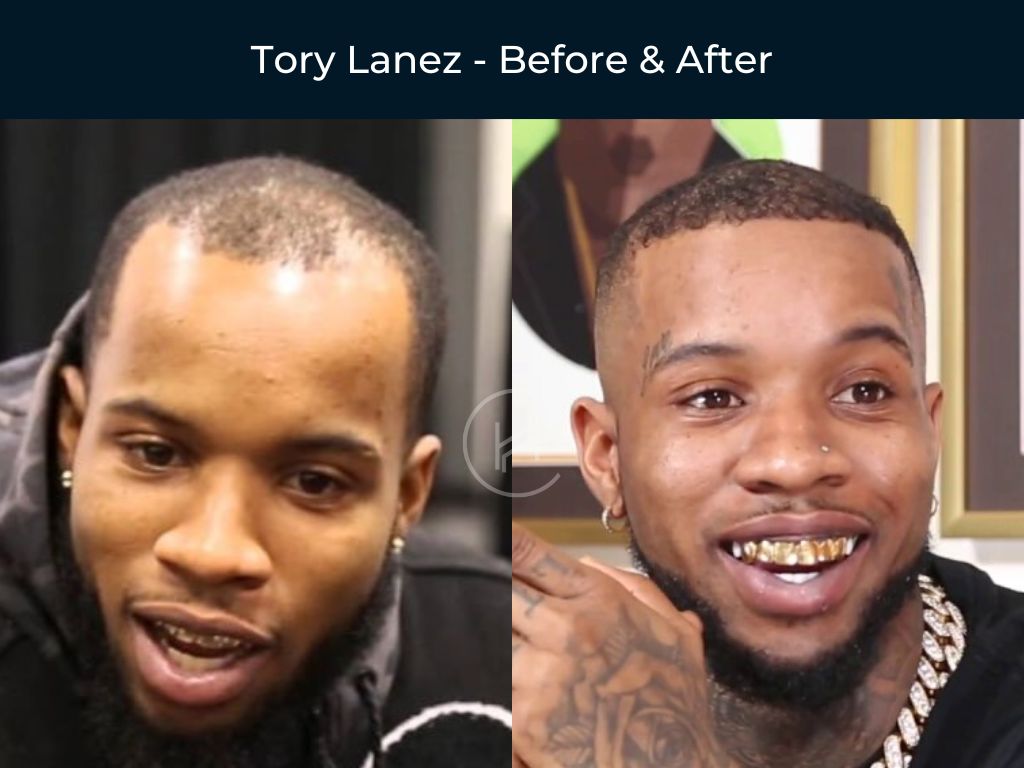 Tory Lanez
Canadian rapper Tory Lanez, currently 30 years old, began losing his hair at the relatively young age of 23. He openly admitted to obtaining Tyga's hair transplant surgeon's contact info and went ahead with the surgery.
At the time of his hair transplant, we can observe that he was at least a Norwood stage 4 at an age younger than the average.
Our guess is that he had at least 3000 grafts transplanted with the FUE method.
Afro hair's under-the-skin curl or coil is quite variable, as hair transplant surgeons are aware. This makes it particularly difficult to use a punching tool to adequately enclose the hair follicle. The transplanted hair on Lanez's hairline mixes in nicely with the rest of his hair though, so a job well done!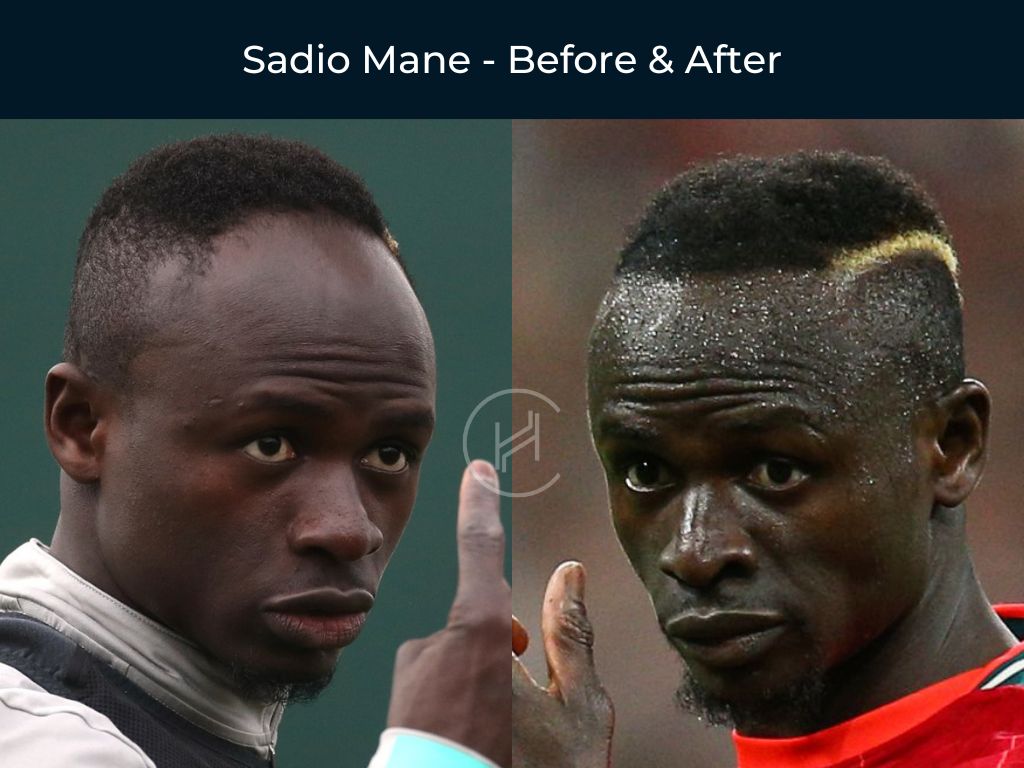 Sadio Mane
When it comes to Sadio Mane, there's an undeniable difference on his forehead. The before very large distance on his forehead has definitely reduced by quite a few inches with a radically changed hairline.
A fuller head of hair and a visibly lower hairline with sharp corners are obvious indicators of a hair transplant, despite the fact that he keeps silent and oblivious about it.
It is only in recent years that the success rate in hair transplant procedures on afro-type hair started scoring high. For those of you with a similar hair type to Mane, we suggest that you perform a throughout research about clinics that have extensive experience transplanting very curly, coiling hair grafts.
How to achieve the best afro-textured hair transplant result?
It is worth mentioning that transplanting african american hair type is extremely difficult. This is because the hair grafts are also curly and the procedure requires the skills of a specialist who has many years of experience transplanting specifically afro-type hair.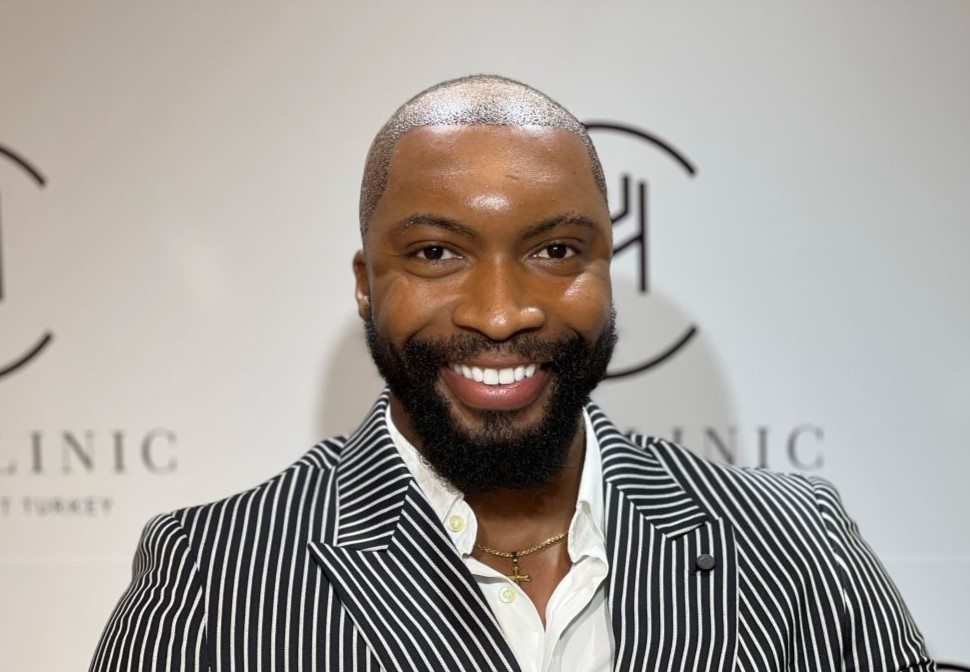 The well-known destination that stands out with the highest success rates in transplanting afro-type hair is Turkey. If you have curly hair and are considering a hair transplant, you should do your own research and aim at expert clinics that can provide you with afro before and after hair transplant photos as well as contacts of their previous patients with similar hair types.
Heva Clinic specializes in afro-textured hair and has successfully operated 1000+ afro-textured patients. Reach our friendly team to start your hair transplant journey in Turkey!