What are your expectations after having gone through a hair transplant operation to regain your healthy head of hair? Most people may feel nervous about the recovery process as much as the surgery itself. If you are one of those people, let's take a brief look at the recovery timeline with day by day pictures post-operation.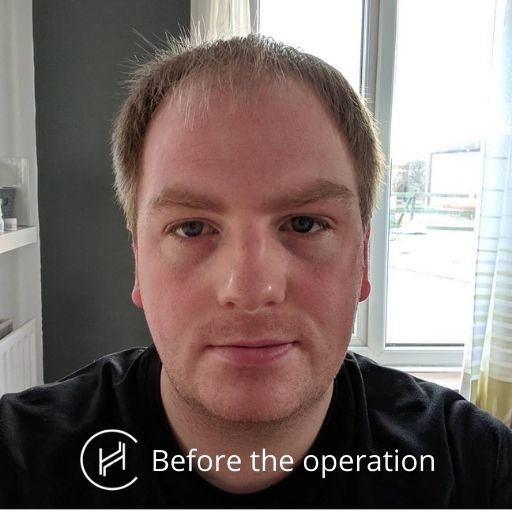 Swelling after a hair transplant
Even though hair transplant is a non-invasive procedure, it is still a surgical operation that may cause side effects. One of the most common side effects that you may experience after a hair transplant is swelling. It is a natural reaction of your body to an injury or trauma. Even with a skilled and gentle procedure, you may experience some swelling on your forehead and around your eyes. In addition to the reaction of damaged tissue, fluids that are injected during the hair transplant operation for local anaesthesia. can also cause swelling. It is important to know that this is a natural and harmless bodily reaction.
Although it is harmless, some swelling may still cause slight discomfort. To avoid this, you can apply a cold press to the swollen area whilst keeping your head elevated and avoid sleeping on your stomach. Also, ensure you maintain good hydration, and avoid exercising for this short recovery period.

7 days after a hair transplant
The first week after your hair transplant procedure is the most critical period, and it is the most uncomfortable you might feel. Your bandage will likely be removed on the first day after your surgery. You may prefer to receive a hair wash at our clinic. You can start washing your hair gently with a special shampoo after the 3rd day. Through the first few days, you may experience some itching or minor bleeding.
After 5 days, transplanted hair grafts will start to get stronger but you should still be careful to be gentle with the transplanted area.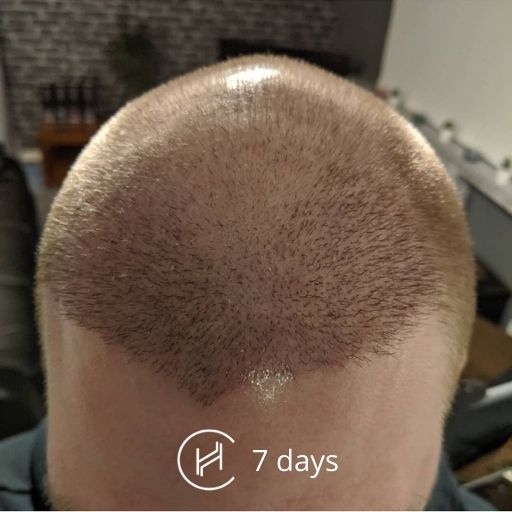 10 days after a hair transplant
In the second week after hair transplantation, the wounded area will significantly heal, scabs will start to fall out, and redness start to disappear. You should continue to wash your hair gently to get rid of any residue or dead skin cells. Your first post-operation check-up during the second week can be done virtually or in person, depending on your availability.
7-10 days after your hair transplant operation, hair grafts will settle in, and a resting period begins, during which you may experience minimal hair loss which is a natural occurrence, commonly called 'shock loss'.
Reach us for a free medical consultation

Transplanted hair falls out after 10 days (shock loss)
Shock loss is a common caused natural process that involves the natural growth cycle of hair follicles' growth, transition and, resting phases. The resting phase is known as the shedding period. After a hair transplant, hair follicles go into the resting phase due to surgical trauma and the hair follicles' natural process of self-preservation.
Because it is part of the natural lifespan of the follicle, shock loss is nothing to be worried about. The length of this natural period can be different for each individual. However, it usually lasts up to 2 months with regular hair growth being observed after 3-4 months.
3 weeks after a hair transplant
3-4 weeks after your hair transplant you may still be experiencing shock loss. Swelling and scabs should be nearly gone by 3 weeks and you can expect redness around your hairline to significantly disappear. You can start exercising, but make sure to ease in and monitor your body, especially the operated area.
Your second post-operation check-up is usually scheduled for the third week, in order to observe your progress and provide some extra aftercare instructions. Just like the first check, this can be done online or in person.

1 month after a hair transplant
The recovery process from a hair transplant is a long journey. You will be observing small and significant changes throughout the months following your operation. Each month will bring about different improvements, finally leading to the full head of hair you have been dreaming about.
1 month after a hair transplant procedure you may be experiencing the most intense phase of shock loss. Even though patients may feel moody during this period, don't forget that it is completely normal and natural!

2 months after a hair transplant
Throughout the second month, shock hair loss gradually decreases and new hair growth will be observed. The rate of hair growth may be irregular and uneven. Hair that has not fallen during the shock loss period usually seems weaker.

3 months after a hair transplant
Significant hair growth may be observed in the third month after your operation. However, beware of blisters and infections which are caused by raised and sensitive skin. Blisters are generally easier to get rid of while infection might require the use of medication.
Consult with your surgeon or medical consultant if you experience any sign of infection. Make sure that you strictly follow the aftercare instructions to achieve fast and effective results.

Reach us for a free medical consultation

6 months after a hair transplant
After 6 months, the hair growth is at its most rapid rate. Hair strands start to get thicker and stronger each day. The coverage reaches up to 80%.
You will be able to comb your hair with a wide hair brush and trim your hair to get rid of any irregular hair strands or cut your hair with a shaver. Even though everything seems to be back to normal, you must still be careful not to be exposed your hair to extreme hot or cold conditions. Optionally you can have a post-operation check-up at the end of the 6th month to monitor progress.


1 year after a hair transplant
You can expect to achieve desired results 12 months after a hair transplant. Donor and transplanted areas are almost 100% recovered at this stage. You can now enjoy a healthy looking, strong head of full hair with confidence. You may like to style your new hair any way you desire and use any styling products without concern.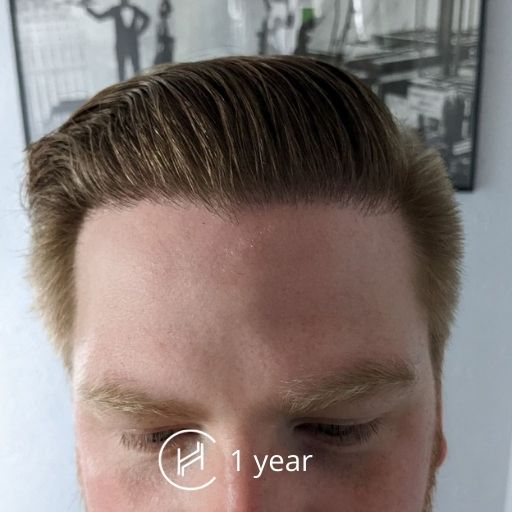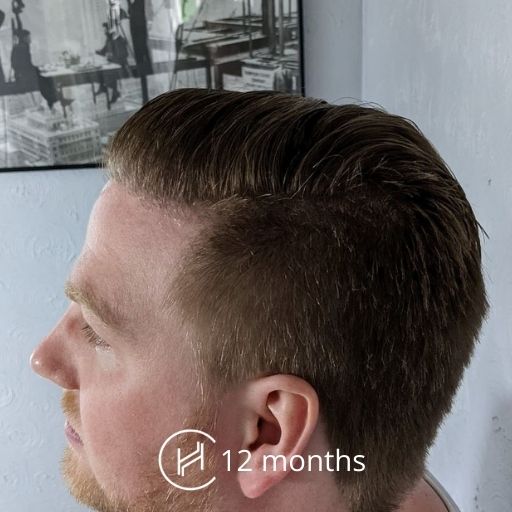 Your last clinic check-up will be scheduled a year after your hair transplant surgery to make sure your desired goals are achieved. Ensure that you follow the instructions of your surgeon for the upcoming period and how to best look after your new hair.
Disclaimer: The operation above is not conducted by Heva Clinic
Hair transplant growth chart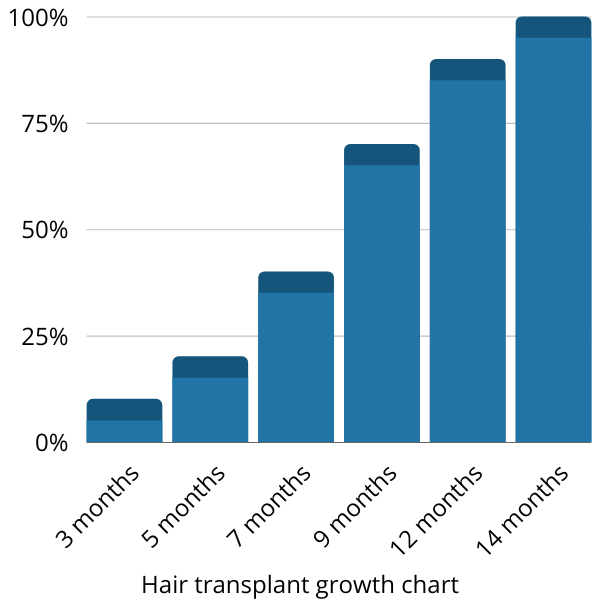 According to the hair growth timeline chart above, the initial hair growth after hair transplant becomes observable at the beginning of the 3rd month and it reaches 20% progress in the 5th month.
The biggest improvement generally occurs between the 5th and 9th months.
At the end of the 12th month, the hair growth reaches almost 90% and the whole process is finalised at the end of the 14th month.
Conclusion: How long do hair transplant take to grow?
As we mentioned above, the first week is crucial for the healing process, with the most discomfort occurring during this time. At around seven to ten days, hair grafts will settle in, and a resting period begins, during which you may experience minimal hair loss called shock loss. This is a natural occurrence caused by the natural growth cycle of hair follicles.
Shock loss can last up to two months, with regular hair growth observed after three to four months. By six months after the procedure, hair growth is at its most rapid rate, with hair strands starting to get thicker and stronger each day, and coverage reaching up to 80%.
Final results are usually achieved 12 months after the surgery as your transplanted and natural hair reaches the length that you'd be able to style and use.