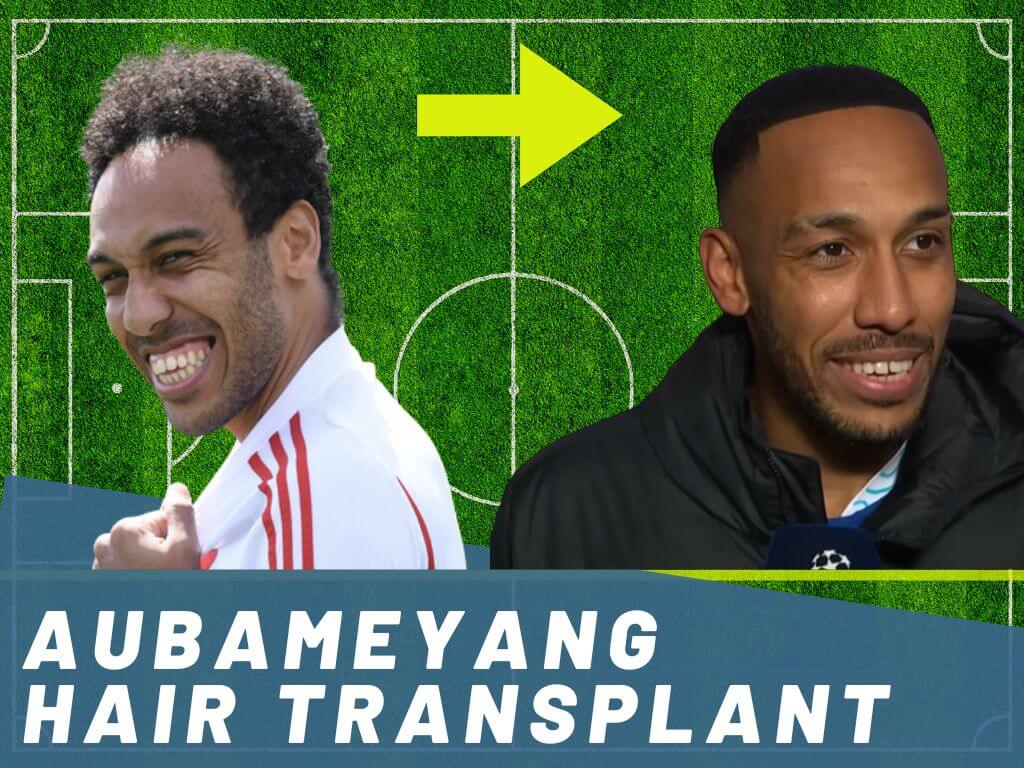 In the world of English football, few players have captured the imagination of fans quite like Pierre-Emerick Aubameyang. With his lightning-fast speed, clinical finishing, and charismatic personality, the Gabonese striker has established himself as one of the most exciting players in the Premier League.
Born in France to a family of footballers, Aubameyang made a high-profile move to Arsenal, where he quickly became a fan favorite. Aubameyang's impact, however, goes beyond just his goal-scoring prowess. His infectious energy and playful personality have endeared him to fans across the country, while his dedication to social justice causes has won him admiration and respect from people outside the world of sports.
Despite his many achievements in his professional life, Aubameyang has been suffering from male pattern baldness which he simply could no longer ignore. He is sure to continue making headlines for years to come but in this blog post, we will look into whether he joined the club of celebrities who put an end to their hair loss through a hair transplant or not.
Well, we have all been witnessing Pierre-Emerick Aubameyang's hair loss situation in stadiums and on TV screens. It didn't require to have a sharp vision to notice the empty state of his forehead. Pictures and videos of him from recent years also suggest that his hairline has been severely (like VERY severely) receding.
Of course, hair loss is a common issue that affects many people, and it can be caused by a variety of factors, such as genetics, stress, and certain medical conditions. We're not here to judge or highlight anyone's hair loss condition. We're here to help people make informed decisions to enjoy their best lives.
To continue with the topic, the star footballer has been sporting a severely receding hairline since 2015 which is when he starts wearing a headband to hide his receding hairline. From 2015 onwards we see his hairline stepping back an inch almost annually.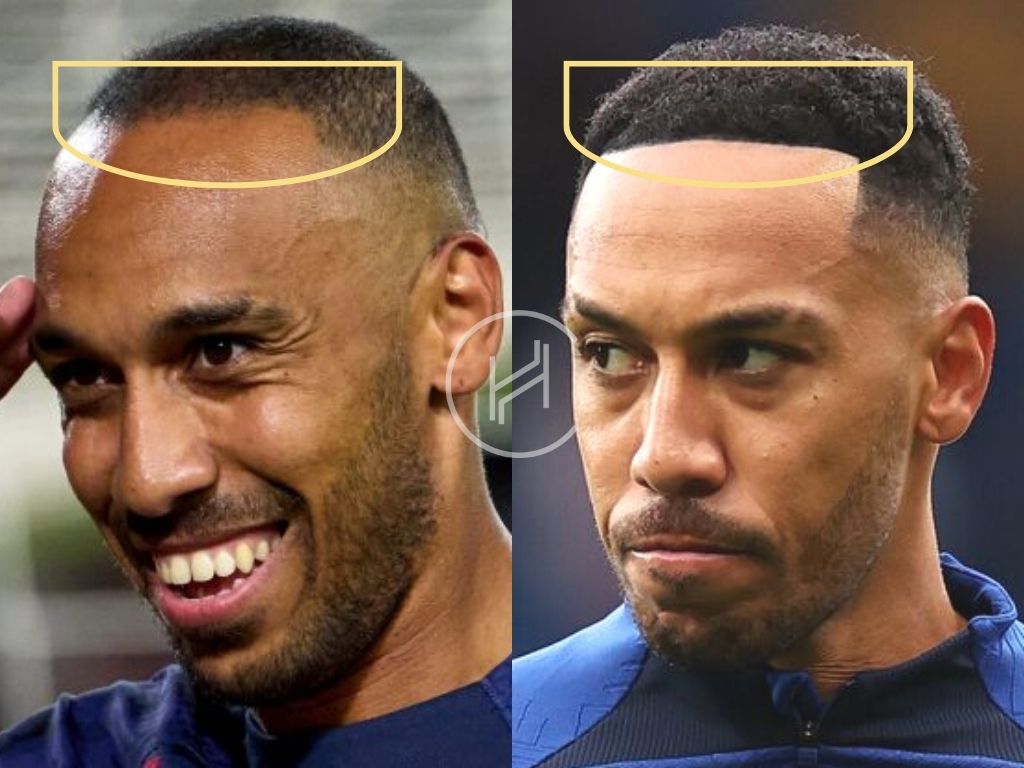 Did Aubameyang Get A Hair Transplant?
There hasn't been an official or open confirmation that Pierre-Emerick Aubameyang has had a hair transplant. However, when we look for concrete evidence, we find that it's right in front of our eyes. While actors, models, and other celebrities who don't constantly run after a ball for a living often use hair fibers to hide their hair loss, this is not an option for Aubame.
The moment of sweat will be the moment of colossal embarrassment if a sportsperson used hair fibers during a game. Not to mention other factors like wind, rain, and contact with other players.
In the past, some footballers, like Wayne Rooney, have openly talked about their experiences with hair transplants, but Aubameyang has not publicly commented on this issue. While we respect his decisions around his personal choices, we see no other way than a hair transplant because a corrected hairline isn't just something that decides to make a comeback one day.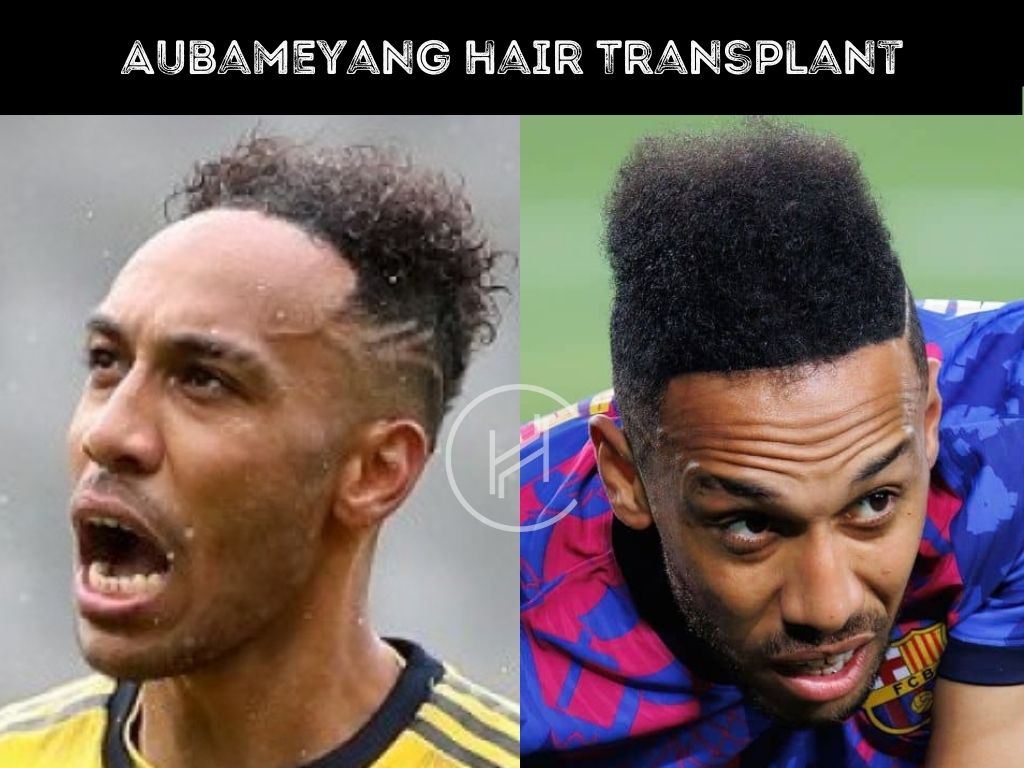 Aubameyang Before and After Hair Transplant
As mentioned above, the state of his hairline starts diminishing in the mid-2010s and he picks up the habit of wearing headbands. Sportspeople don't look weird wearing a headband as it helps keep the sweat away from the eyes. But at the same time when we look up close, his natural hairline has a different shape and design than it has today. It was rather V shaped back then, at the start of his hair loss history.
In comparison, after-footage certainly shows a different, straight hairline. His new hairline is nothing but polished, defined, and densified.
Which Technique Is Used?
Not everyone knows this but transplanting afro/textured hair is more challenging than straight hair for the simple reason that coiling hair follicles are more prone to be damaged in the medical process.
An expert surgeon who specializes in transplanting Afro type 4 hair will certainly use the modern technique of Ice Follicular Unit Extraction (FUE) assisted by a specific type of punch/pen tool that has an angled tip.
In Aubame's case, we don't really know if this was the case, trusting that he must have done his research about specific clinics and surgeons on his hair type.
How Many Grafts Were Transplanted?
Let's make a quick calculation; looking at the recent state of his hair, his forehead moved forward by almost two inches. The thing is, due to the curls, it's hard to be precise when calculating the transplanted hair graft range without seeing a completely shaved scalp.
However, we can comfortably talk about a minimum of 2000, most likely about 3000 grafts that must have been transplanted just to reshape his forehead area.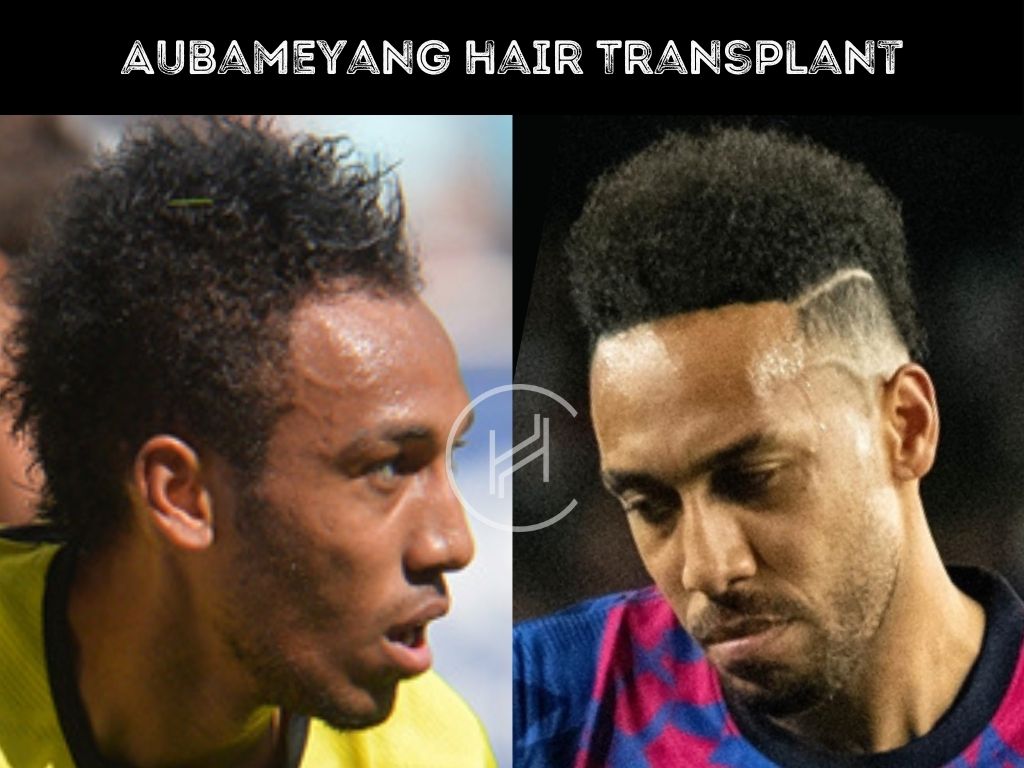 How Does Aubameyang's New Hair Look After The Operation?
Aubame's new hairline can be described with these two words; very straight. Is that bad? No. It's just very straight and in our professional opinion, hairlines can be designed in cosmetically suitable and appealing ways that also look very natural.
Most people experience this with dental implants or crowns. There are many different shapes that a tooth can be polished into but there are only a limited number of designs that suit a certain mouth and face shape. It is therefore called a smile design. The same logic goes for hairline design and it is one of the highlights that make a great hair transplant surgeon stand out from the rest.
Which Famous Football Players Have Had A Hair Transplant?
Having a hair transplant is probably one of the easiest, and most achievable solutions to look more youthful. No one who has had a successful hair transplant ever said "wish I stayed bald" due to the lifelong impact of this simple procedure. Most, if not all celebrities who have had a hair transplant describe it as life-changing and non-celebs are no different.
Rob Holding, Wayne Rooney, Christian Eriksen, Antonio Conte, Xherdan Shaqiri, Andros Townsend, Jurgen Klopp, David Silva, Sadio Mane, Gianfranco Zola, Kris Boyd along with many more are among footballers who have had a hair transplant to alter their looks, self-confidence and life quality.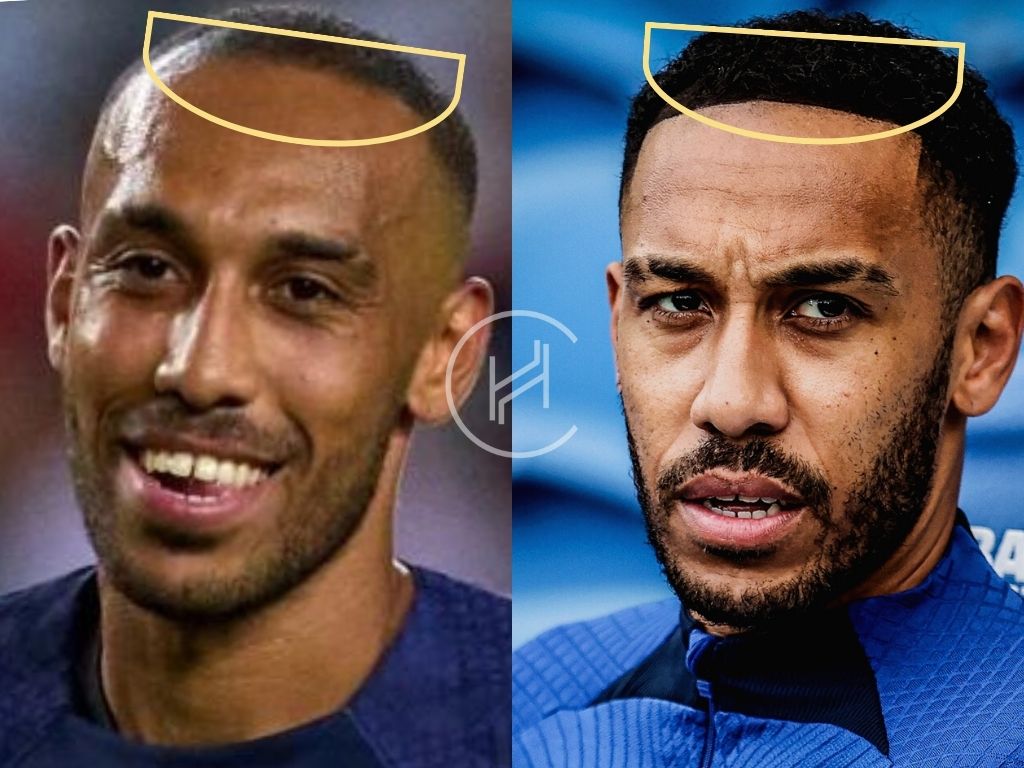 Planning To Have A Hair Transplant? Reach Us To Achieve A Better Result Than Aubameyang!
As one of the most commonly experienced conditions worldwide, hair loss can be a distressing experience for many people. It can affect one's self-esteem and sense of identity. Research has shown that hair loss can have a profound psychological impact on both men and women, leading to feelings of shame, anxiety, and depression.
The one long-term hair loss solution that has been proven to be effective in both preventing further hair loss and promoting hair growth is hair transplant surgery. It is a life-changing, and uncomplicated procedure performed under local anesthetics.
Of course, a hair transplant is best enjoyed in the capable hands of a trusted surgeon. At Heva Clinic in Istanbul, we have helped thousands of patients to boost the rest of their lives with happiness. You can take the most life-changing decision of your life today and book a FREE online consultation with us!
Feel free to check patient reviews and the reasons behind our success rates. You decide, and our team will take care of the rest.