Facial hair transplantation
Beard may be one of the most important features of men. However, due to genetic factors, growing a beard might be more challenging for some people than others. Your stubble might not be growing as dense as you would want it to, it might have some bald patches, or not grow at all. If you suffer from uneven beard growth or inherited a gene that prevents you from growing a whole beard, you might want to get a beard hair transplant.
One of the most preferred countries for beard transplant is Turkey thanks to its affordable prices and experienced surgeons. Our surgeons at Heva Clinic in Turkey use the most trusted beard hair transplant method to give the beard you desire. Let's have a look at the procedure and cost of it!
Reach us for a free medical consultation
What is a beard hair transplant?
If you have been looking to improve the look of your beard or moustache, you might be wondering what beard hair transplant is. It is a procedure of transferring healthy hair follicles from a suitable part of your body to the area you want to increase the beard hair density. As more male fashion icons and celebrities have embraced the stylish beard look, more people started liking well-groomed dense beard.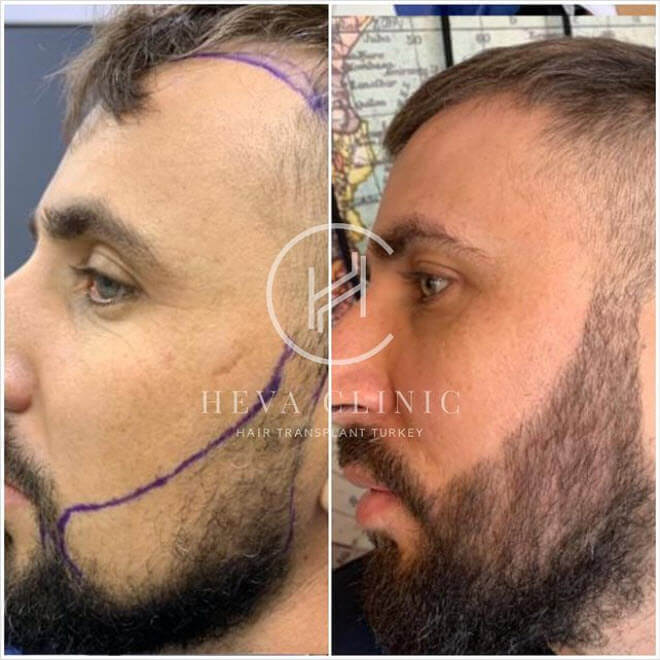 Which technique is used for beard transplant?
Two different techniques are used for beard hair transplantation: direct hair follicle transplant (DHI) and follicular unit extraction (FUE). Both of these techniques involve extracting individual grafts (follicle units) from the donor area at the back of the head and transplanting them into the desired area on the face.
In the DHI technique, the surgeon takes individual hair follicles and immediately after the extraction, applies them one by one to the desired location using a tool called the Choi Pen.
In the FUE technique, the surgeon cultivates the hair follicles individually, then opens the micro channels in the recipient area and implants them in the previously collected hair follicles. Both techniques are minimally invasive and cause no pain as the procedure is performed under local anaesthesia. Since beard transplant techniques do not involve cuts and stitches, recovery time is shorter and more convenient.
While consulting with your surgeon, you can mention the density and shape of your new stubble. If your donor area is suitable, you can get the thick, well-groomed beard you've always dreamed of.
Reach us for a free medical consultation

How does the beard transplant process work?
FUE hair transplant technique is one of the most used and trusted method which is also suitable for beard hair transplant procedure. FUE beard hair transplant involves the extraction and implantation of individual hair follicles without disrupting their natural form. Your surgeon might need to shave the donor area before this extraction process. Local anaesthetic is applied during the operation to provide maximum comfort. Then, the grafts are collected in a suitable environment for the plantation. Your surgeon transplants individual hair follicles by paying attention to the angle and place of transplantation to obtain the most natural beard look. This sophisticated procedure is a quick and effective way to get a healthy beard as quick as possible.
How long does a beard transplant take to heal?
You might be wondering about the length of recovery time and how long you will need to resume your daily life. Luckily, beard transplants show a quick recovery. You will start to notice some skin crusts around the transplanted hair follicles after the. During this time, your face can feel a little itchy but not much uncomfortable than that. These crusts tend to flake off in a few days.
Typically, the transplanted area will be ready for shaving in 2-3 weeks. However, depending on your body's reaction and skin type this process might take longer. You should note that before starting to shave your transplanted beard you should wait until the area is fully healed and does not show signs of sensitivity.
Even though transplanted beard hair might fall out after around 3 weeks, it grows back and recovers its healthy state. Within 3 months after a successful beard hair transplant, hair follicles settle into place and grow like normal beard hair.
Who is a good candidate for a beard hair transplant?
A good candidate for beard hair transplant requires having healthy hair follicles at the back of his head, which is called donor area. If you have strong hair follicles in this area, you are probably suitable for the operation. Our medical consultants will ask you some questions and assess your medical history just to be sure if you are suitable for the operation.
Reach us for a free medical consultation

How many grafts do I need for a beard transplant?
Depending on your expectation and the condition of the donor and transplant area, the number of grafts needed for beard hair transplant varies between 2000-3000. This number of grafts should be enough for you to have a full healthy looking beard.
Is beard transplant safe in Turkey?
Turkey is one of the most preferred countries for hair transplant procedures. Beard hair transplant in Turkey is known to be a safe procedure operated by experienced and qualified surgeons and their talented teams. Heva Clinic is one of the most reputable clinics in Turkey that specialises in beard transplant. As with every surgery, beard hair transplant procedures involve some risks such as infection, irritation, and bleeding. However, the rate of these risks is almost zero in reliable clinics Turkey.
How much does a beard transplant cost in Turkey?
As medical tourism in Turkey is immensely popular and supported by the government with low tax rates etc. Beard hair transplant in Turkey has a lower price point compared to other European countries and the USA.
If you want to get a full healthy looking beard and improve your look but don't want to spend tens of thousand dollars, Turkey and Heva Clinic can be a great option for you. The beard hair transplant cost in Turkey ranges from $1,000 to $3,000 depending on the size of the transplant area, desired hair density, used equipment, and the quality of the clinic.