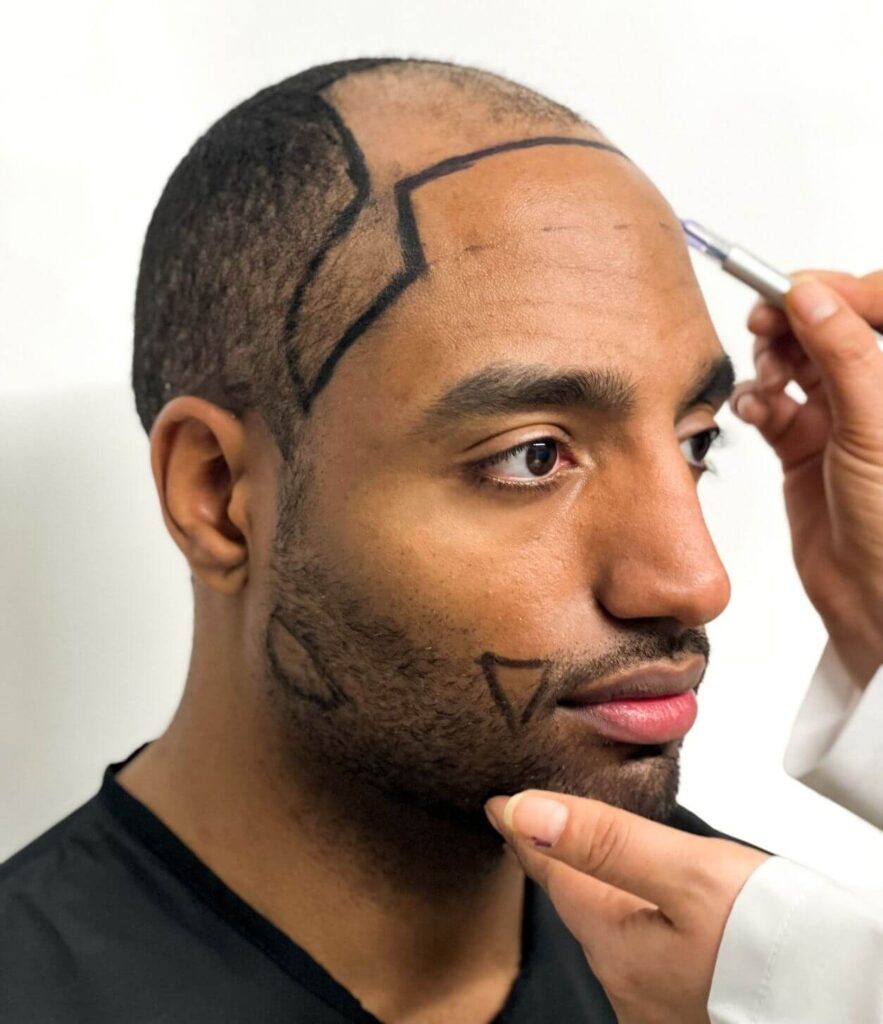 Beard is one of the most prominent features of the male face. Many cultures and societies associate a beard with health and masculinity; however, some people might have uneven beard growth, sparse beard hair, or random bald spots in their beard. Under such conditions, most men start looking into beard transplant options to achieve the beard of their dreams.
Afro American men may find that the hair transplant options are limited because of the curly nature of African American facial hair. However, thanks to the new developments in hair transplant technology, clinics that specialise in black man beard transplants can offer promising results. You can reach our afro hair experts at Heva Clinic!
Black man beard transplant process
The black man beard transplant has recently gained a lot of hype because of the popularity of the full beard look. Even though Afro American hair type naturally has a voluminous look thanks to the curls, some black men can still experience sparseness or bald spots in their beards.
If you are also unhappy with how your beard looks because of these reasons, a black man beard transplant can be a great option for you. Heva Clinic specializes in afro-textured hair transplant and we are proud of providing the best afro hair transplant results!
Does beard transplant work for Afro-American facial hair?
The curly structure of Afro American facial hair type continues under the skin making it hard to extract the hair follicles without damaging the hair structure. This is why a black man beard transplant was a more challenging operation than a hair transplant for the straight hair types. But, with the improved hair transplant techniques, it is now possible to achieve even more successful beard transplant results. Black beard restoration allows you to have a luscious, healthy, and full beard by transplanting your natural hair follicles from a suitable donor area.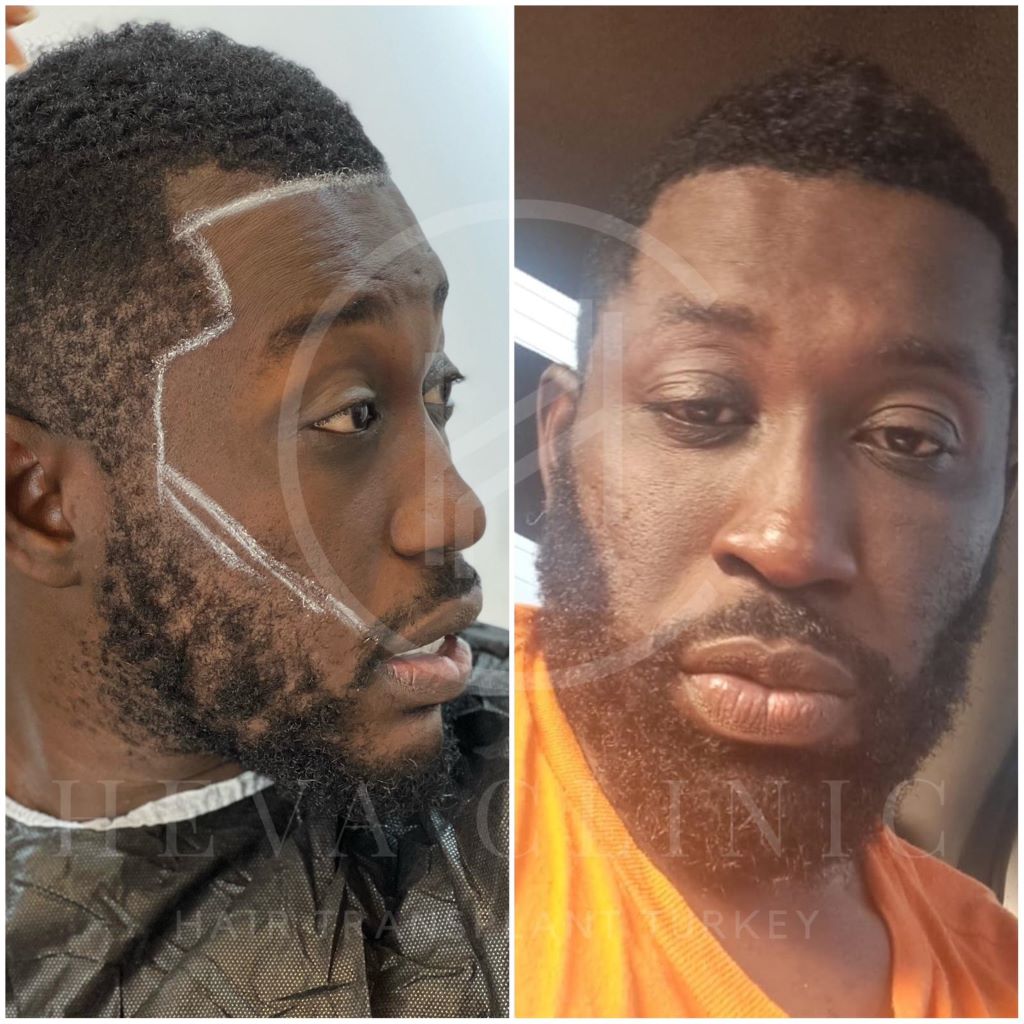 Which technique is used?
Follicular unit extraction (FUE), and direct hair implantation (DHI) are the two most commonly used hair transplantation techniques for African American facial hair transplant. Heva Clinic chooses the best option for the type of the hair and expectation of the patient.
Ice FUE technique for beard hair transplant is preferred by most clinics and patients. In the FUE method, hair grafts that contain a few hair follicles are individually extracted from the donor area using a punch tool or manual punch technique. The grafts are then collected in a special environment before transplantation. Then the hair follicles are transplanted into the problem area one by one to create the most natural results. Because the FUE technique deals with individual grafts, it leads to more natural results and higher hair follicle viability. For a black man beard transplant, the punch tool is adjusted to a thicker and wider hair root so that the curly structure of the hair follicles doesn't get damaged during the extraction process. With this small tweak, it is possible to achieve great black beard restoration results.
The DHI technique is considered a modified version of the FUE hair transplant method. This technique involves the use of a special tool called the Choi pen. This tool allows to extract and load the hair follicles at the same time so that they can be transplanted individually in a short amount of time. This increases the viability and the success of the hair transplant procedure. The Choi pen can be successfully adjusted to extract African American-textured hair follicles without damaging the structure.
Are you a good candidate for a beard transplant?
A suitable candidate for a beard transplant, as with any other hair transplant operation, should have an adequate number of healthy hair follicles in the donor area. Depending on the target area that needs coverage between 2000 and 3000 viable hair follicles can be required for a successful beard transplant.
How much does it cost?
The cost of an Afro beard transplant can be high because it requires an experienced specialised team. If you are not ready to break the bank for the beard of your dreams, it might be a good idea to look for some affordable places around the world. One of the best places that you can find affordable black beard transplant options in Turkey. The experienced teams that specialise in Afro hair transplant in Turkey offer great black ma beard transplant results. The black man beard transplant prices in Turkey can range between $1,000-$2,000 depending on the clinic you choose, the extent of the operation, and the hair transplant technique.
How many grafts do I need for a beard transplant?
The number of hair grafts you will need for a beard transplant depends on the size of bald spots you might have and the beard density you want to have after your operation. However, because your beard is naturally a smaller transplant area, 1,500 to 3,000 hair grafts are usually enough for a beard transplant operation.
How long do afro beard transplants last?
As transplanted hair is not prone to fall out and follows the natural hair growth cycle, an afro beard transplant is a permanent solution. After your operation, you can enjoy your new and full beard for a long time.
How should you sleep after a beard transplant?
After a hair transplant operation, it is important not to disturb the newly transplanted hair follicles. For successful beard transplant results, you need to allow the hair follicles to settle in and secure into place.
This is why it is advisable not to touch or rub the area during the first 10 days. At this point, how you sleep also holds an important part. Your hair transplant specialists will advise you to sleep on your back rather than your side or your stomach to minimize the friction. You may also keep your head elevated to help with swelling.