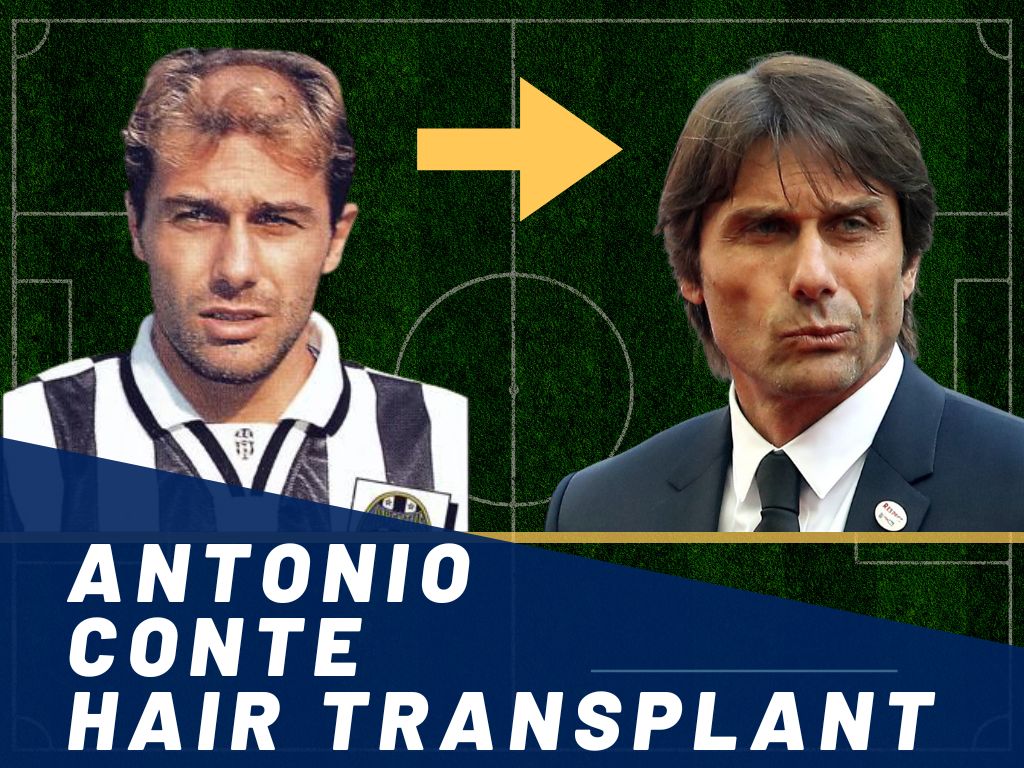 The renowned soccer coach Antonio Conte was able to completely restore his hairline following his latest, possible after his 3rd surgery. His result proves that a hair transplant surgery is an effective and efficient way to regain natural-looking hair growth and confidence.
Just like for many other celebrities suffering from hair loss or balding issues, Antonio's hair transplant result has much to explore.
Like most of us, Antonio Conte experienced hair loss from being abundant in his teens to nearly non-existent. Even though he may have undergone a few unsuccessful hair transplantations in the past, he has never given up on it.
Let's take a fun, in-depth, and somewhat technical look at Antonio Conte's hair transplant journey.
Antonio Conte's Hair Loss and Hairstyles
For someone as out there as Antonio Conte, balding must have been a terrible experience. This is especially true because until recently, his infinite fortune could not buy him the outcome he desired as he continued to lose his hair. Having said that, Antonio Conte's pre-hair transplant condition is pretty common and is based on the hereditary male pattern baldness.
Exploring Antonio Conte's Hair Transplant Journey
Hair transplant surgery is a commonly performed procedure that can help reverse the effects of balding, thinning, and other types of hair loss. The donor hair is typically taken from the back or sides of the head and strategically placed in the recipient area. The goal of this procedure is to create a natural-looking and long-lasting hairline and to fill in balding patches.
Hair transplant surgery has become increasingly popular in recent years because of its effectiveness and its minimally invasive nature. The results of the surgery with proper care can be permanent, giving patients a great sense of confidence and satisfaction.
Hair transplant surgery is a permanent solution for hair loss, as seen with Antonio Conte's successful comeback from near baldness due to this procedure.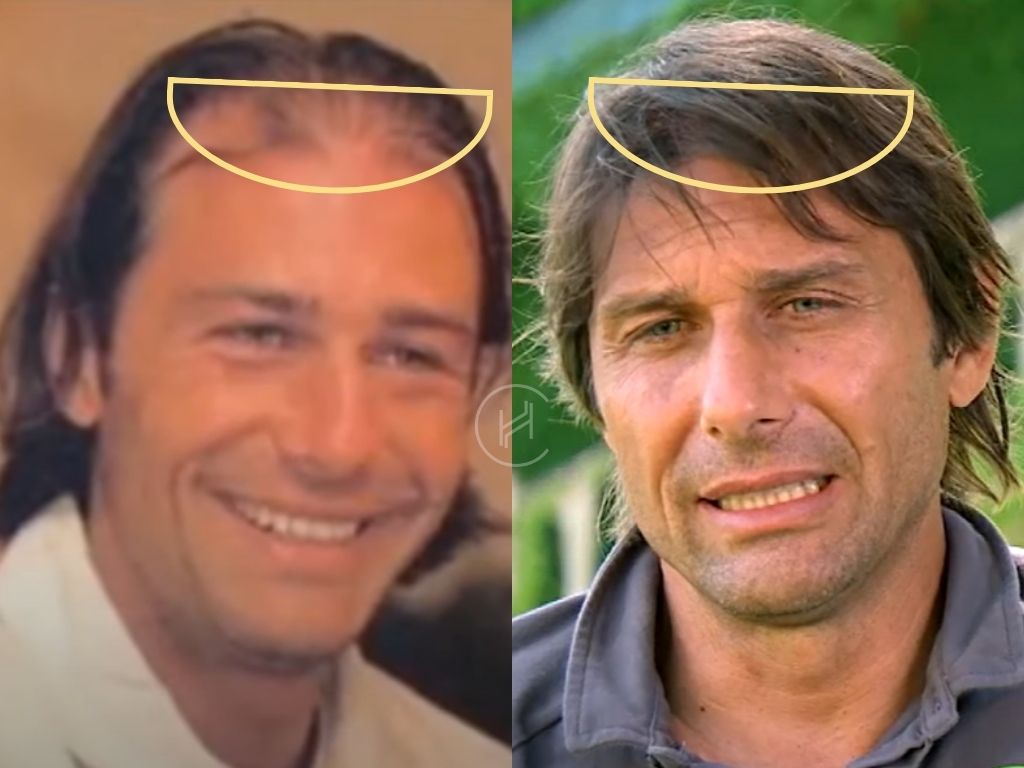 Did He Get A Hair Transplant?
The former Juventus and Chelsea coach, is known to have undergone several hair transplant procedures in the past. Following the first few failed hair transplants, a major change in his hair is obseved in 2007 and reache its peak by 2012.
Antonio Conte's decision to go forward with another hair transplant in 2020 was seen as a brave move that encouraged those who were struggling with hair loss to better understand their options and that medical technology advances very quickly.
Antonio Conte's experience with hair transplant surgery gives us an idea of what to expect when undergoing the procedure.
Typically, it's a minimally-invasive outpatient procedure that is performed under local anesthesia. While the recovery period after hair transplant is 10 days, it normally takes up to 8 – 12 months to see improvement in hair density, the end result can be a fuller and healthier head of hair.
It's important that anyone considering hair transplant surgery consult with a qualified medical professional to get an accurate picture of what they can expect from such a procedure.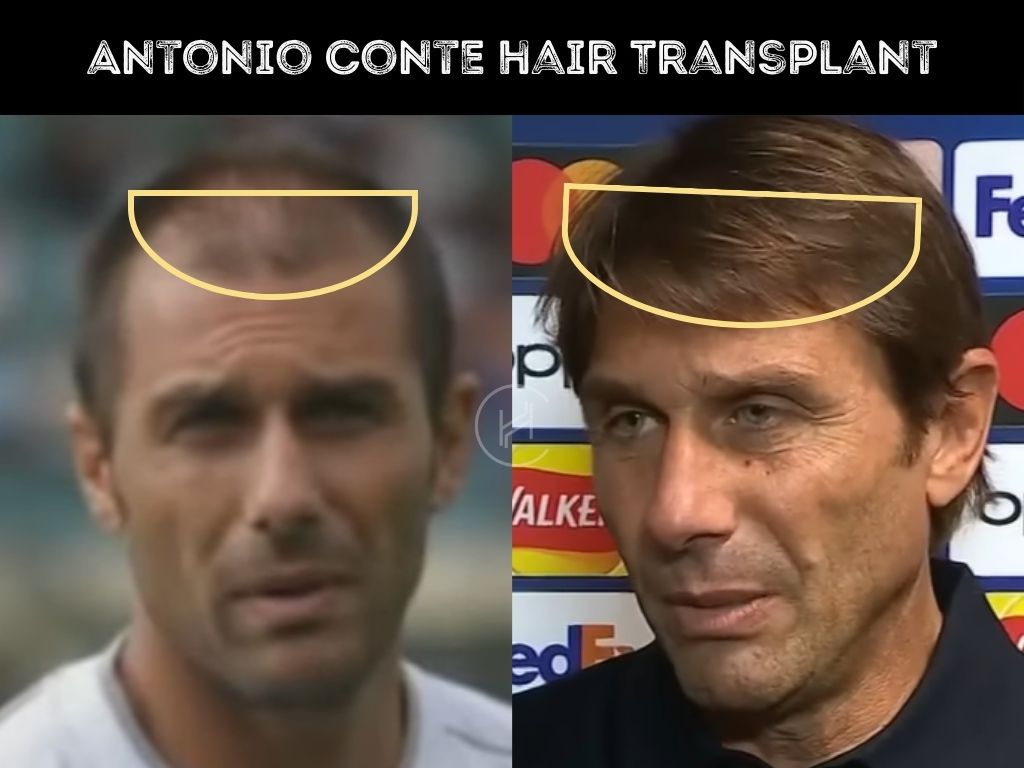 How's Antonio Conte's Hair Now?
The hair transplant surgery changed Antonio's look dramatically as well as his confidence. He now looks much more youthful and has visibly reversed aging thanks to the surgery.
Hair transplant surgery has become increasingly popular over the last few decades, primarily as a solution for male pattern baldness. The results of a successful procedure can be life-changing, helping those suffering from hair loss to feel more confident.
Whether you're looking to emulate the Antonio Conte hair loss look, or simply restore a more youthful hairline, the right hair transplant technique could be the answer. It's important to understand what works best for different types of hair loss, as well as how to prepare for the surgery itself so you can ensure the best outcome.
How Much Did Antonio Conte's Hair Transplant Cost?
Conte's all hair transplants are said to have cost him roughly £30,000. Don't forget to take into account that he is famous and thus more likely to have paid more than the average citizen at a celebrity clinic. Conte also had several surgeries and the assumed calculation above is for the total amount he may have paid.
Today, advances in technology make any problems you may have with hair loss, history. Our choices are also far more affordable and practical from a cost perspective.
Where to Have a Top-Quality Antonio Conte Hair Transplant?
Antonio's journey was an inspiring look into just how effective modern hair transplant surgery can be.
In conclusion, Antonio Conte's hair transplant experience can be an inspiring one for anyone facing hair loss. His journey has taught us that it is almost never too late to take control of your hair loss and make a decision that will improve not only your physical appearance but also your self-esteem and overall confidence levels. Hair transplants are a safe, effective option for many looking to restore their hair and take charge of their own destiny.
The best price/performance comparison combined with excellent surgeons and spotless customer care, points out Turkey as the destination for a successful and affordable hair transplant.
Remember that not all clinics are the same and it is your responsibility to perform a throughout research to find the best-suited clinic where your needs are understood.
Heva Clinic Istanbul is one that is the most recommended by its patients and they offer a free online consultation. You may as well book yours today since you've got nothing to lose and lot to gain.