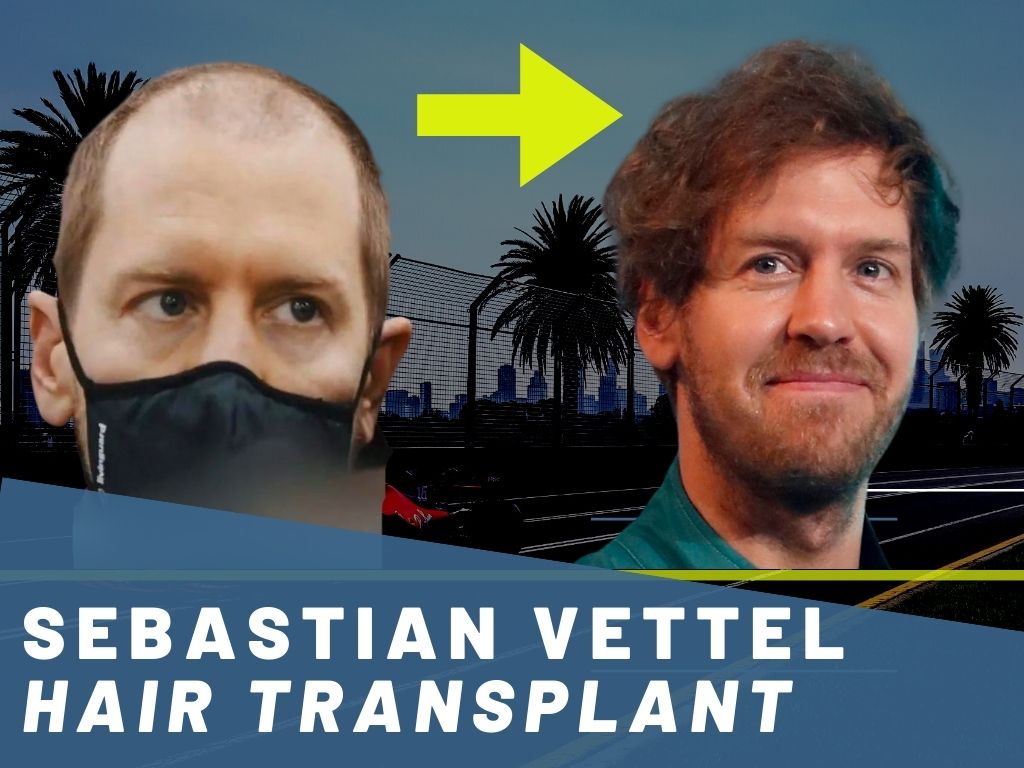 The four-time Formula 1 World Champion has been a staple in the motorsport world for over a decade. Known for his exceptional driving skills, his charming personality, and his love of custom helmets, Vettel is a fan favourite among racing enthusiasts. Who doesn't love his unique helmet designs that are always a standout on the racetrack?
The main topic of this article is however his struggles with hair loss that seemed to come very suddenly. In recent years, we watched him slide toward baldness from having a full head of hair and it all happened very fast. Vettel certainly remains a fan favourite and we're here to analyse what exactly happened in his hair department to see any lessons that can be extracted from it rather than pursuing a meaningless whispering campaign.
As always, we will also go into the topic everyone wants to know about; has Vettel joined celebrities who have had a hair transplant? Let's get it!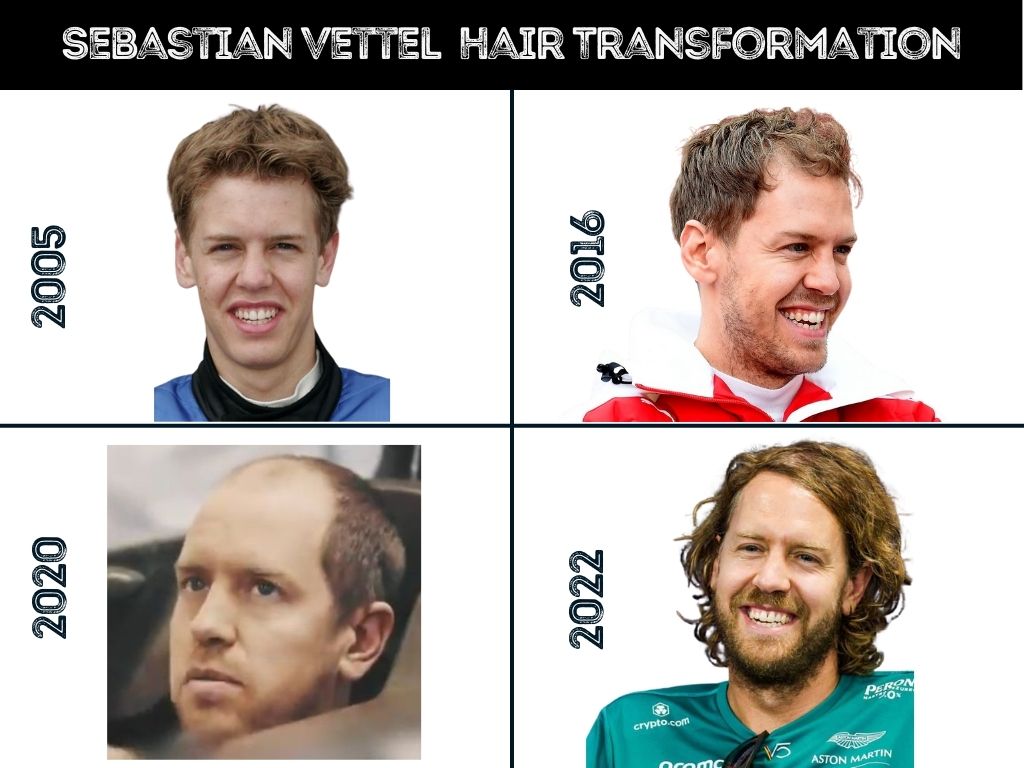 When did Sebastian Vettel's hair loss start?
In front of our eyes, Sebastian Vettel has had rapid hair loss on his hairline and crown over just a few years. His charming curls left his scalp causing him to look much older than he actually is. But when did all that happen?
In fact, opposite to what most see as a sudden hair loss or a shock loss, we are of the opinion that Vettel has been losing his hair gradually. When we analyse his hair situation chronologically between 2010 and 2020, it comes more obvious that he has gradually and steadily lost his hair. The thing is that the pace of the hair loss seems to have happened much faster as he aged and he was able to cover up the loss, thanks to the type 3 curly texture of his hair. However, at the end of 2020, when he was at age 33, he was observed with a shocking difference that would soon result in a bald forehead.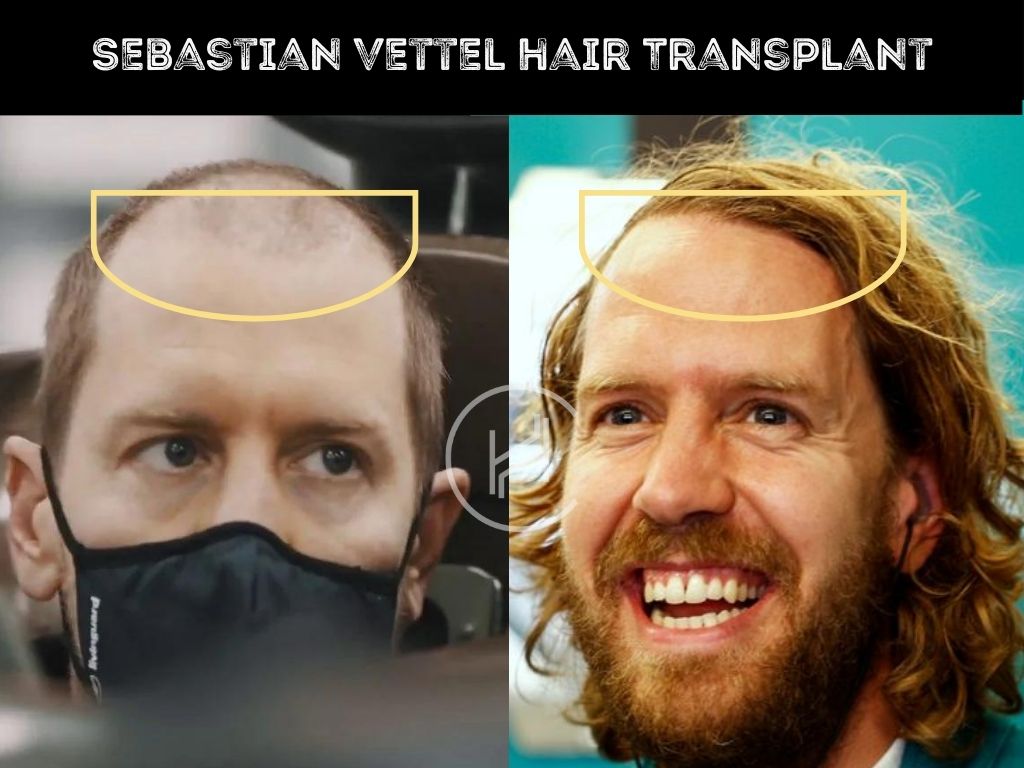 Has Sebastian Vettel had a hair transplant?
So, from 2019 onwards, we see Sebastian hanging out with a Norwood scale 4 baldness. Because the motorsports community won't let a good story fade, a lot of emphases has been placed on his head along with racing bets.
Some blamed Ferrari, for putting too much pressure on Vettel and thus causing his hair to fall and while none of the arguments along these lines is meaningful, it is a fact that excessive stress can cause the body's immune system to attack hair follicles.
When it comes to celebrities, expect the unexpected so when Vettel appeared with a full head of hair before the start of the 2022 season, fans were happy to see him more put together.
The situation has led to speculation that Sebastian Vettel followed in Lewis Hamilton's footsteps and opted for a hair transplant. Hamilton's hair transplant results are astonishing, leading some to believe that Vettel underwent the same procedure. Given the significant difference in his appearance, it's highly likely that Vettel had a successful hair transplant surgery in 2021, which has made him look younger and his best.
However, some argue that Vettel's change in appearance is due to less stress with his new team at Aston Martin, which we believe this isn't the case.
Sebastian Vettel before the hair transplant
The most rigorous change that caught everyone and their mom's attention happened in just a couple of years between 2019 and 2021. Vettel's head was suddenly a look-alike of Prince William of the British royal family.
Although he gradually lost his hair starting earlier on, his last months with Ferrari marked his hair loss image in the public eye.
Sebastian Vettel after hair transplant
Back to a convenient messy hairstyle, Seb's hair situation has certainly improved in the past year or so. He isn't disclosing the formula or method that caused his hair to make a comeback but it's surely looking better than the years before.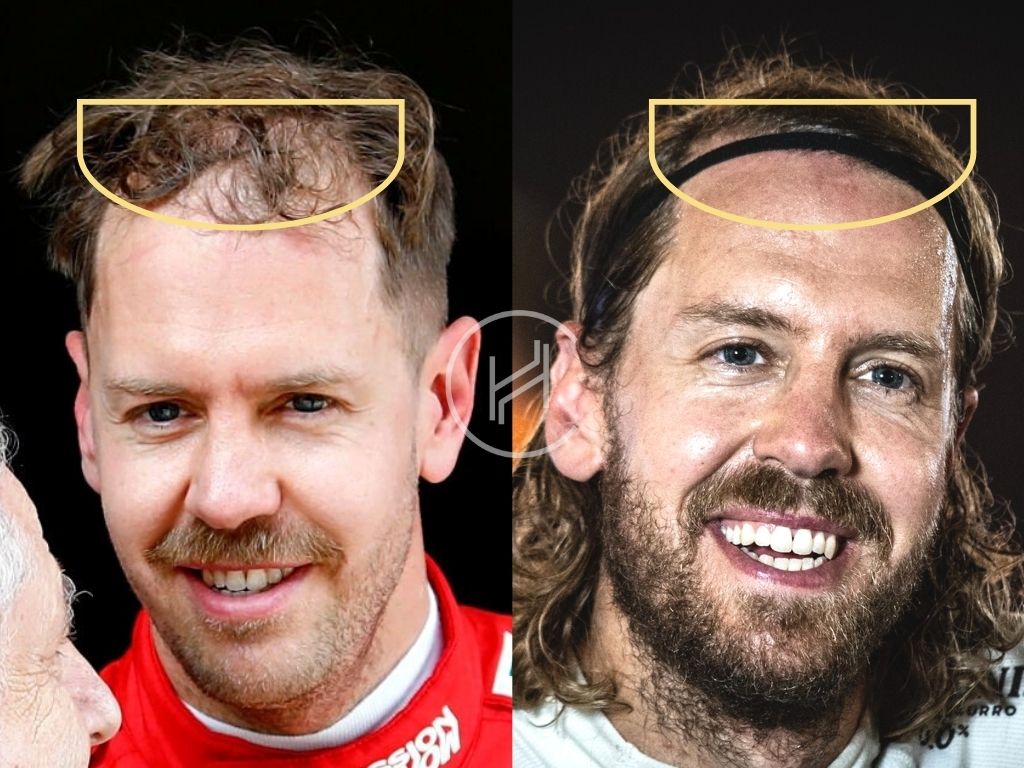 Which technique is used?
Because Sebastian has an amazing density on the back of his head and his hair texture is highly favourable, he is a good candidate for both FUT and FUE.
In Summary, both FUT (Follicular Unit Transplantation) and FUE (Follicular Unit Extraction) are hair transplant techniques used to treat hair loss. However, they differ in how the hair follicles are harvested from the donor area.
FUT involves removing a strip of scalp from the back of the head, from which hair follicles are then extracted and transplanted to the recipient area. The area where the strip was removed is then closed with sutures, which may leave a linear scar that can be covered keeping the hair at an optimal length.
On the other hand, FUE involves extracting individual hair follicles directly from the donor area using a small punch tool. This results in small, circular scars in the donor area that completely disappear later on. FUE may also allow for a shorter recovery time and less discomfort compared to FUT.
As an answer, Unshaven FUE method might have been used to treat Vettel's hair loss since there's no visible linear scar on the back side of his head.
How many grafts are transplanted?
As we diagnosed Vettel as a Norwood 4 patient on this particular scale of baldness, he requires more grafts to cover the bald regions when compared to the earlier stages because it is quite an advanced stage. Given the thickness and quality of the hair on the back of Vettel's head, 2000 to 2500 grafts may be required to redesign his hairline and 1000 to 1500 grafts to resurrect the hair in his crown area.
In total, we're talking about a minimum of 3000, likely closer to 4000 grafts being transplanted on Seb to achieve a full head of hair again.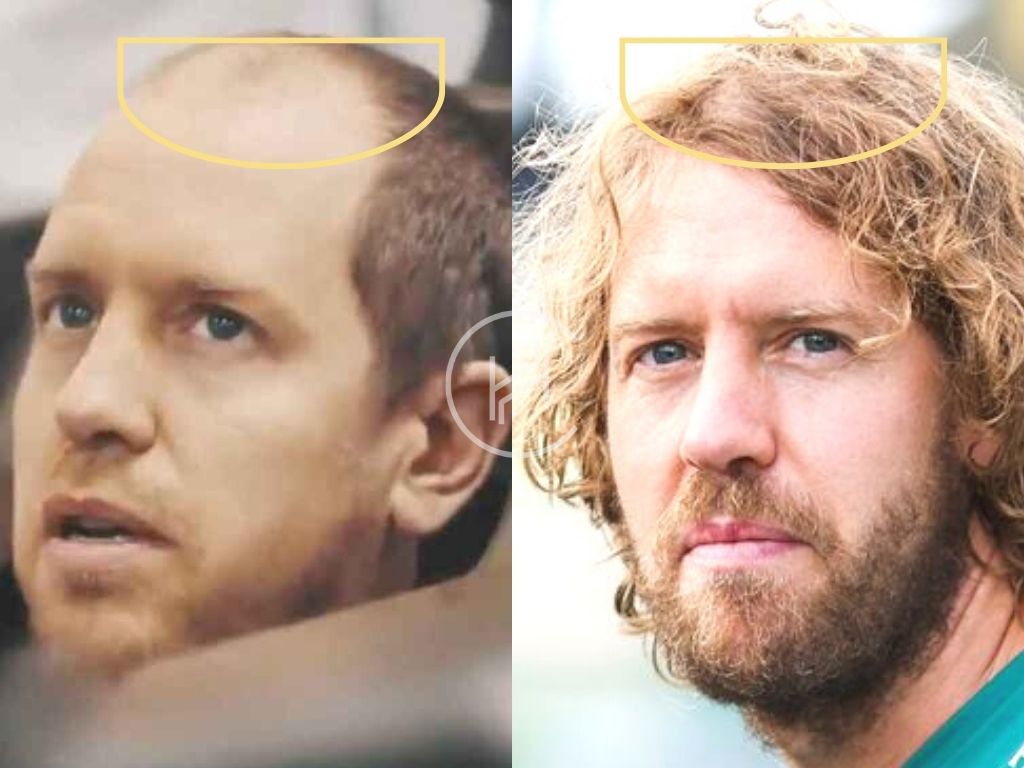 How much did his hair transplant cost?
The cost of a hair transplant surgery greatly varies from country to country, however, the clinic where the transplant is performed plays an important role in quality, durability, and the total cost of the transplant.
Based on the number of grafts mentioned above, a top-quality hair transplant exceeds well over $10k in his home country of Germany whereas the same quality procedure by the hands of a very skilled, experienced, and board-certified hair transplant surgeon in Istanbul, Turkey may only cost around $3000.
Sebastian Vettel before and after hair transplant
Most likely a great candidate for a hair transplant, whether the procedure will be successful on Vettel or not depends on his genetics like everyone else.
Great clinics are usually able to give patients a good idea of what to expect and instruct hair transplant patients with step-by-step guidance on after-care. Vettel's age makes him the perfect candidate to see the results of a hair transplant as soon as just a few months after the procedure, with final results and thick & firm transplanted hair growing in 8 to 12 months.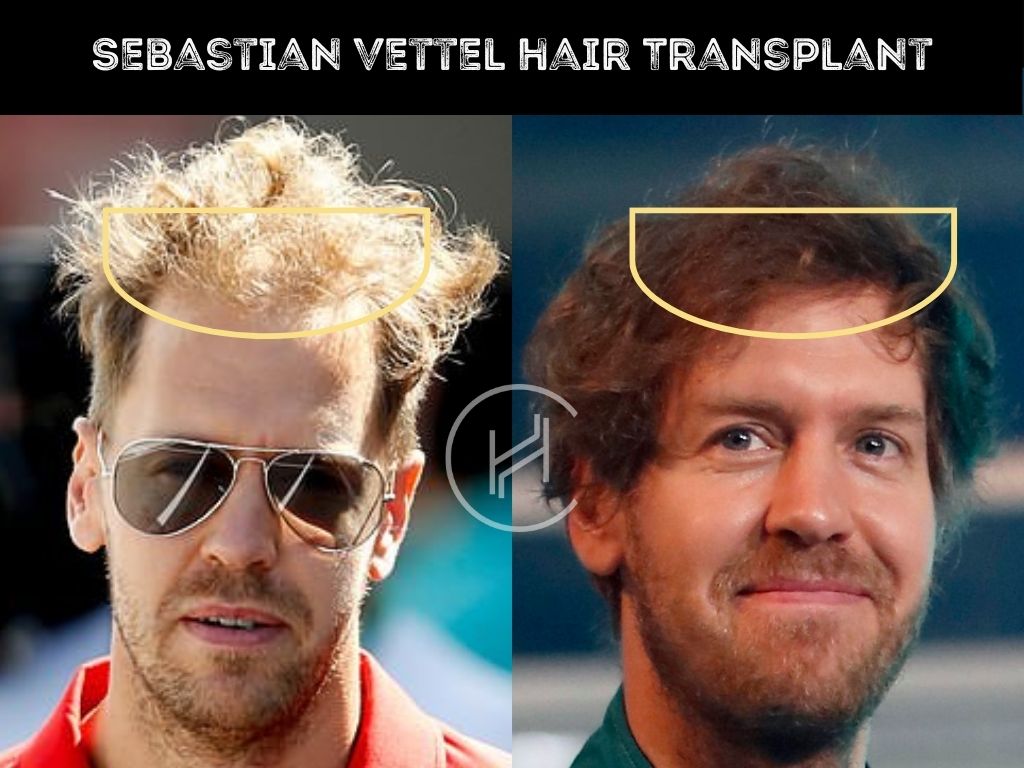 Sebastian Vettel's Hair Transformation
A story for inspiration, Sebastian went from hero to near zero in the hair department in no time but managed to revive. Only time will tell if his more balanced, recent appearance will remain.
We may see him embracing baldness or opting for the only guaranteed solution that exists for hair loss later in his life. We just hope that it's not too late for Vettel, may he decide to openly announce his hair transplant.
Remember that you do need to have a healthy amount of donor hair on you, to opt for a successful hair transplant. Feel free to reach the medical team at Heva Clinic to know your eligiblility.
Planning to have a hair transplant? Reach us to achieve a better result than Sebastian Vettel!
No matter where you are based, a great hair transplant clinic that can help you achieve the best results possible is within your reach for sure. As hair transplant experts, we can only hope that you take an informed decision opting for the best possible quality, the best surgeons, and the best price/performance ratio. This logical yet simple equation leads those contemplating a hair transplant to Istanbul. Thanks to its geographical location, Istanbul is one flight away from wherever you are in the world.
Making sure to provide the #1 patient care worldwide, Heva Clinic Istanbul, Turkey offers a generous FREE online consultation to provide you with an in-depth insight into your specific situation.
Experts in the specific area of hair transplant, Heva is home to some of the best surgeons that exist. The team also go out of their way to make international patients feel at home at their ultra-modern facility while spoiling patients with luxury accommodation options and VIP transfers.
Go check out their comments to see the thousands whose lives have been changed and don't miss out on the opportunity of a FREE professional consultation!