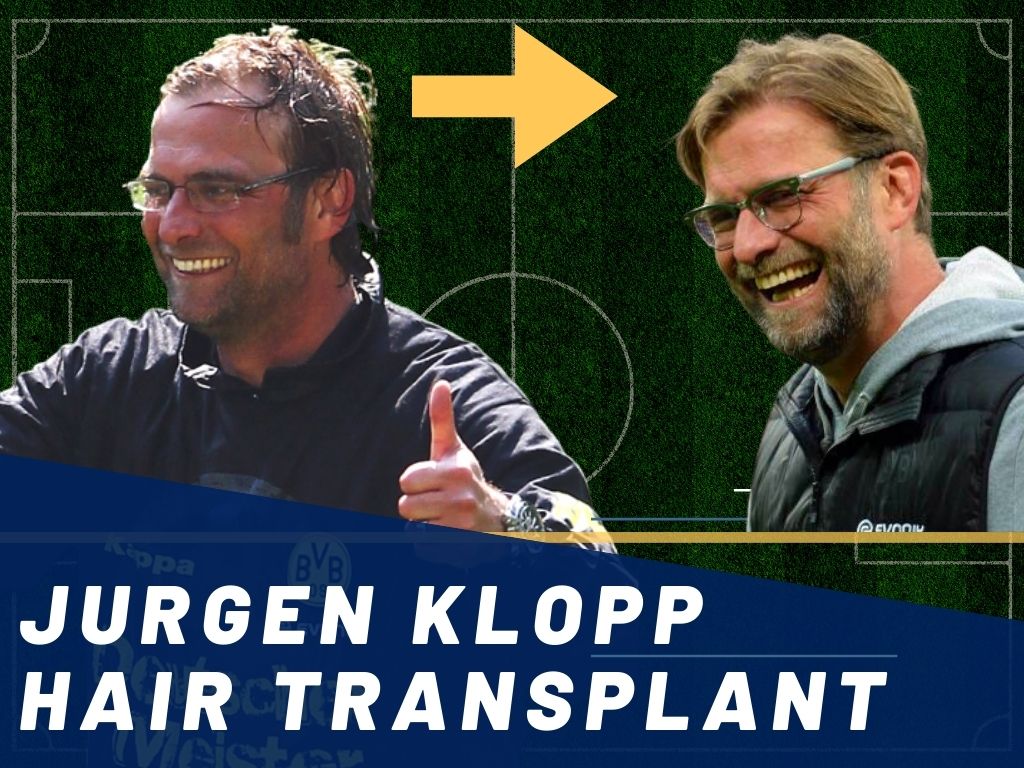 As solid and trusted as German cars, Jurgen Klopp is the name that has become synonymous with success in the world of football. From his early days as a player to his current role as manager of Liverpool, Klopp's journey has been defined by hard work, German discipline, determination, and a relentless pursuit of excellence.
With qualities that embrace perseverance, his constant pursuit of being the best person he can be is also seen in his personal life choices. He is one of the early adopters of hair transplant and his hair transplant success story led many other celebrities to undergo the procedure.
Klopp is a true inspiration to anyone who wants to achieve their dreams, and his hair transformation serves as a reminder that with research, determination, and positivity, you can even bring your hair back!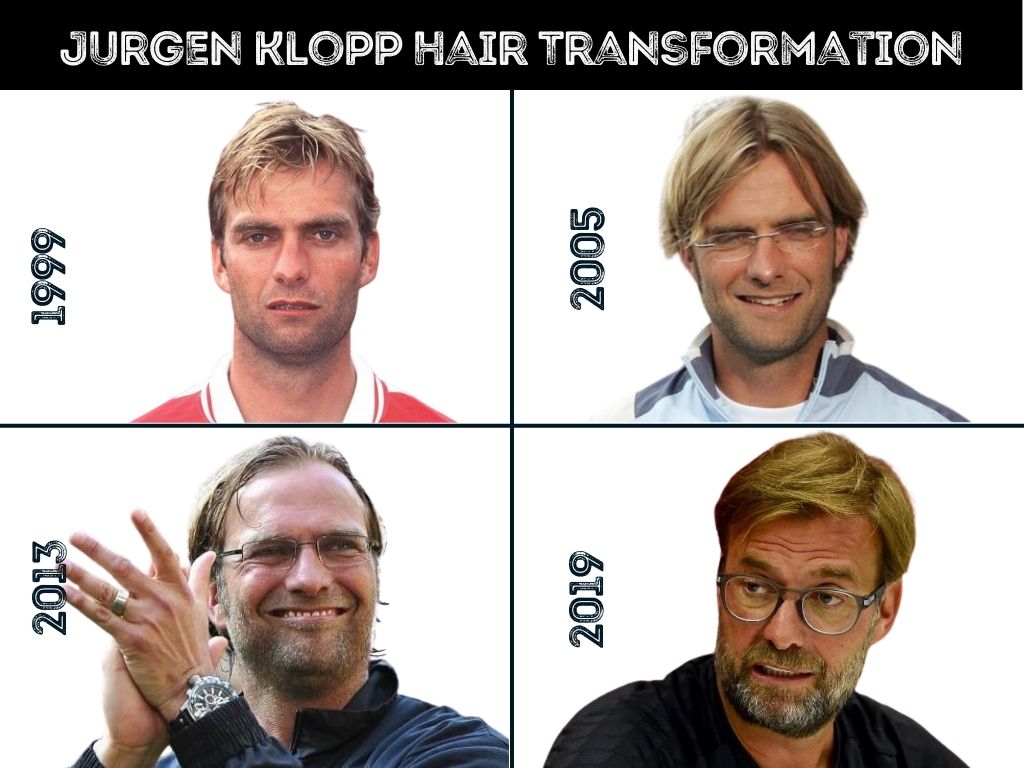 When did Jurgen Klopp's hair loss start?
The severity of Jurgen Klopp's hair loss was most visible in early 2010s, but it didn't require a magnifier to notice that he had thinning problems and opening temples way before that. For a while, he could get away with camouflaging those areas and styling his long hair accordingly.
We also notice that Klopp didn't wait until the hair loss became severe. He trusted the process and medical technology of the time. As a result, he once again walked away with just another success story.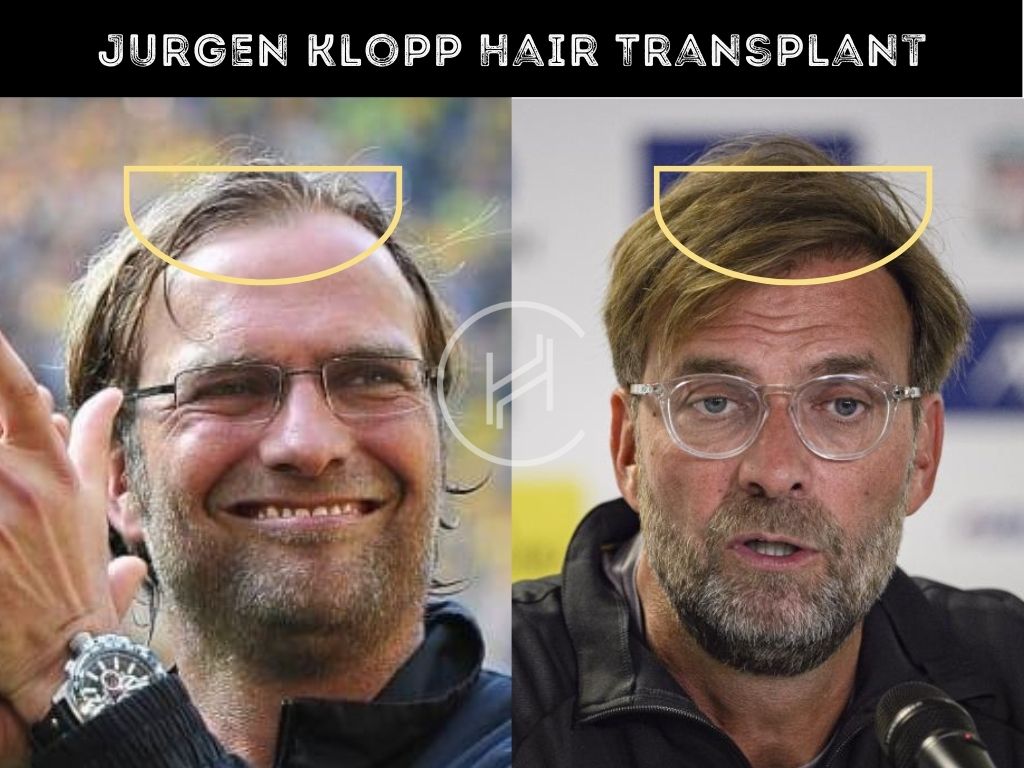 Has Jurgen Klopp had a hair transplant?
Yes, Klopp has openly discussed his decision to undergo a hair transplant procedure in 2012. Although not as severe as many other cases of the same age, his hair loss was noticeable even by the untrained eye.
He was asked by reporters too many times about his hair transplant back then. Each time, he was humble enough to respond that he was very satisfied with the results.
Jurgen Klopp before the hair transplant
When we look at the young Klopp as a successful football player back in the late 90ies, we see that his hairline hasn't changed all that much in terms of its shape. It just deteriorated with age. His temples were never full either but he clearly had denser, thicker hair.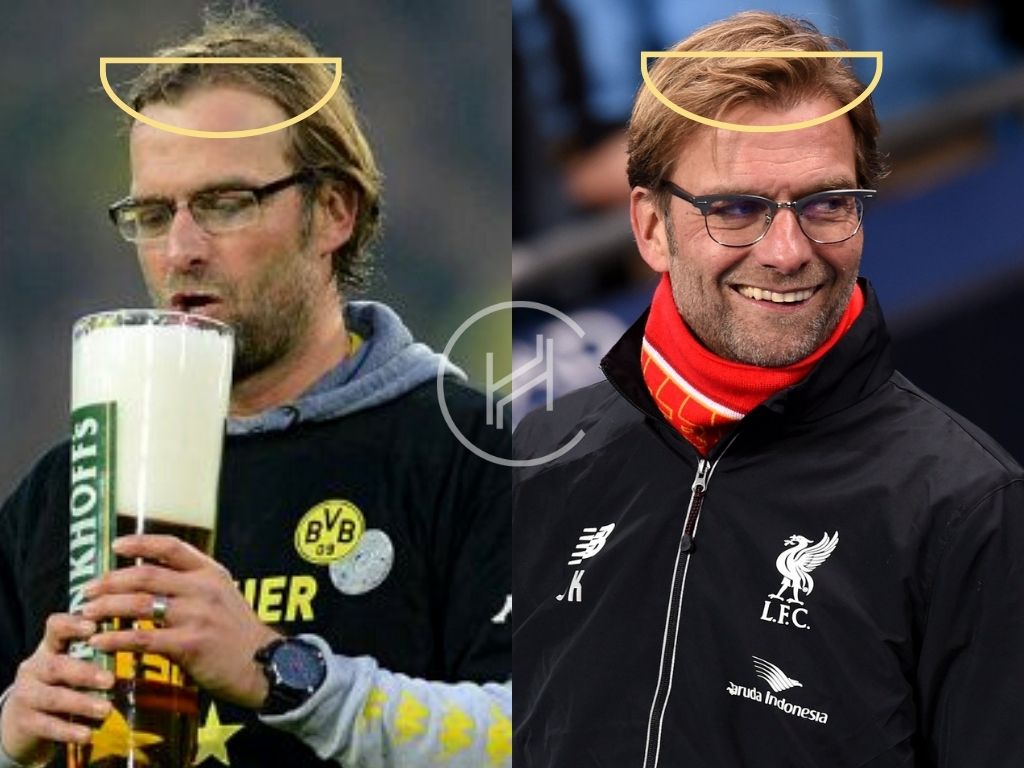 Jurgen Klopp after hair transplant
Given that Klopp was 45 years old at the time of his hair transplant in 2012, in 2013 he was already embracing and enjoying the good results of a natural-looking hair restoration procedure. It is unknown if it was his own decision or the surgeon's idea but his hair transplant was kept subtle in a way. For someone his age at the time, and with enough donor hair of good quality, a much denser hairline and hair transplant, in general, could have been achieved.
We say this because lately, he seems to struggle with hair fall and lack of hair density again. About ten years following his hair transplant, this falls within the natural flow of biological life however things could have looked and felt better may he had a different approach on his first transplant in 2012.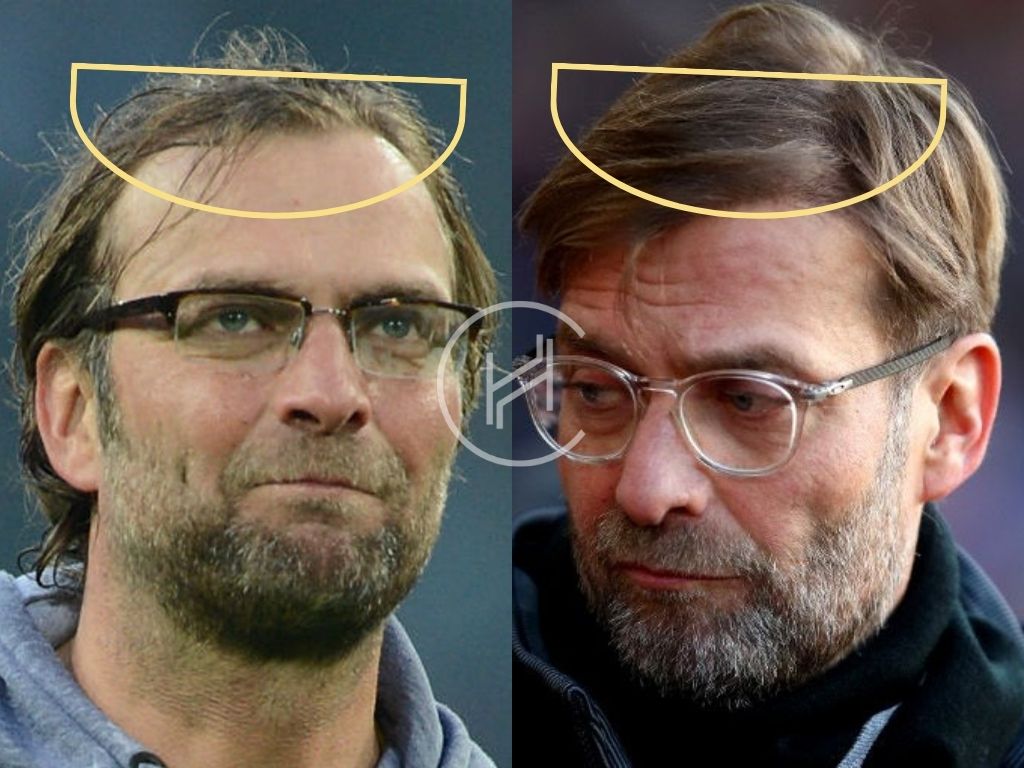 Which technique is used?
We are 99.9% sure that the technique applied to Klopp was Unshaven FUE (Follicular Unit Extraction). This method wasn't as common as it is today back then and surgeons were only able to transplant a certain amount of hair grafts which took them long hours.
This has changed since then and tools that help with more precision and prevent scarring were developed. Hair transplant requires teamwork and an experienced team of surgeons can transplant a few thousand grafts in just hours today.
How many grafts are transplanted?
On Klopp, the most noticeable positive change as part of his hair transplant has been his hairline. Redesigned and densified, his hairline was made to look very natural and very much his own. He also received some support on top of his head with very subtle touches on his temples but these aren't noticeable as much as his hairline.
Klopp may have gotten away with 2000 to 3000 grafts which according to some sources took two entire days to complete.
2000 grafts hair transplant with the right technology, tools, and experienced surgeons can easily be completed in 4 hours today.
How much did his hair transplant cost?
The actual value of the Euro back then and the Euro now are different, however, a good quality 2000+ graft hair transplant will break the bank in Germany unless you earn as much as Jurgen Klopp.
Hair transplant cost is often calculated by the graft and the cost per graft at an acceptable clinic in Germany in 2023 stands at a whooping € 3 if not higher. Klopp for being an A-level persona may have paid a few times more than this average cost though.
Jurgen Klopp before and after hair transplant
For Klopp, the most exciting difference must have been between 2012 and 2013 (receding hairline vs healthy, dense hair). After he turned 50, we observe that the hair density on top of his head started showing signs of weakness. This is normal with aging and happens to most men, especially those who haven't had a hair transplant.
It can comfortably be stated that he enjoyed almost a decade of lush hair. Given that his transplant was performed all the way back in 2012 when great results were not guaranteed, it pretty much paid itself off. He enjoyed a decade of good hair day every day and is now at a crossroads to see how he feels about further hair loss.
Let's see if a second hair transplant will be on the cards for Klopp in the coming years.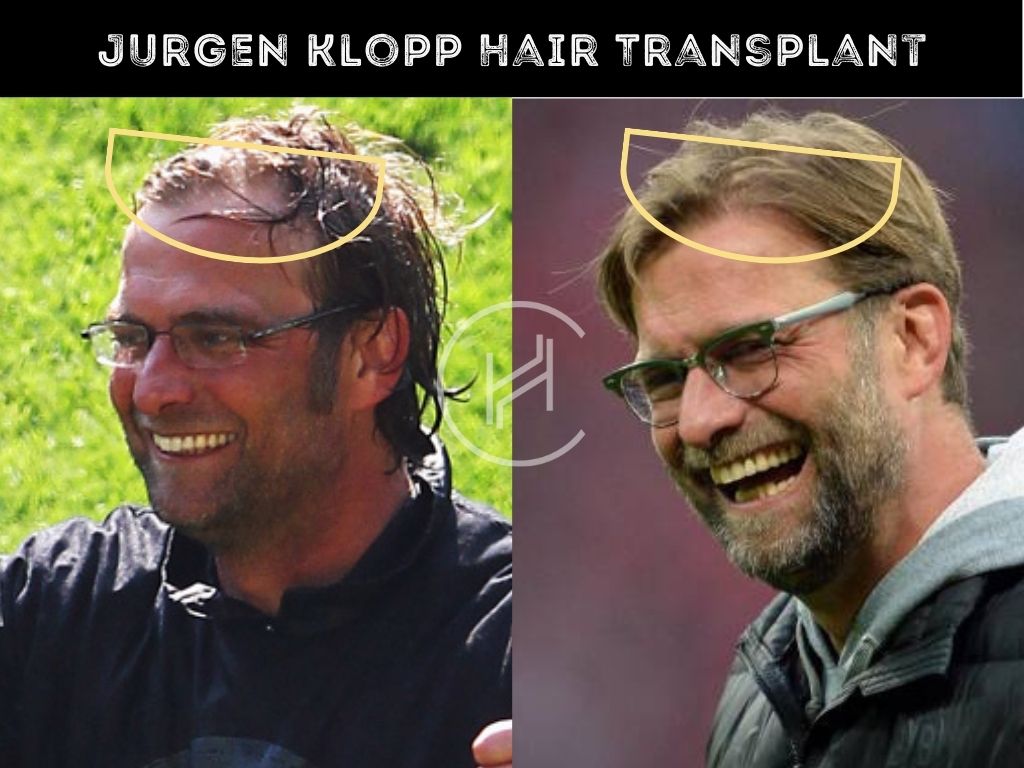 Does Jurgen Klopp dye his hair?
It's been hard to catch Klopp without wearing the beanie or the baseball cap since 2022 and we notice that his dark blond hair color is seamless despite his age. His beard looks quite natural with white hair mixed into his native dark blond but the hair may as well be way too homogenous. For a 56-year-old who had blonde hair transplant, we find his hair color way too harmonious but it suits him nevertheless.
Planning to have a hair transplant? Reach us to achieve a better result than Jurgen Klopp!
Did we emphasize enough that a lot has changed since Klopp had his hair transplant? We now live in a world where specific tools were developed for the sole purpose of more successful hair transplant results and a faster healing time.
You must of course opt for the right clinic where your needs are understood and your expectations are guided realistically. Luckily for us, not only the technology and expertise came a long way since Jurgen Klopp had his hair transplant but the cost of a top-quality transplant also came down. Unless, hmm, you live in Germany or in the US.
As a game changer in the industry, what if we told you that the highest quality hair transplant is waiting for you right now for a fraction of what it costs in Germany? It is also just one flight away from wherever you are in the world and the keyword is Istanbul.
Heva Clinic in beautiful Istanbul serves as an international hub for those determined to change their lives for the better. An all-inclusive treatment package is at your fingertips right now, and Heva Clinic offers amazing before and after results and a completely FREE online consultation to guide you on your individual situation!