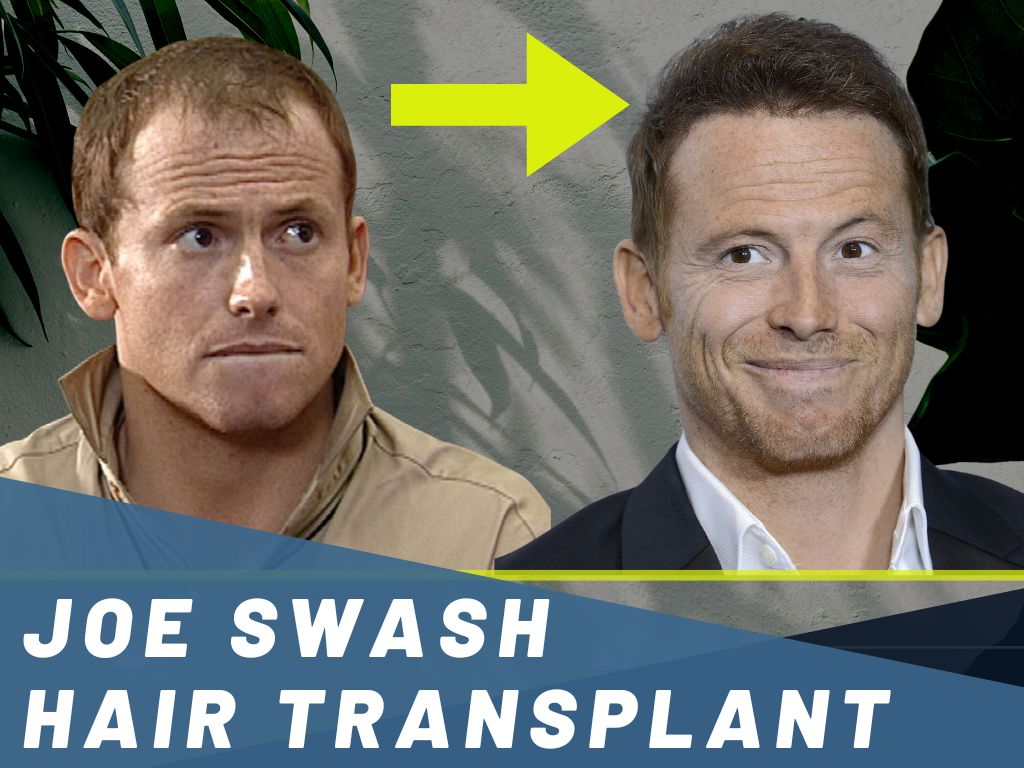 Known as an all-around good guy, Joe Swash's infectious smile and boundless energy have endeared him to fans of all ages around the world. His down-to-earth attitude has made him one of the most approachable celebrities around, despite the fact that he spent his entire professional life acting from a very young age.
He's a true inspiration to anyone with his positive attitude and can-do spirit serve as a shining example of what's possible when you put your mind to it. A great example of this is his openness about the hair transplant procedures he has had. Swash was humble and kind enough to reflect and explain all about how hair loss affected his self-esteem and why hair restoration turned out to be the greatest solution to his problem.
This talented and warm-hearted entertainer is sure to continue wowing audiences for years to come, and we can't wait to see what he'll do next. But for now, let's focus on his hair restoration journey to see if he is a celebrity who had a hair transplant and what positive difference his experience can make in our lives.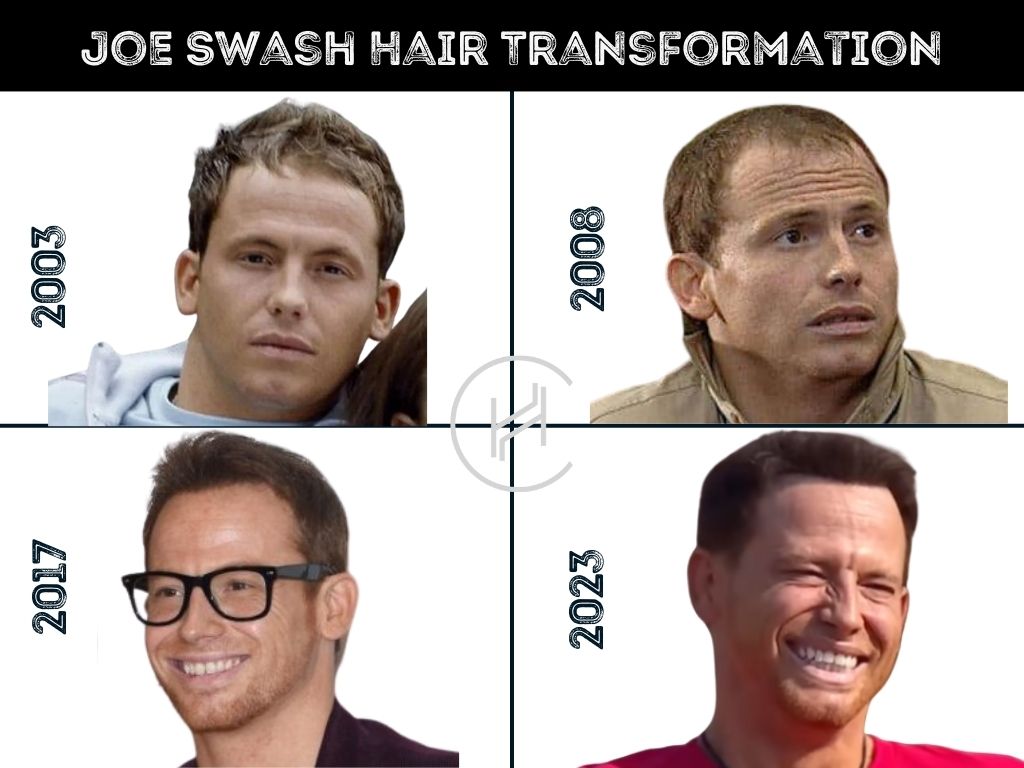 When did Joe Swash's hair loss start?
Although not at the same speed as his own awakening, Joe Swash has been open and public about his struggles with hair loss for the sake of the greater good. That is of course when he himself had the "I think I'm losing my hair" moment while shooting an episode of the East Enders all the way back at age 23.
Many years following his aha moment, Swash tried a variety of non-surgical hair treatments and hair care plans to no avail.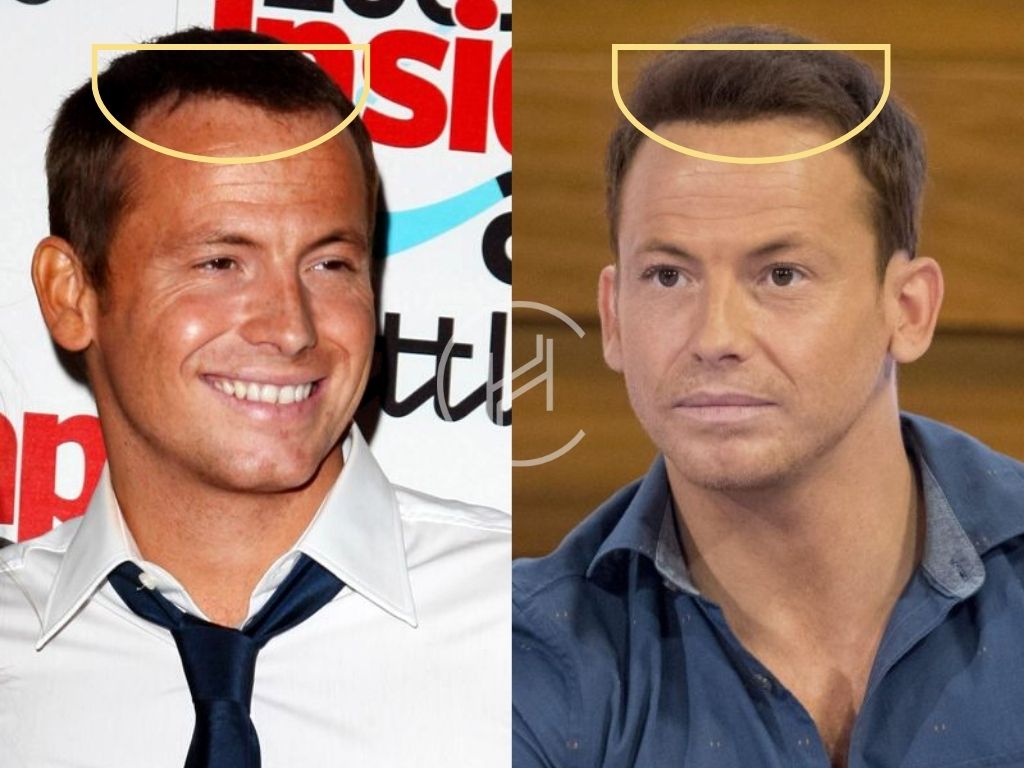 Has Joe Swash had a hair transplant?
Years later in 2018, he revealed in a formal interview with The Sun that he had been experiencing hair loss since his mid-twenties and had considered getting a hair transplant. He said that he had tried various hair transplant alternatives but hadn't found anything that worked for him. He started talking to friends who have had hair transplants, doing his own research as well as gathering information on the topic.
As a result, Joe Swash has been forthcoming about his experiences with hair loss and his decision to give hair transplant a go. Swash has been open about his hair transplant journey in interviews and on social media, sharing photos and details of his procedures. He has also expressed a desire to assist other men who may be struggling with hair loss, encouraging them to explore potential solutions that can improve their confidence and quality of life.
Swash's willingness to share his experience has helped to reduce stigmas surrounding hair loss and to motivate others who may be considering hair transplant procedures. His journey serves as a reminder that hair loss is a common issue that can be addressed, and seeking help can have a significant effect on one's self-esteem and overall well-being.
Joe Swash before hair transplant
From a technical point of view, Swash's hairline receded gradually and quite visibly over the years and reached somewhere between Norwood 3 and 4 stage. The hair around his temples, hairline, and forehead in general was thinning, leaving him with a much older appearance. Fearing he could go completely bald, we're happy he decided to do something about his condition while he still had healthy donor hair on his scalp.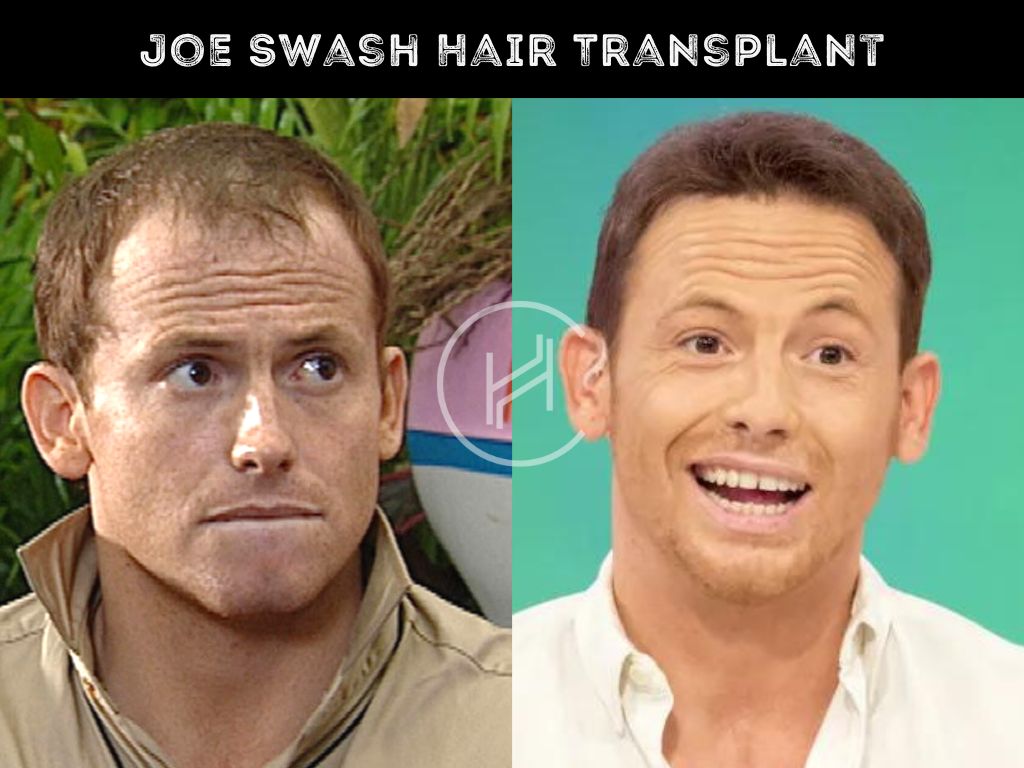 Joe Swash after hair transplant
After several procedures over the years, Swash has been active on social media, sharing photos of himself and his hair, and speaking about his experience. In a post on Instagram in 2019, he wrote, "I wanted to be open about the hair transplant because I think there are loads of men out there that are worried about their hair and they shouldn't be. There are solutions out there and they can make a big difference to your confidence."
How many hair transplants has Joe Swash had?
Joe Swash has undergone several no shave hair transplant procedures to address his hair loss concerns. He has stated that he has had multiple hair transplant surgeries to achieve the desired results but according to our investigation, Swash has so far had three hair transplants.
He underwent his first hair transplant in 2015, which he stated made him look slightly better. However, he felt that his hairline did not look as natural as he had hoped, and he opted to undergo additional procedures to achieve a more natural-looking result at a different clinic in 2018.
Which Technique Is Used?
The hair transplant method used in Swash's procedures is called Follicular Unit Extraction (FUE). This method involves extracting individual hair follicles from the donor area, usually at the back or sides of the head, and transplanting them to the recipient area, where hair loss has occurred. FUE is known for its natural-looking results, minimal scarring, and relatively short recovery time. As a celebrity, he chose the Unshaven FUE method to keep his existing hair to keep his hair style.
In interviews, Swash has praised the FUE method, saying that it has helped him achieve a more natural-looking hairline and has improved his self-confidence. He has also been candid about the potential discomfort and recovery time associated with the procedure, noting that it can take several months for the transplanted hair to fully grow in.
Overall, Swash's hair transplant journey highlights the effectiveness of modern hair restoration techniques in addressing hair loss concerns. With advancements in hair transplant methods like FUE, individuals can achieve natural-looking, long-lasting results.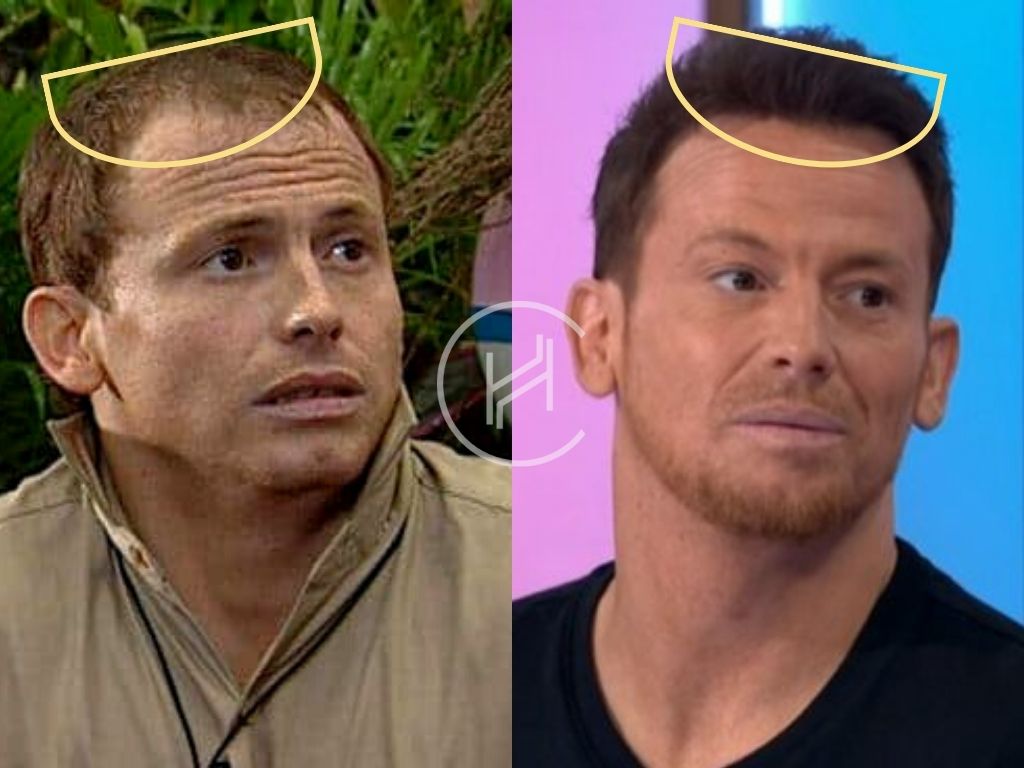 How many grafts were transplanted?
After observing the areas that were filled in and the number of procedures Joe Swash has had, we estimate that 4000 grafts must have been transplanted to create his current looks.
Where Did The Operation Take Place?
His first try in 2015 sent him to the UK Hair Transplant Clinics. He then heard about the great reputation of hair transplant surgeon Dr. Matee Ullah who has practices in the UK. An expert in the Follicular Unit Extraction (FUE) technique and the surgical director of the KSL Clinic with facilities in Kent and Manchester, Swash seems to have found what he was aiming for.
How Much Did His Hair Transplant Cost?
For a celebrity of his caliber, he could have paid anything really. What's important is to do our research and find out how much the same quality procedure, from the hands of a similarly capable surgeon with a similar number of grafts should cost.
With different costs of living and salary scales in each country, the UK certainly comes on top of the most expensive places to get a quality hair transplant done. From a price/performance standpoint, the go-to country for a very high-quality hair transplant is certainly Turkey.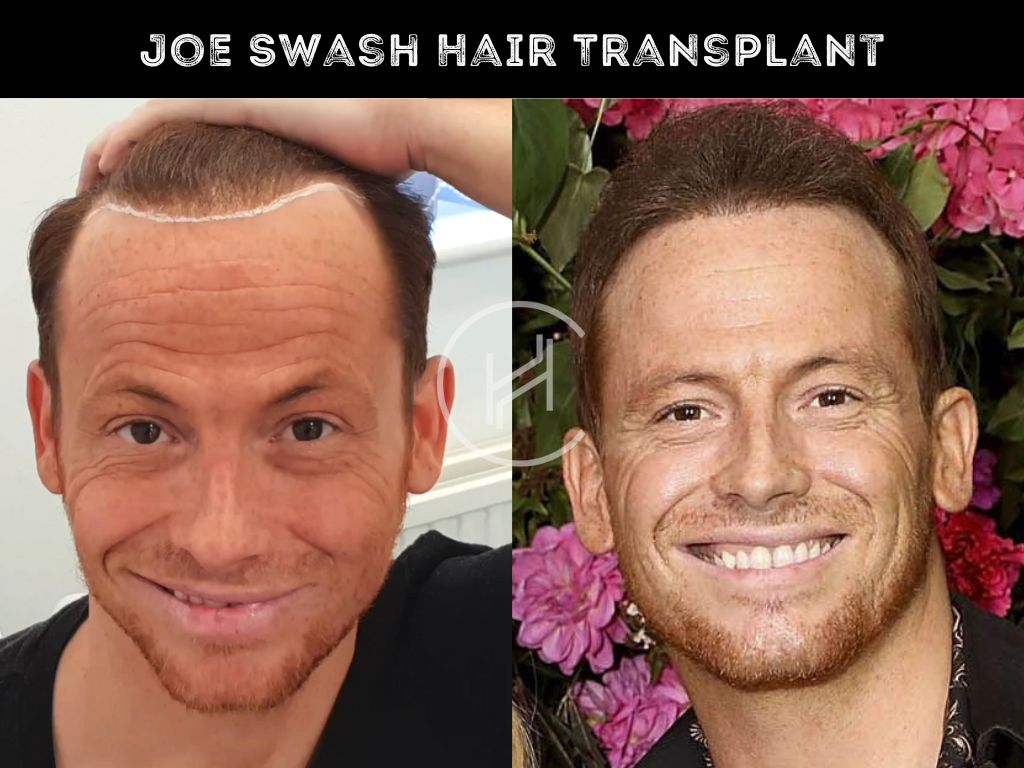 Planning To Have A Hair Transplant? Reach Us To Achieve A Better Result Than Joe Swash!
One of the reasons why we see most celebrities having more than one hair transplant may be the lack of planning in hairline design. Since failed transplants are no longer common, the main reason a person may opt for a second hair transplant is that they aren't completely satisfied with the way their hairline looks.
It is therefore crucial to find your match and work with a reputed clinic that listens to you while providing professional input. One such hair transplant clinic is Heva Clinic.
The team at Heva are so confident in the quality of the results they provide that a completely FREE online consultation is on offer. Only after you decide that getting a hair transplant procedure at Heva Clinic is the right choice for you, they make every effort to take care of the rest. Think private transfers, a luxury stay, and a seamless process.
The solution is out there waiting for you to grab when you can!