You will find your time spent going through this content extremely useful if you have been planning to get a hair transplant done soon. As a matter of fact, even if you still have your scalp full of hair and perhaps worry if one day you may lose some of it, what you will read here will be very helpful.
If you reside in the US, Canada, Australia or Western Europe, you may want to allocate some time to explore the best deals that you can find in other parts of the world.
Hair Transplant Costs Overseas in 2023
After a little research, you will see that a handful of countries come up online as recommended destinations for a hair transplant. Their cultures, success rates and surgical expertise have distinct differences, and so do the costs of hair transplant in different parts of the World.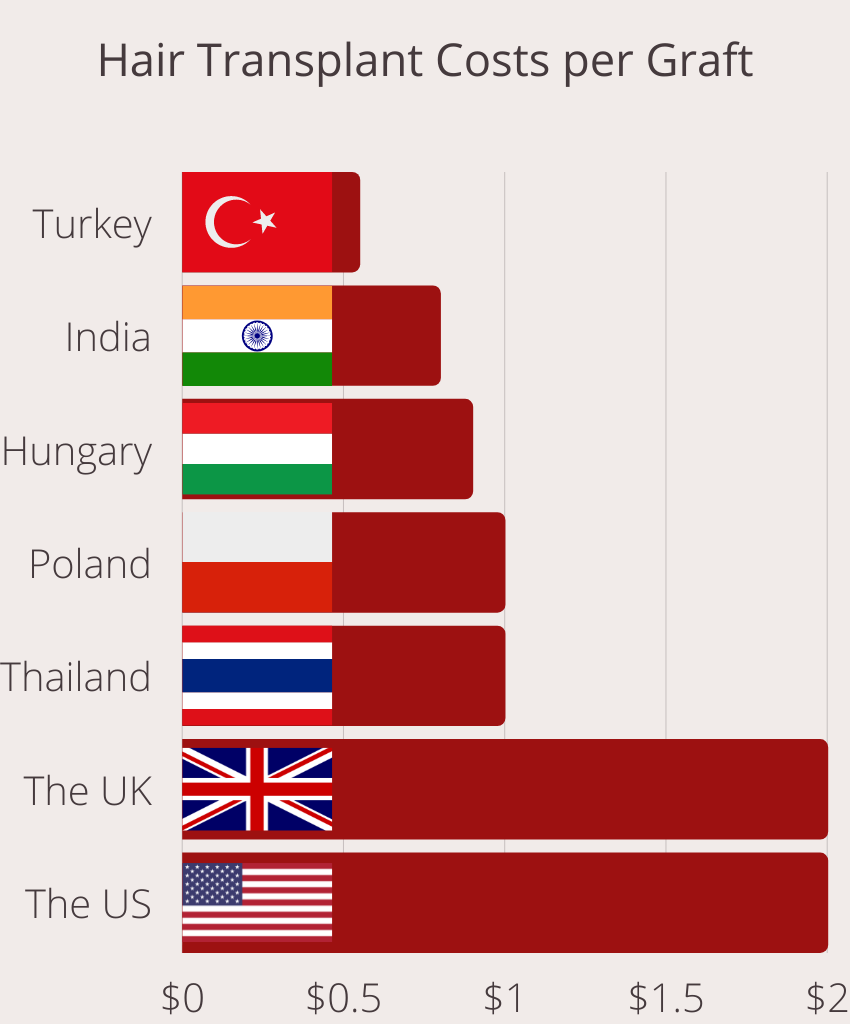 The most important fact you should know is that a hair transplant procedure may cost much less at a destination with a much higher skill and success rate. Having mentioned much less, let's look into the actual figures of a hair transplant.
Best countries for hair transplant
As an example, the cost of a hair transplant in Turkey starts at 55 cents per hair graft. This price is 80 cents for India, 90 cents for Hungary, and 1 dollar for Poland and Thailand.
On contrary, the same hair transplant procedure in the UK and USA costs $2+ per graft which makes it 4-5 times more expensive for the same, maybe a less successful procedure.
Turkey has become famous for the affordable and high quality hair transplant operations. Hundreds of thousands people from overseas and Europe prefer to get their hair transplant operations in Turkey because of the highly qualified hair clinics and experienced surgeons.
In addition to world-class hair transplant success rates, Turkey offers lower prices compared to many other countries due to high exchange rates and the popularity of medical tourism. The cost of hair transplant operations makes Turkey the best option as they are 8 times lower than in the US, the UK, or the Europen countries.
The price of hair transplant operations in Turkey ranges between $2,000 and $6,000. Further, the country is a great touristic attraction with its rich culture, historic places, and beautiful nature. Most patients also get a holiday out of their operation thanks to attractive package deals.
Without a doubt, Thailand is one of the most stunning countries to visit and it's famous for cosmetic surgeries. You can combine your professional hair transplant operation with a luxurious and fascinating trip. What is more exciting is that you would be paying less than you would in your home country.
The low prices of hair transplant operations and affordable cost of living in Thailand make it a great location. If you are planning to get a hair transplant abroad and don't mind spending a little bit time to talk to Thai clinics. Away from your daily life, you can choose from various experienced and high quality clinics in Thailand. Especially, clinic in Bangkok have a great experience on caucasion hair types and various hair transplant techniques.
Hungary is a preferred destination in Central Europe for hair transplant operations. Hair transplant clinics in Hungary are offering great hair transplant bundles that include different types of supportive treatments as well as different hair transplant techniques such as follicular unit extraction (FUE), follicular unit transplantation (FUT), and direct hair implementation (DHI).
Hair clinics in Budapest are known for promising hair transplant results. Of course, Budapest is also a great tourist support with impressive historical buildings, an urban feeling, and closeness to many other European countries. If you are planning to get your hair transplant operation in a European country, Hungry is a great one to choose!
The hair clinics in the UK are known for their excellence and their experience in different niche hair transplant operations. Even though the hair transplant prices are significantly higher in the UK, it still might be an attractive option if you live in the UK and are not willing to travel abroad for an aesthetic operation. Especially the majority of British celebrities have undergone a hair transplant procedure in their home country and achieve successful results.
For some people, staying local and saving time can be more important than affordability. Just like the other countires above, you can choose from various great hair clinics by 1-hour research about potential hair clinics in the UK. Don't forget to check their before and after photos and surgeon qualifications.
Despite being right next to the Central European countries, hair clinics in Poland offer much more affordable hair transplant operations. Een though the country's medical tourism industry is still developing, there are some clinics offering top-notch hair transplant procedures and known for their high success rates.
It's a matter of research and great communication to achieve the best possible hair transplant results in Poland. It's recommended to ask for patient testimonials and before and after photos to find the best hair clinics for you in Poland. Further, the ease of travel makes Poland an attractive location to travel to if you are not willing to spend a lot of time out of your home country. You can visit Poland in the wintertime to experience the magical aura of the Poland under white snow.
There are lots of great hair clinics in the US that offer cutting-edge hair transplant technologies and fascinating results. You can easily choose to get your hair transplant in different states and cities depending on your preference.
If you are located in the US, you might want to stay within your state or venture out to other states to make a trip out of it. Unfortunately, the cost of hair transplant operations is significantly higher than in the countries we have covered before. So, the US is not the best country to get a hair transplant if you are not willing to spend about $10k.
India has an increasing number of patients travelling from abroad for hair transplant operations. This eclectic country has gained popularity due to lower prices, approximately 60-80% lower than many other countries.
What is more, some qualified clinics in India do not compromise on the quality for lower prices. You can get highly successful hair transplant operations that can give you your dream hair without spending as much as you would have in your home country. The only issue is that there are plenty failed hair transplants reported from India, which raises question whether India is the best country or not. However, if you think you found the best fit, you can still get great hair transplant results.
The interesting culture and vibrant cities of India also attract the attention of people who are looking to get a cultural trip out of their medical visit.
What Changes the Price Between Countries?
The long and short of it is that factors that cause the price to fluctuate from country to country are in line with each country's GDP per capita and cost of living. In countries like Turkey and India, becoming a surgeon is a highly reputable profession. Even though the income benefits may not match in dollars, but the lifestyle does.
In Turkey, for example, hair transplant surgeons can have a high quality life by earning 4-5 times less than their peers in the USA.
Also, Turkish suregons specialize in hair transplant procedures and have thousands of hours of experience in this very specific area. As a result, you end up getting the best before-after results and quality for a lower cost, due to lower salaries in Turkey.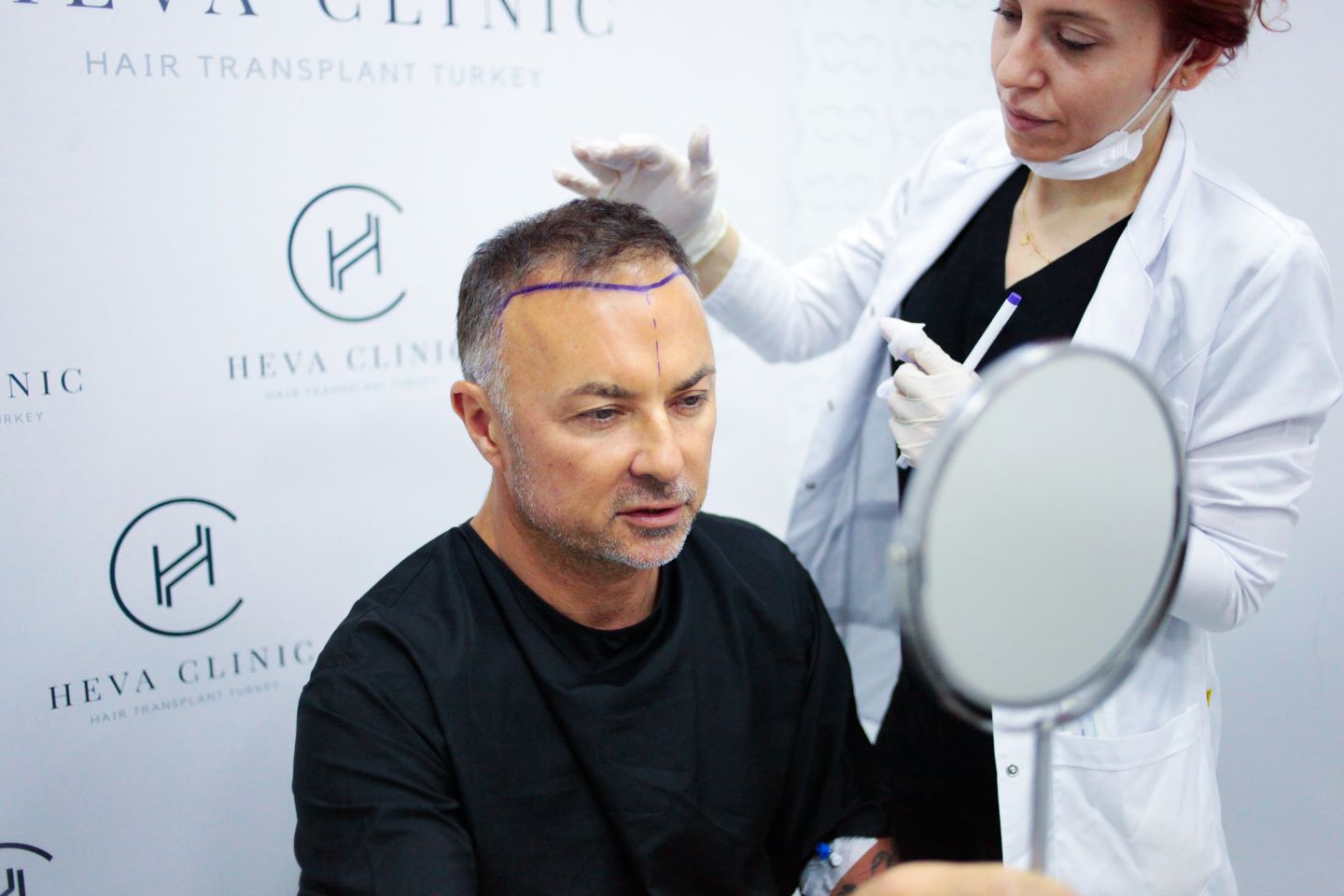 Cheapest Hair Transplant in The World in 2023
You should remember that what makes a product or service cheap is the price/quality comparison and balance. We could therefore only talk about the cheapest hair transplant from a certain quality perspective.
Turkey, in general, is the cheapest destination with the highest quality for a hair transplant by 2023. Some clinics in Turkey offer ultra-luxury facilities, along with the best available customer experience for a very reasonable price.
There is however always cheaper than the cheapest. Thus, time spent on deeper research and finding a reputable clinic that can answer all of your questions is key.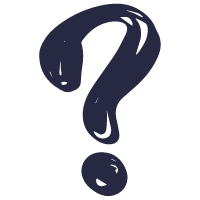 Why Turkey is Famous for Hair Transplant?
Anyone who has done a bit of research on the best places for a hair transplant comes across Turkey on search engines and social media as the most famous destination. The reason for this is a combination of expertise, highly skilled surgeons and technicians, unmatched customer service, and the geoarbirage advantage of the country.
Turkish surgeons and doctors in general also follow up on international medical conferences and technologies. The Ice (Frozen) FUE method and the sapphire blade used in hair transplants are common practices in Turkey despite other countries charging extra for the latest technology.
In terms of customer service, with a long-standing history in hospitality and tourism, Turkish people are hospitable by their nature. It is normal in Turkey for someone to go out of their way to make a guest smile and make sure they are satisfied with the purpose of their visit.
Patients who have had a hair transplant experience in Turkey, therefore, leave great comments which in return boosts the reputation of the country as the best hair transplant in the world in terms of the right destination. Click here to watch Heva Clinic's patient testimonials.
World's Best Hair Transplant Country
Let's break this into what we understand from the components that together, make the world's best hair transplant country:
luxury and modern facilities
trained technicians and experienced surgeons
high-level customer service
Turkey keeps a check mark on all of these and more. In addition to the above, it is common practice that clinics in Turkey offer packages to make it a seamless experience for overseas visitors.
These packages include the hair transplant surgery, all doctor consultations and health checks onsite, VIP airport and clinic transfers, the surgery itself, all hair transplant-related medications, post-surgery medications as well as a lifetime guarantee.
Hair Transplant Capital of The World
After having explained why Turkey has made its fame as the most trustworthy country for quality and cost-effective hair transplants, let's get into where in Turkey you can consider for your hair transplant journey.
With all its charm, beauty, history, culture and gourmet scene, Istanbul is certainly the hair transplant capital of the world. Most patients find it unbelievable that the highest quality hair transplant procedure can be achieved for the lowest price until they are taken to their clinic for the first time. Some luxury clinics in Istanbul's upmarket neighbourhoods offer the highest quality guest experience and medical practices.
Hair transplant in Istanbul, therefore, can in fact turn out to be an amazing journey that gives you the gift of a life-changing experience at the same time.
Opening your horizons to new experiences harbour pleasant experiences, especially in the case of choosing Istanbul for your hair transplant. When you binge-read comments on the patient experience of first-time visitors who had their hair transplant done in Istanbul, you will see first-hand what we mean.
Where can you get the best hair transplant in Turkey?
Although the answer depends on your personal condition and research, Heva Clinic is known for providing the best tailored hair transplant service in Turkey. Usually ranked in the top 3 in the independent lists, you can get the best hair transplant operation with the most experienced medical team at Heva Clinic's facility. Reach us below to plan your procedure!
FAQs about hair transplant
Who is a good candidate for a hair transplant?
A good candidate for a hair transplant should have an adequate number of donor grafts in the donor area. This is important for achieving the desired hair density at the transplant area and seeing satisfactory results. It is also important that you are in good general health and don't have a blood-borne illness.
How much donor hair do I need?
The amount of donor hair you will need for hair transplant can vary depending on the size of the affected area. Approximately 2000 grafts should be enough to cover the frontline while you might need 3000-4000 grafts to cover the front and crown. You can consult your surgeon about how much donor hair you will need for your hair transplant operation.
Which is better: FUE or FUT or DHI?
Choosing between different hair transplant techniques can be challenging. You can choose between FUE, FUT, and DHI hair transplant methods depending on how many donor grafts you will need the size of the affected area and your personal expectations. You can discuss with your hair transplant team to choose the most suitable option for you.