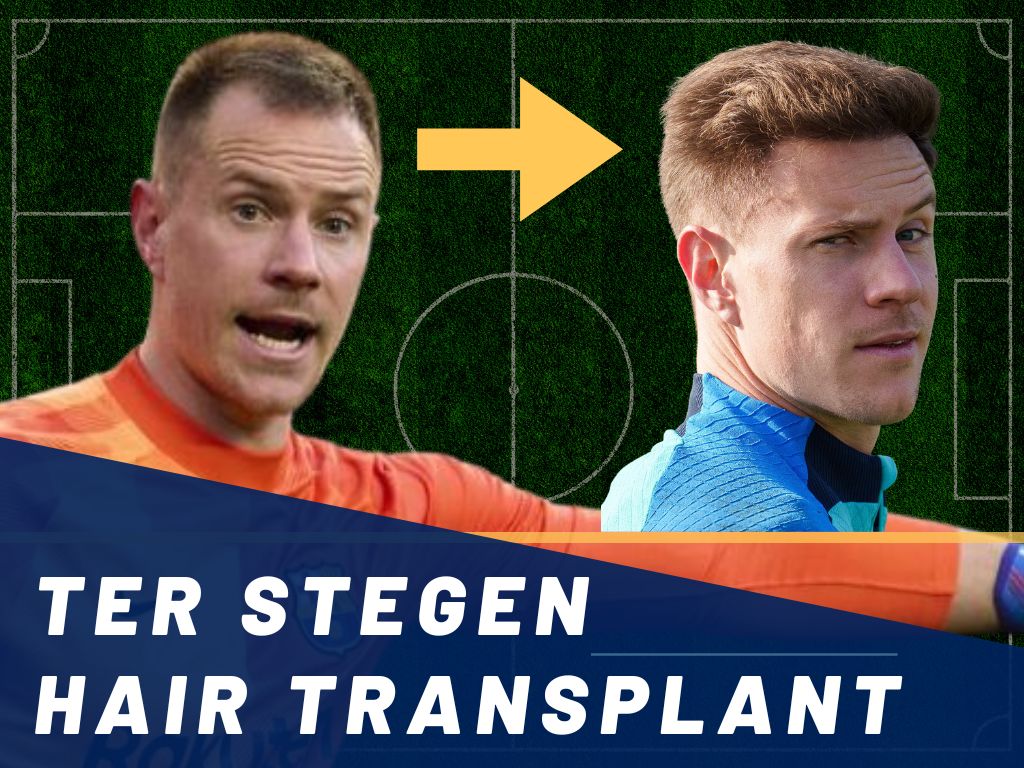 The German goalkeeper Marc-André Ter Stegen, who is renowned for his fierce attitude to guarding the net and lightning-fast reflexes, is also a style icon and a family guy who infuses his passion for music and art into his personal style.
Ter Stegen's aptitude for fusing the worlds of sport and fashion, as well as the seamless integration of his uniqueness and authenticity into every element of his life, set him apart from other sportsmen. It's almost like he embodies modern manhood with his chiseled face, precisely styled facial hair, and stylish clothing.
We are therefore as interested as you are to analyze his previous hair loss situation and extract the lessons learned. So, let's take a look into his hair loss journey along with the solutions he found to overcome balding at a relatively young age. Here come the uncut storylines of one of the latest celebrities who has had a hair transplant!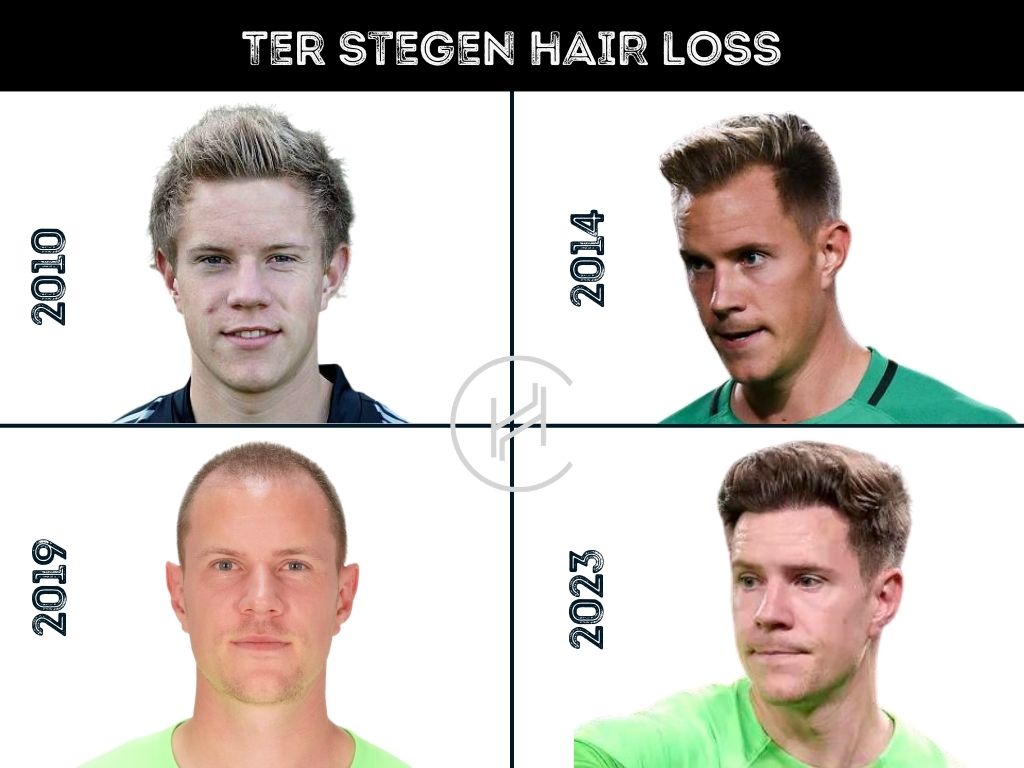 When did Ter Stegen's hair loss start?
We should all remember that the only equality that ever exists among humans is the fair distribution of medical and hereditary conditions. In today's world, those who can afford bio-hacking treatments are opting to live for a very long time, so an extended lifetime is for the ultra-rich only. However, for those suffering from common male pattern baldness such as Ter Stegen, permanent treatment is available for all and for an affordable cost.
In the case of our beloved goalkeeper, we observe that he started noticing his receding hairline in his mid-twenties. When it comes to hereditary or genetic hair loss, it's super important to observe the speed of it which greatly differs from person to person.
Ter Stegen's hair loss advanced fairly quickly and he may have therefore acted quickly rather than wasting time to try topical solutions.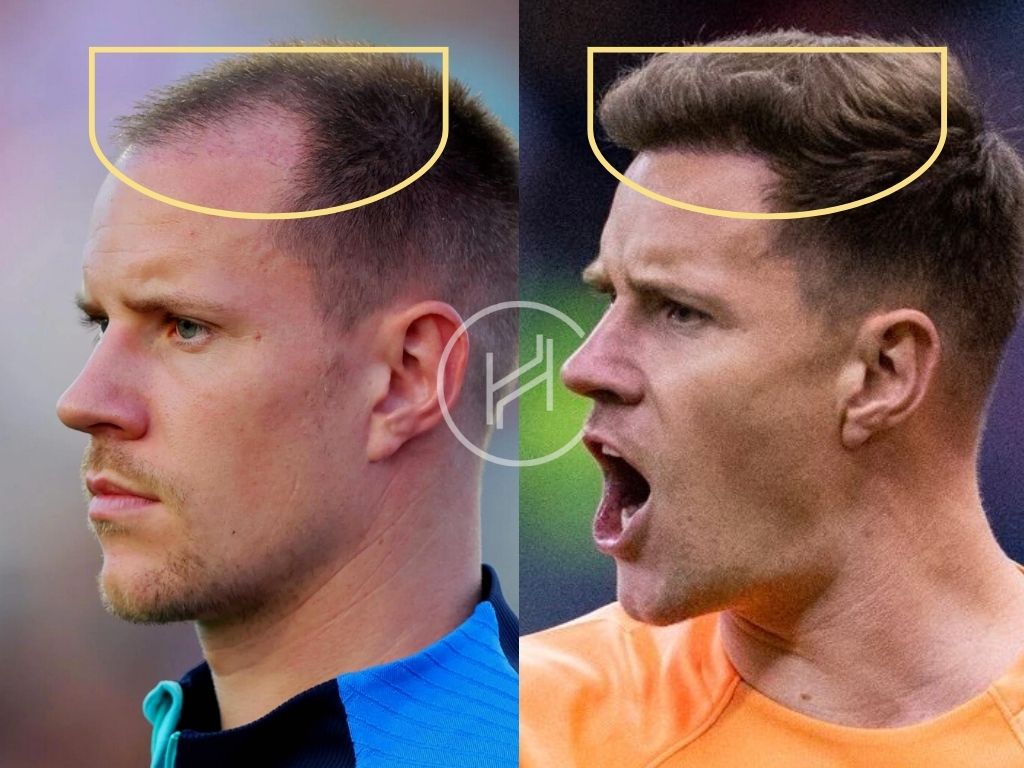 Did Ter Stegen get a Hair Transplant?
Because his hairline was visibly receding, and then he one day appeared with a full head of hair and a perfect hairline, the short answer is yes.
Additionally, not long after the hair transplant procedure (as in just a few weeks post-op), he was spotted several times with the most typical signs of filled-in temples and a redesigned hairline. That's the phase when the scabby scabs have fallen off, the transplanted hairs have grown about one cm and you're good to go in public.
Which Technique was used?
There are several popular methods to successfully transplant hair grafts and the technique used depends on the individual goals of each patient. A confident and experienced hair transplant surgeon is able to recommend the right technique of course.
The behemoth that is taking the hair transplant world by storm is called the Unshaven FUE (Follicular Unit Extraction). It's because transplanting individual hair grafts with this method leaves no scarring, and provides more flexibility to create the desired hairline and density as opposed to other methods like the strip technique.
Still young and with plenty of donor hair intact, Ter Segen's hair transplant technique also happens to be FUE. Most surgeons will recommend this method to their patients, particularly if the patient is a celebrity or a sportsperson in the public eye. This is because of decreased healing time, while the procedure leaves no traces whatsoever after complete healing.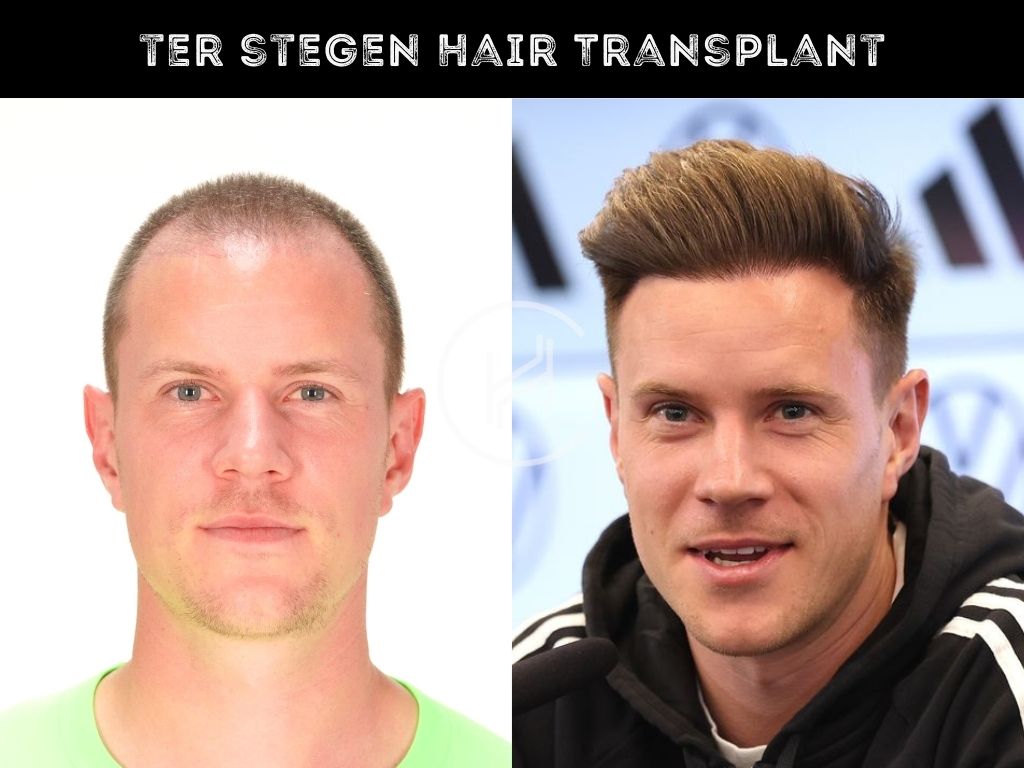 How many grafts were transplanted?
This is a hard one to crack and it's impossible to be precise without having access to Ter Stegen's medical records so we can only provide a tight estimation by the looks of it.
Comparing before and after pictures helps determine the severity of his hair loss prior to the treatment. There's actually a way to measure hair loss, called the Norwood scale of baldness. Based on Ter Stegen's last look prior to the hair transplant, he certainly had a deep widow's peak that was leading to a bad place. Had he waited any longer, he would have ended up with a round patch of hair on top – a typical Norwood scale 4 look.
Because he acted timely during Norwood stage 3, the most noticeable areas that were filled in were the deepened temples, not to forget the magnificent resurrection of his hairline. Additionally, increased density is what we see overall. We, therefore, have an estimation of at least 2000 grafts in Ter Segen's case, if not slightly more.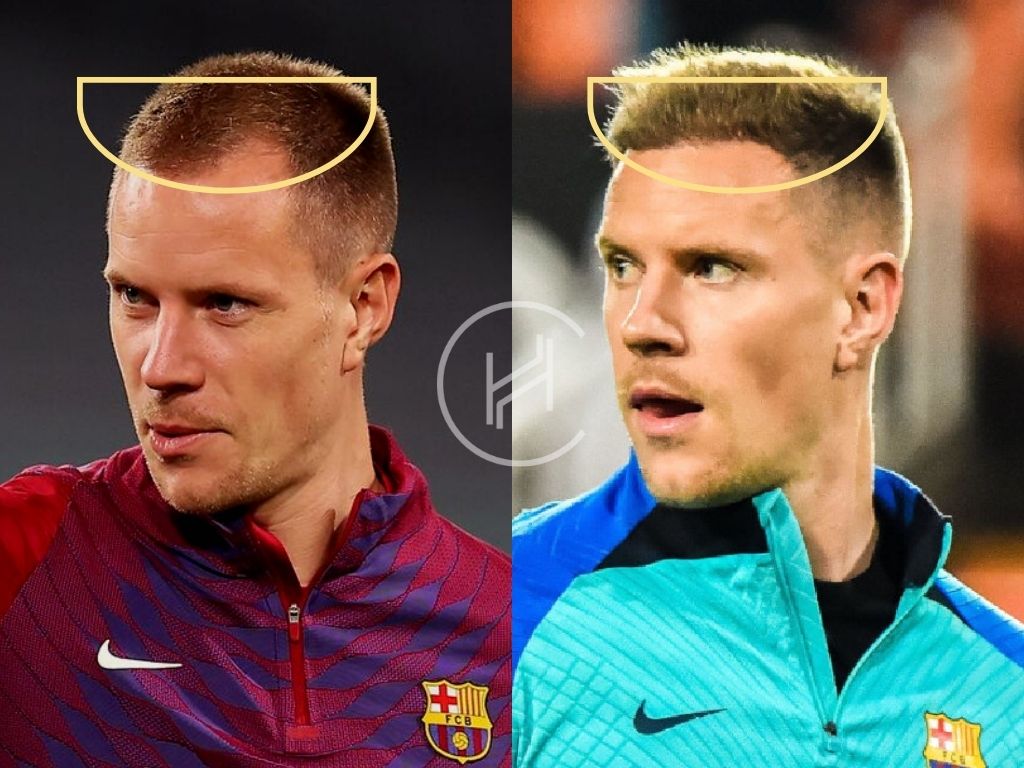 Ter Stegen's New Hair
One of the many reasons why we see an increasing number of footballers with hair transplants is the convenience of it. While an acting career allows temp solutions such as hair fibers, athletes sweat, run, jump around, take infinite showers, go in the steam room and sauna as part of their routine… So a hair transplant is pretty much the only remedy that makes perfect sense.
Ter Stegen certainly pulled it off very elegantly and his new hair looks fantastic! It not only looks natural but his hairline suits his face shape and forehead perfectly. Nothing stands out and his new look is light to digest.
What's also very important is the psychological standpoint that comes with hair loss. Hair loss affects our confidence more than we express to the world and thus should be made a priority to be fixed. Luckily for us, it's a procedure that is easy on the patient and lasts usually just a few hours in the hands of licensed and experienced professionals. With costs remaining very reasonable without compromising on quality, a hair transplant is an opportunity for those who want to live their best life.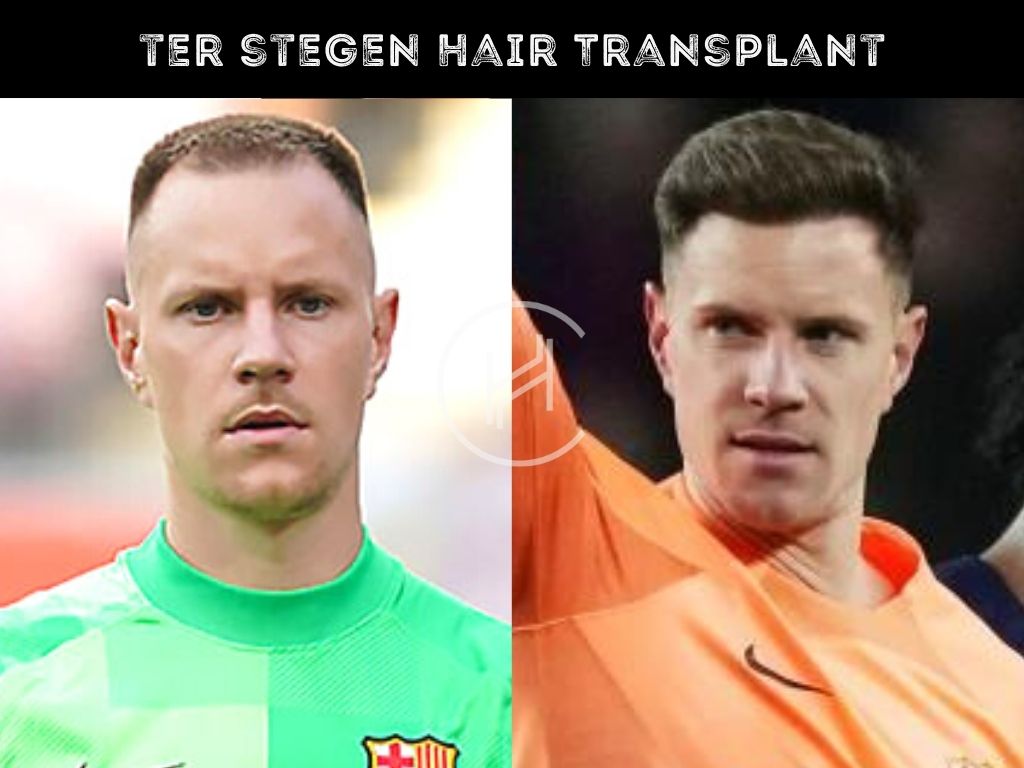 Planning to have a Hair Transplant? Reach us to achieve a better result than Ter Stegen!
When it comes to hair transplant as an area of specialization, we see that certain destinations stand out. Browsing the web, you'll see that the majority of A-list celebs, influencers, and sports people chose certain hair transplant clinics in Turkey for their procedure. This is because a hair transplant is an area they can't afford to get wrong, so seeking an adventure is therefore not a good idea.
While celebrities are way more visible with what they do, tons of every day people fly to Istanbul to get a hair transplant done. Heva Clinic is a great example of a highly reputed clinic, infectiously popular among the international community. The clinic leads the records with the highest hair transplant success rates in the region. They also house cutting-edge equipment and the most experienced surgeons available with legendary recognition for transplanting afro-textured hair.
If there's just one thing you take from this info-packed blog post; let it be the importance of life quality. If you are experiencing hair loss, you now know that there's a simple, permanent, and affordable solution in Istanbul.
Heva Clinic accepts online consultation sessions which anyone can book for FREE. They also offer a seamless service when it comes to logistics; looking after international patients from the moment they arrive at the airport.