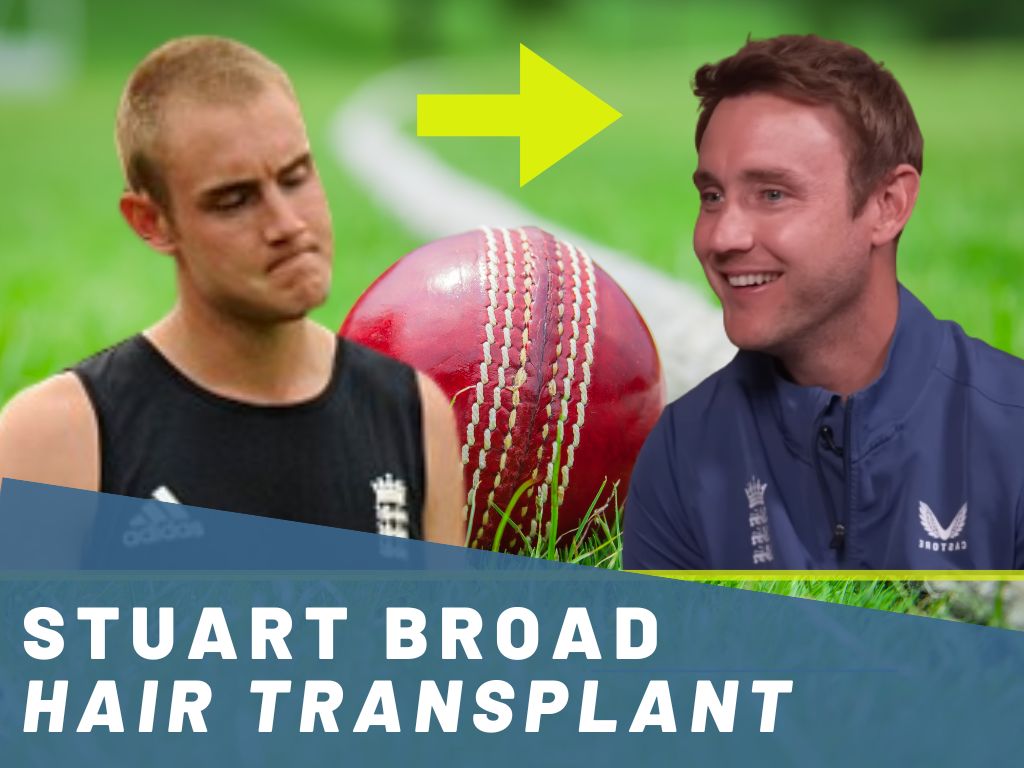 Even if you don't care about cricket, you probably know that Stuart Broad went from a talented young player to an international star. Sadly for fans, he has officially retired from all cricket formats following the conclusion of the fifth and final Ashes Test Match in July 2023.
Off the field, Broad is famous for being funny and getting into Twitter debates, earning the sympathy of people around the globe.
While we fully appreciate his success and personality, we're here to place a magnifier on his flowing golden locks.
Let's find out if Broad entered the league of celebrities who've had hair transplants…
Understanding Stuart Broad's Hair Loss Journey
First and foremost, research supports the link between hair loss and depression, as well as other adverse psychological effects.
Flipping the coin, we see the opportunity of a lifetime in the form of a hair transplant. This represents a journey aimed at rejuvenating self-esteem and confidence impacted by hair loss. Choosing a hair transplant is an investment in yourself, offering not just a fuller head of hair but also a more optimistic outlook on life.
However, it's important to recognize that celebrities, like anyone else, also have insecurities and often choose to keep certain positive transformations private, even though sharing them could not only inspire others but also help raise awareness.
Back to our successful cricketer, Stuart Broad's hair loss is nothing but the common male pattern baldness or alopecia. While some men start experiencing noticeable baldness in their late teens or early twenties, others are able to keep a portion of their hair into their senior years. It is what it is until genome editing becomes a thing.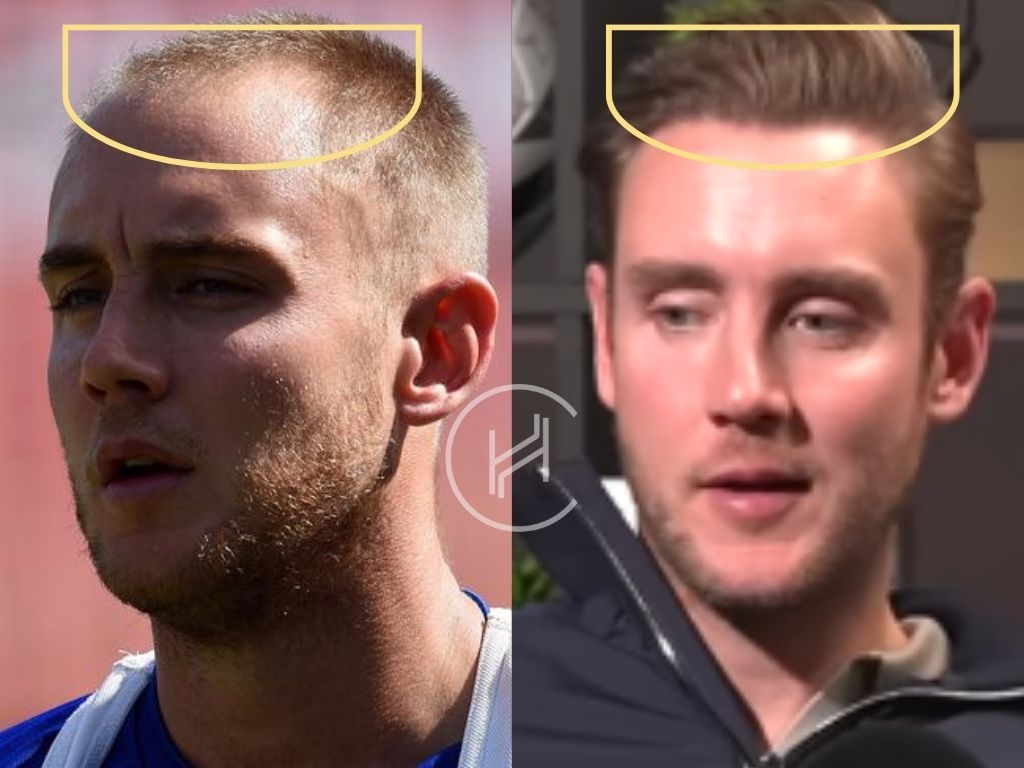 Has Stuart Broad Had A Hair Transplant?
As leading experts in hair transplants, we have a keen eye for detecting any sudden changes in the appearance of a receding hairline.
To date, Stuart Broad has successfully avoided confirming or denying a hair transplant and that's exactly where our magnifier comes in.
Despite Stuart effectively playing dead about his hair transplant, the change in his hairline after the procedure is as plain as the nose on your face, and in our view, leaving little doubt about the truth.
Stuart Broad Before The Hair Transplant
Stuart Broad's hair evolution is an obvious one. In his youth, he boasted a full head of soft blonde hair with a normal hairline that harmonized with his youthful appearance.
Over time, his receding hairline has increasingly become more noticeable. Like many men, he adopted a shorter haircut for a while, possibly in an attempt to strengthen his hair roots. Yet this change only made the receding hairline more visible.
While most would interpret this as a common aspect of aging, in the era of social media, it has certainly stirred curiosity (including ours).
Stuart Broad Before and After the Hair Transplant
Broad's transition from a deep widow's peak to a full hairline re-do with increased density is undeniably extraordinary.
One mighty fact about hair transplants is that a year post-surgery, people tend to forget that they once suffered from psychological and cosmetic consequences of hair loss. And that's not only very powerful but also proves the whole point about the positive effects of hair transplants on people's lives.
To boil it down, that's exactly what seems to have happened with Broad. He's happy, healthy, and even retired, now that he has a full head of hair. It's hard to picture him becoming balder, and appearing significantly older than his actual age if he hadn't considered a hair transplant.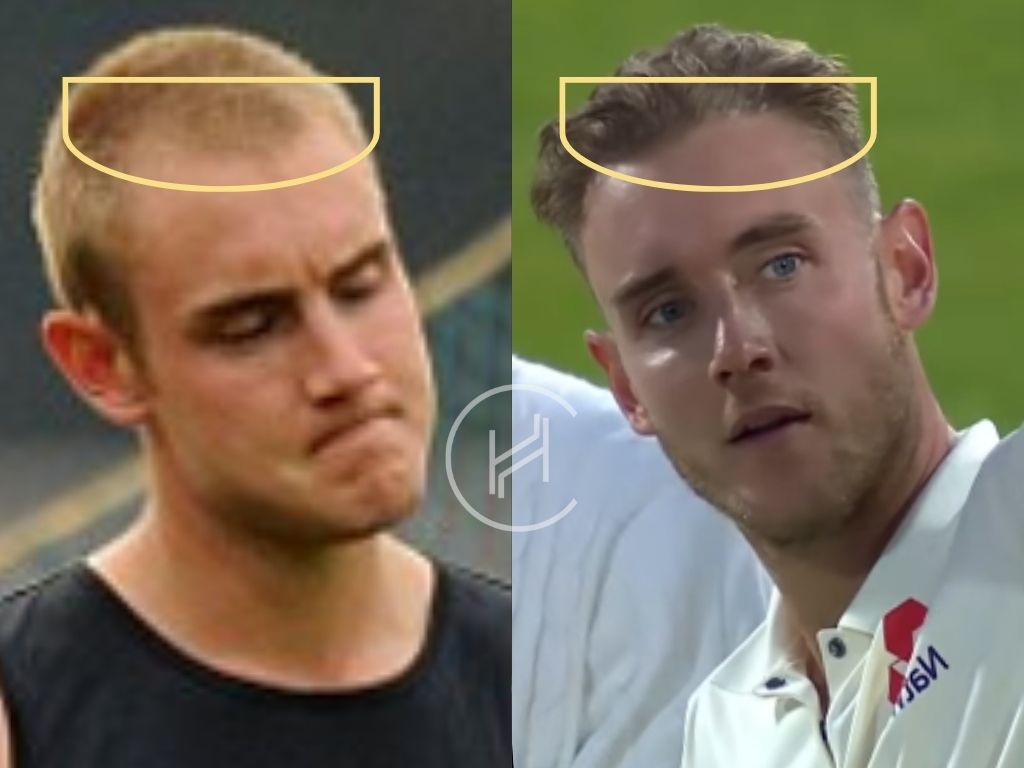 Stuart Broad's New Look After The Hair Transplant
When we analyze celebrity hair transplants, we not only look into technical details such as the method used or the number of grafts transplanted but also observe behavioral changes in that person. Post-hair transplant Stuart doesn't only look fresh and energetic, but he most definitely looks happier.
From a practical perspective, it is his redesigned hairline that is the most obvious. His once receding widow's peak has been replaced with a more appropriate hairline, effectively reducing the appearance of a large forehead.
Achieving a youthful appearance isn't just about the hairline though. Hair density also plays a significant role in the overall result. We observe that Stuart's surgeon skillfully enhanced his hairline and crown using a balanced number of hair grafts. The outcome is a natural and well-suited look.
When Did Stuart Broad Have a Hair Transplant?
We have put serious time into conducting extensive research and analysis, and it appears that Stuart Broad likely underwent a hair transplant procedure in the year 2016, with a touch-up performed towards the end of 2020.
This timeline, indicating a major hair restoration treatment followed by a maintenance session, provides valuable insights into his journey toward achieving a permanent hairline.
The follow-up touch-up procedure conducted in late 2020 signifies the importance of maintaining the desired hair transplant results and ensuring a natural and well-maintained look. Hair transplant recipients often opt for touch-up sessions to fine-tune their hairlines which makes a lot of sense.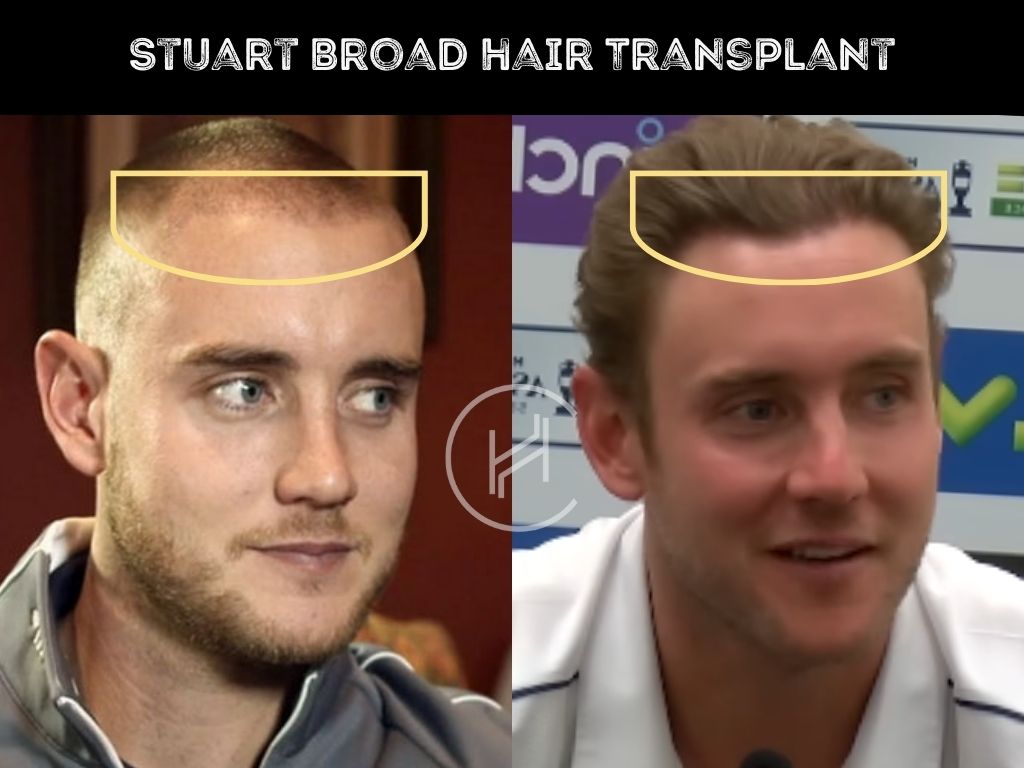 How Much Did Stuart Broad Invest in His Hair Transplant?
Convinced of having gathered substantial evidence regarding Stuart Broad's hair transplants, we estimate that a total of 3000 grafts may have been transplanted, including the touch-up in 2020.
As the cost of hair transplants in the world is frequently determined by the number of transplanted hair grafts, we will take this approach to estimate the potential investment put into Stuart Broad's hair restoration journey.
Now, what you should be aware of is the fact that the cost per graft in England may differ greatly from the cost per graft in other countries. This estimation is therefore based on the assumption that Broad underwent his hair transplants in his native Britain where the cost of one graft transplantation sits around $4. This brings the total cost for an ordinary citizen to $10,000-$12,000 but as a celebrity, his expenses may have been higher.
Considering a Hair Transplant? Contact Us for Results Better Than Stuart Broad's!
Perhaps the most important piece of advice we can provide for you is that you shouldn't let cost deter you from achieving the hair you've always wanted.
Your gateway to an affordable, world-class hair transplant may not be in England and that's completely fine.
Heva Clinic in Istanbul, Turkey offers an unrivaled opportunity for hair transplant enthusiasts to achieve remarkable results at a fraction of the cost, especially when compared to high-profile figures like Stuart Broad.
The Clinic is renowned for its exceptional expertise, cutting-edge technology, affordability, and a talented team designing seamless hair transplant journeys for international patients.
You can do your own research about Heva Clinic's personalized care and high success rates as you will find lots of useful material online, including patient testimonials, YouTube videos, and before/after pictures.
Heva also offers a FREE online consultation when you are ready to take the first step.