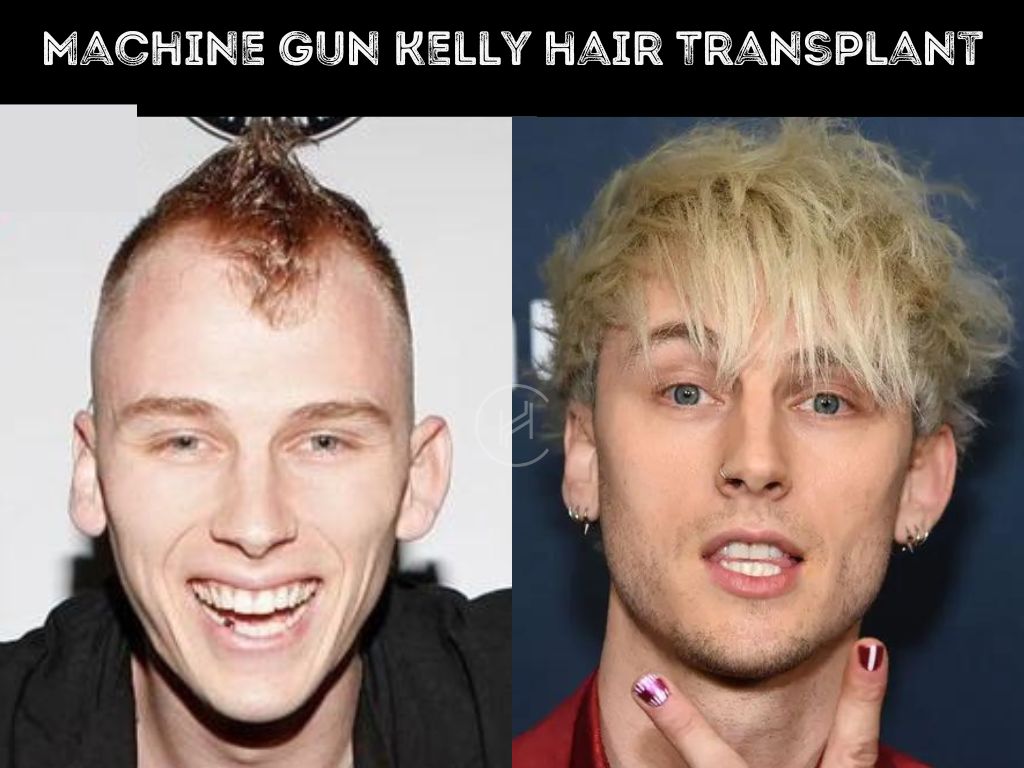 Machine Gun Kelly was born Colson Baker on April 22 of 1990 in Houston, Texas. The alternative musician grew up as a somewhat nomadic child living in Germany and Egypt among other distant places and cultures. Born to missionary parents who traveled all around the globe with their son MGK, the organic authenticity of his mind and how he perceives the world we live in may be the drips in the secret potion that carried him to the top.
MGK has a sweet daughter from an earlier relationship that started in his teens. Having dated several models and actresses all the way after his break-up, he has been pretty steady and productive in his music and acting careers. In 2012, MGK released his first album titled "Lace Up".
His second album came out in 2015 and it was called "General Admission" followed by "Bloom" in 2017, "Hotel Diablo" in 2019, "Tickets to my Dawnfall" in 2020, and "Mainstream Sellout" in 2022. Rich in awards, productivity, and unfortunately addiction problems, his creative energy is indeed hard to match.
When did MGK's hair loss start?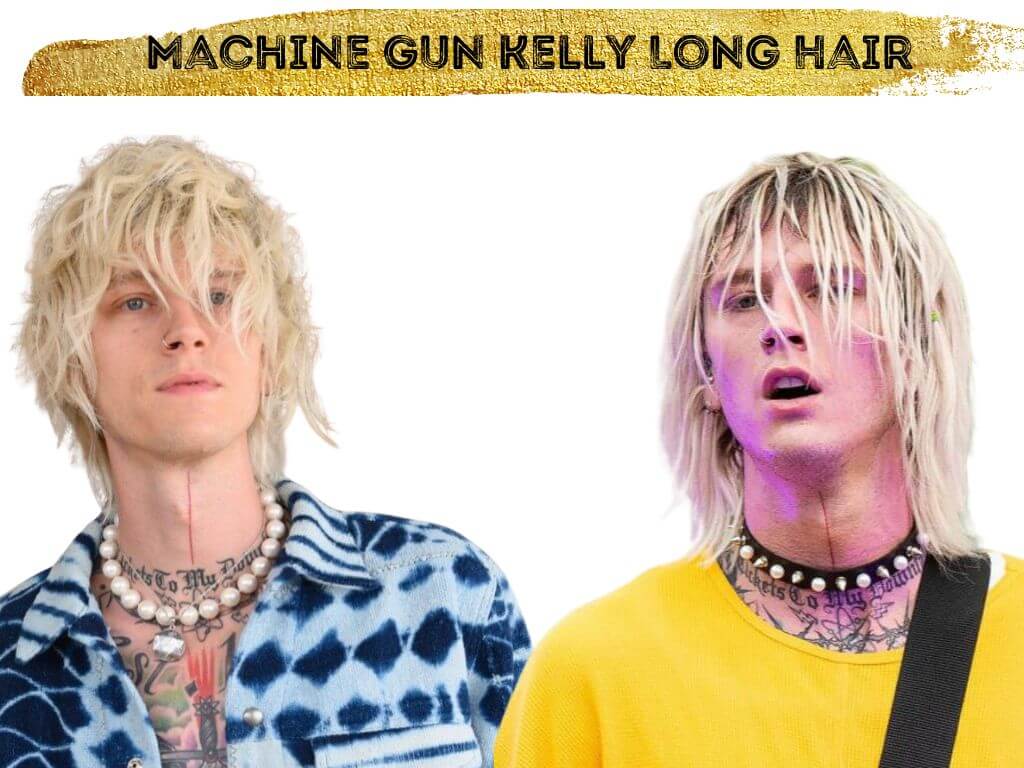 Machine Gun Kelly long hair
Although MGK never really had long hair as in longer than shoulder length, his messy, shaggy hair has been one of his staple looks. since the beginning of his career , he had been trying different and messy hairstyles to avoid showing his severely receding hairline, combing his hair to the front almost all the time.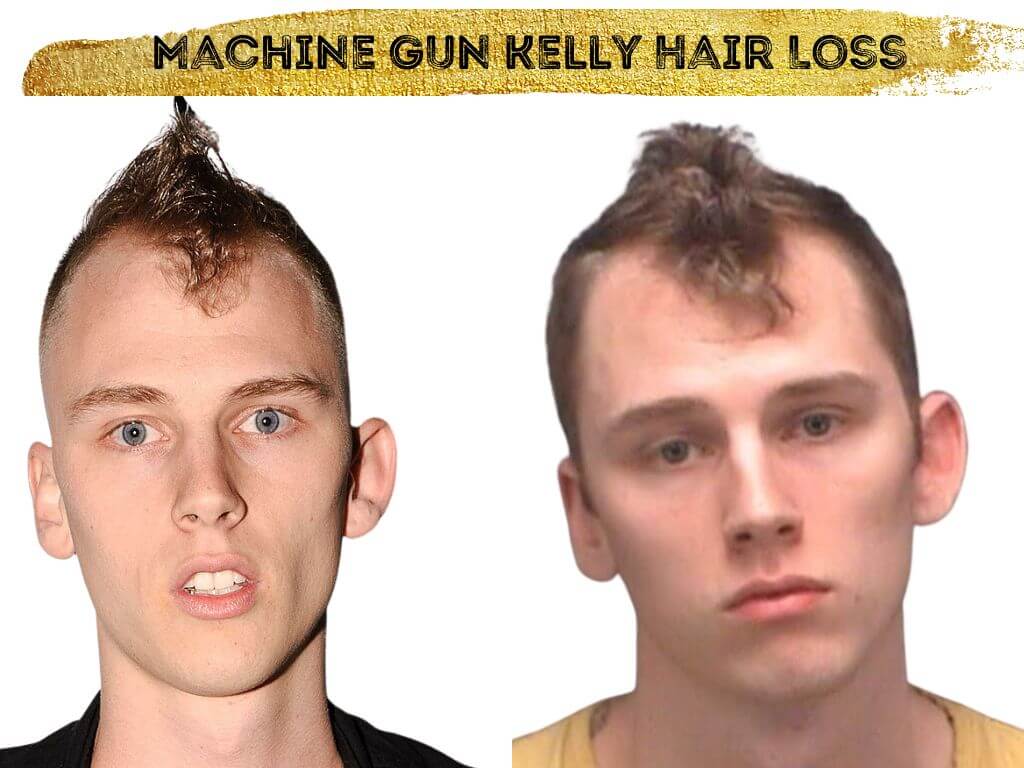 Machine Gun Kelly's hair loss
When we look at pictures in his early twenties, Machine Gun Kelly's hairline was already showing signs of Norwood scale 3 baldness that was going for Norwood scale 4 with a little coronary recession at the same time.
It is not uncommon for Caucasian men to start losing hair, especially in temple areas in their mid-twenties. Since MGK has a babyface, hair loss did not make him look much older, perhaps just a little out of space, groom, and style. There were obvious signs and enough evidence of Machine Gun Kelly balding.
Did MGK get a hair transplant?
He stated many times that he wanted to look differently fresh and go back to being himself. He also probably didn't want people to think he was trying to hide something.
It seems that he went under the knife in late 2013 and and 2015. He then went back to posting pictures of himself with a much fuller, healthier looking hairline.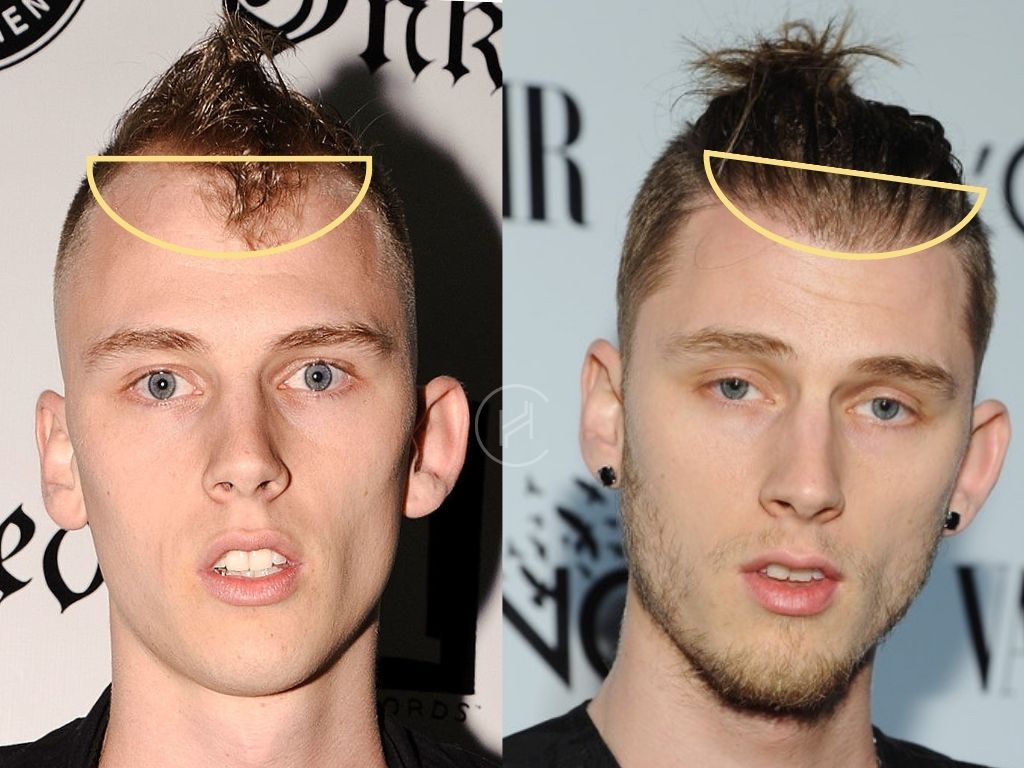 MGK before hair transplant
Come 2013, Machine Gun Kelly was officially going bald due to his receding hairline and may have felt that he needed to do something about it before it was too late. His before and after photos show the significant difference that the hair transplant procedure provided.
Overall, Machine Gun Kelly may have had at least two hair transplant procedures done, the first one being performed when he was approximately 25 years of age.
MGK hair before and after
Observations of the near 32-year-old rapper's fuller, super thick hairline almost proved that he has undergone a hair transplant. In fact, before and after pictures say it all without the need for any other evidence.
Which technique might have been used?
Due to advancements in technology, the number of hair transplant surgeries performed today has increased significantly, and celebrities are no exception.
There's enough evidence to state that MGK's new hair was acquired through a technique known as FUT (follicular unit strip surgery). Some people love comparing FUT and FUE procedures however the difference is so clear: FUT procedure is the older version that leaves an obvious scar on the donor area whereas FUE is almost undetectable.
We can say this confidently because there's a scar left by this type of procedure and once the person cuts the hair on the back of the head short, strip procedures are simple to detect.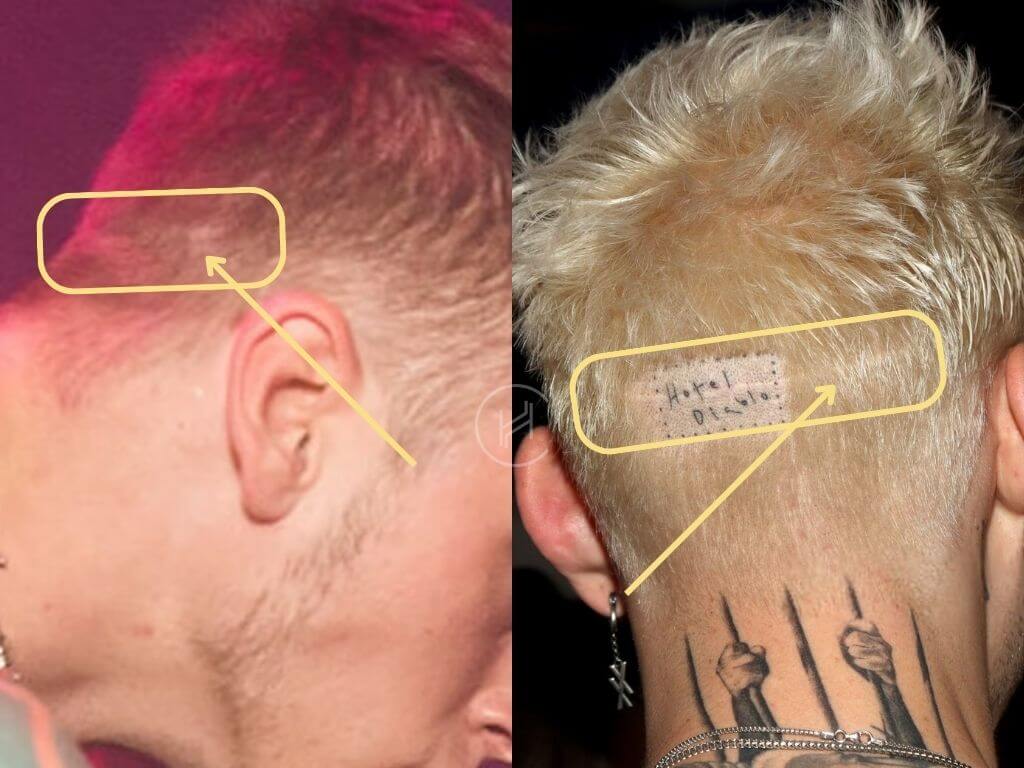 Machine Gun Kelly hair transplant scar
MGK's FUT scar is also wide and visible, almost 18 cm it seems. Skin laxity causes FUT scars to always go narrower over time, but they nearly never get shorter. In fact, as long as he does not shave or cut his hair very short, this scar is unable to show.
Most of the time, transplanted hair looks better when a little long. One can just have more confidence in its coverage property as a result. On the other hand, going for shorter hairstyles after a hair transplant doesn't offer much coverage.
Who did Machine Gun Kelly's hair transplant?
Even though ther's not conrete evdience, he most likely had it done in the United States, perhaps at a New York City based clinic. His doctor must have told him that due to his young age, a FUT procedure was more favorable than the use of the FUE technique (which he can get done at later ages anyway).
MGK seems to have really liked the results, looking great after having the hair transplants.
From our end, technically, we do not think that his hairline was planned for his next 10-15 years, and it does not look completely natural for being too, way too low going down almost half his forehead. It may be that he wanted that sort of look. But the point is that he's happy, and feeling more confident as seen in his latest pictures showcasing matching pink hair with fiancee Megan Fox.
Planning to have a hair transplant? Reach us to achieve a better result than MGK!
At Heva Clinic we are renowned to provide the best customer care starting from the very first contact.
Book your absolutely free, no-obligation consultation today with us, and we will answer all of your questions and listen to what you want. At the end of the consultation, you will be provided with a clear picture of what our surgeons can do for you, based on your individual situation. You will see that hair transplant cost in Turkey is nothing to be fearful of as we will give you an idea about how many grafts you may need for your desired look.