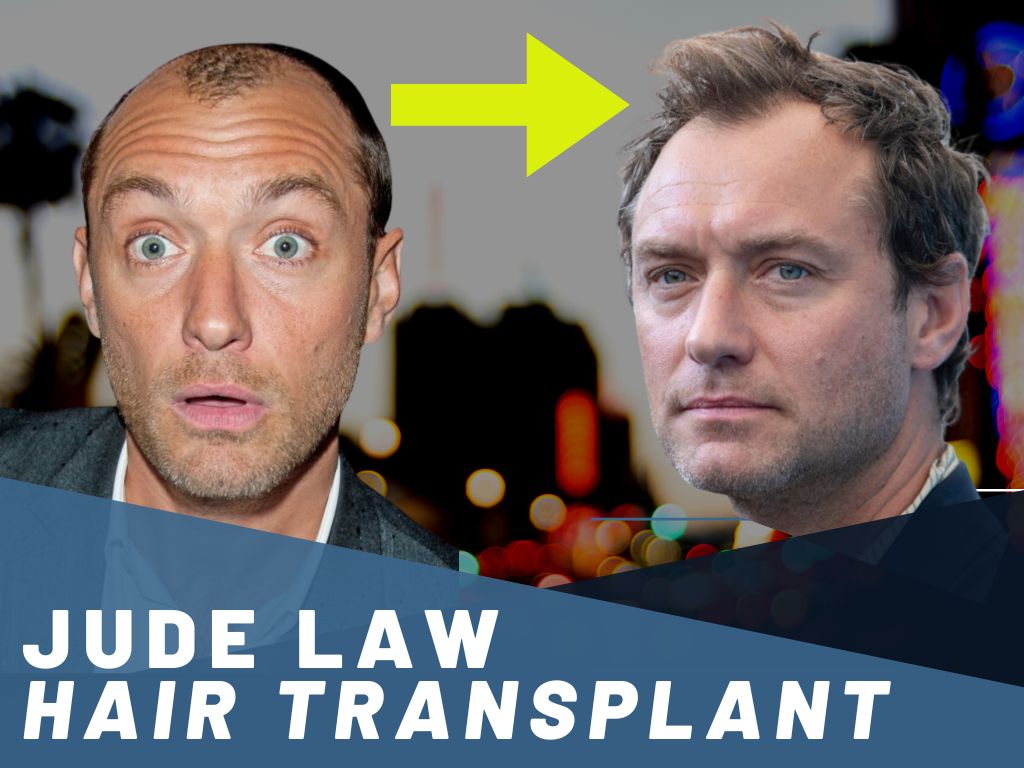 In addition to his successful film, TV, and Broadway production career, our one and only Jude Law is also a very productive father of six children. Parenting this many children may as well have played a role in Jude Law's receding hair line but he certainly seems to have found a way to bring back some of his lost hair.
We will look into whether his hair situation constitutes an example of a celebrity hair transplant while digging deeper into the details.
When Did Jude Law's Hair Loss Start?
Jude Law is known for his charming looks and demeanor, but one thing that has changed for the actor over the years is his hair.
While Law used to have a full head of thick, dark hair, he has been sporting a relatively receding hairline in the last two decades. This change can be justified by a normal aging process and Law has remained as handsome as ever. At some point, he has even embraced the mature look by keeping his remaining hair trimmed short in early 2010s.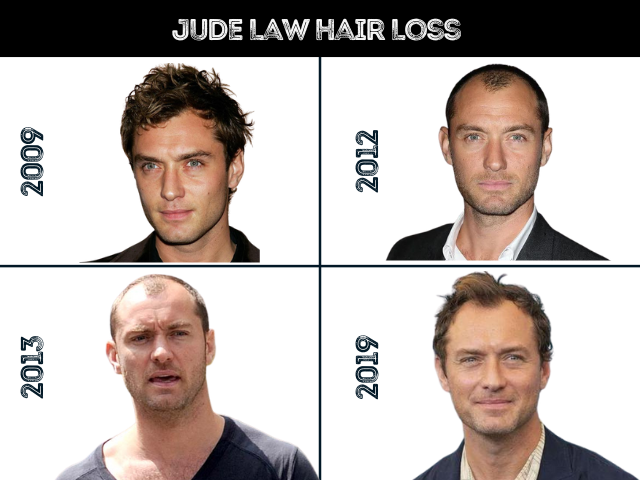 In fact, many people believe that the his hair loss only added to Law's rugged and distinguished appearance. So, while it's true that Law's hairline is not what it once was, he remained a good-looking and talented actor.
As a matter of fact, Jude Law's hair loss has been right in front of us for years. His hairline has moved further back on his forehead, giving the appearance of a thinner or less full head of hair. This is a natural process that can occur as a person ages, and it is not uncommon for both men and women to experience some degree of hair loss or thinning as they get older.
Has Jude Law had a Hair Transplant?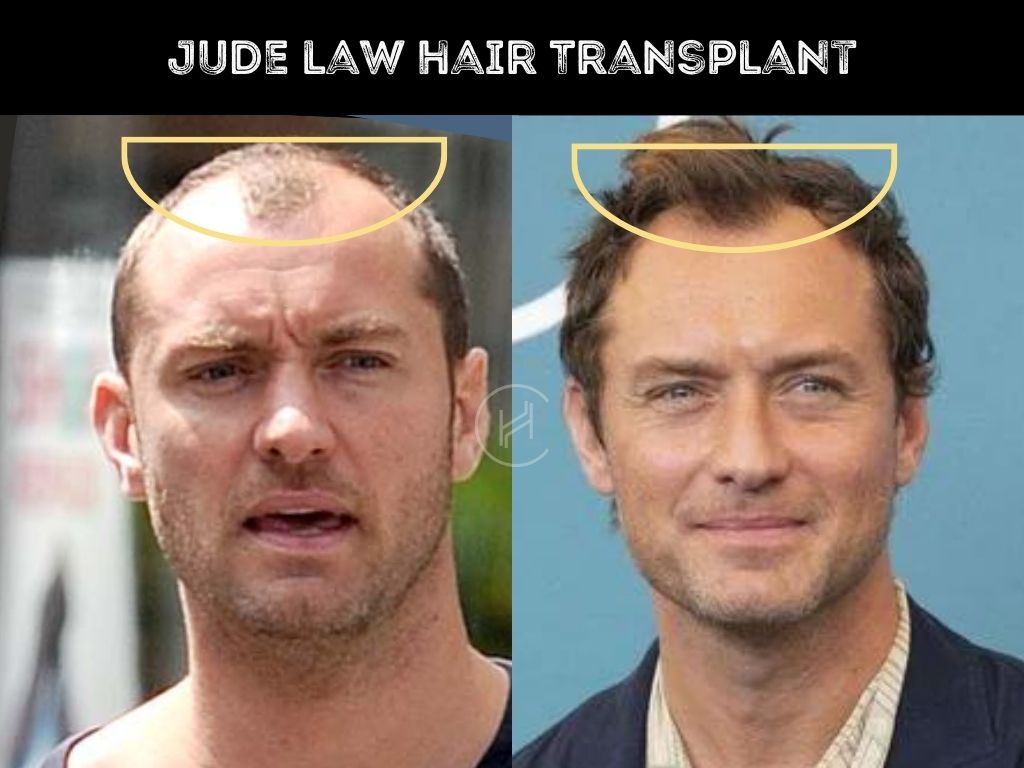 There has been much speculation over Jude Law's hair situation. Some say he may have had cosmetic enhancements along the way, such as a hair transplant like numerous other celebs. Despite speculations, Jude Law has not been forthright about getting a hair transplant and we are not sure if he got one. If he did het, it must have been an unshaven densification on his natural hairline.
It's only when he shoots a new movie that his severely thinned hairline, appears to have visibly densified, which is not likely to happen naturally.
Jude Law Before and After Hair Transplant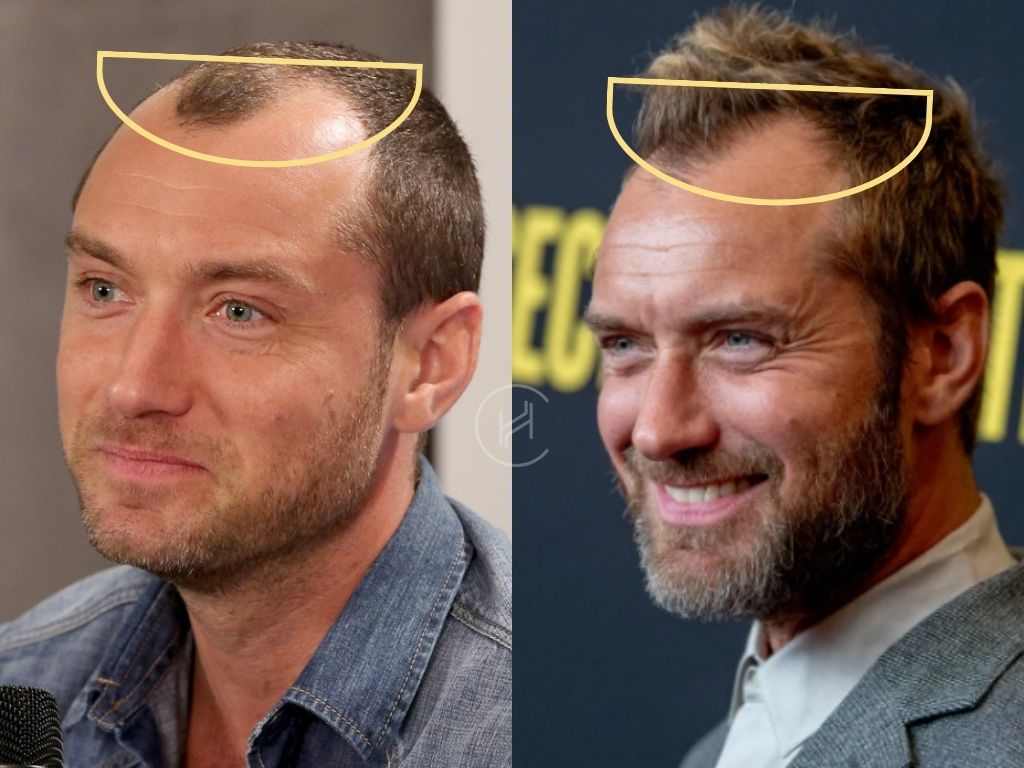 Like other males suffering from alopecia, starting from his mid-twenties, Law has had trouble with his receding and thinning hairline. Unlike other worldy male fellas, this has been extensively covered by the media and hair experts like us. How is it that Law's receding hairline grows back at a quick and erratic rate in his every other screen appearance? Let's analyze what's unusual about it, shall we?
When we simply look back in the timeline we see that despite having more hair when younger, Law always had the V shape intact with visibly naked temples. This is a sign of what is coming later in life, more often than not.
He had periods of short'n messy cuts which aimed at providing a cover-up for his receding hairline. He then entered the hat era which many thought to be a trend, until one day, he appeared hat-free rocking a crew cut, and, uhmm, not much was left of his hair… He was left with a very deep downtide and a patch of frontal hair in the middle, pretty much like a pom pom…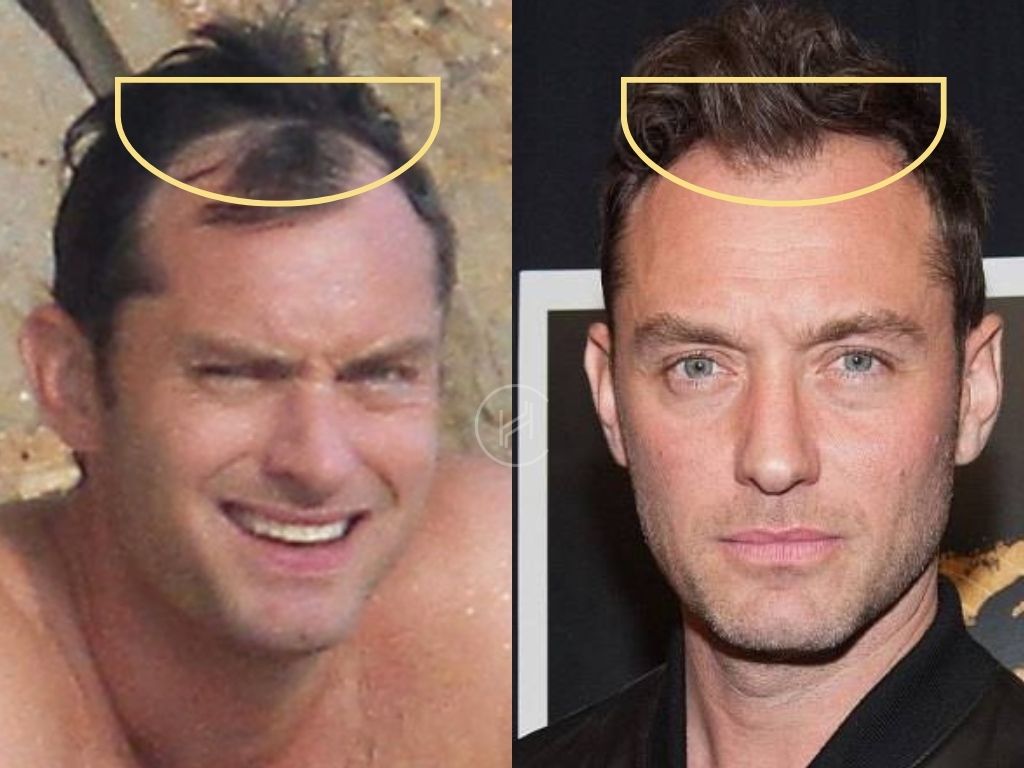 A year later, he miraculously appeared with much fuller and longer hair in his next movie Spy. His hairline was changed so much that even those of us wearing thick eyeglasses noticed. It was also easily detectable that he was made to wear some sort of partial hair system for the movie. Then in 2020 when he had his last baby, he was seen with the same level of hair loss as before…
In the same year, he appears in another movie with yet another hair system, pretty much like a game of ping-pong.
Which Technique Might Have Been Used?
No one can tell if Jude Law has ever experimented with hair loss medication but overall, his hair could have been permanently saved with one or two sessions of hair transplant. He might have gone through a unshaven FUE hair transplant to densify her existing hair line, and most likely had frequent PRP hair treatments to keep his existing hair strong.
He is lucky that his hair loss isn't progressing aggressively and remains rather steady.
The reason behind his suddenly fuller hair in his movies is, as mentioned above, highly likely to be a hair system. The reason why we can comfortably say that is also because the thickened hair doesn't match his naturally wavy hair type.
How Many Grafts Might Have Been Transplanted?
Jude Law's hair loss stands at a severe Norwood stage 4 and a hair transplant of at least 3000 grafts (if not more) would do him well.
Planning To Have A Hair Transplant? Reach Us To Achieve A Better Result Than Jude Law!
As we stated our professional opinion and what might be done for Jude Law above, a hair transplant could work wonders for him. A comprehensive hair transplant procedure would look much more natural and also much fuller than the hair pieces he puts on while acting, not to mention it is the only permanent solution to hair loss.
Anyone suffering from hair loss whether young or aged, male or female with straight or curly hair can benefit greatly from a hair transplant surgery.
As a leading boutique hair transplant clinic in Istanbu, Turkey with proven and guaranteed results, we invite you to check our patient testimonials and book a free online consultation. We can advise you on the best-suited hair transplant method for your individual case, and help you plan your trip, including luxury accommodation and VIP transfers. It is simply an opportunity not to be missed!