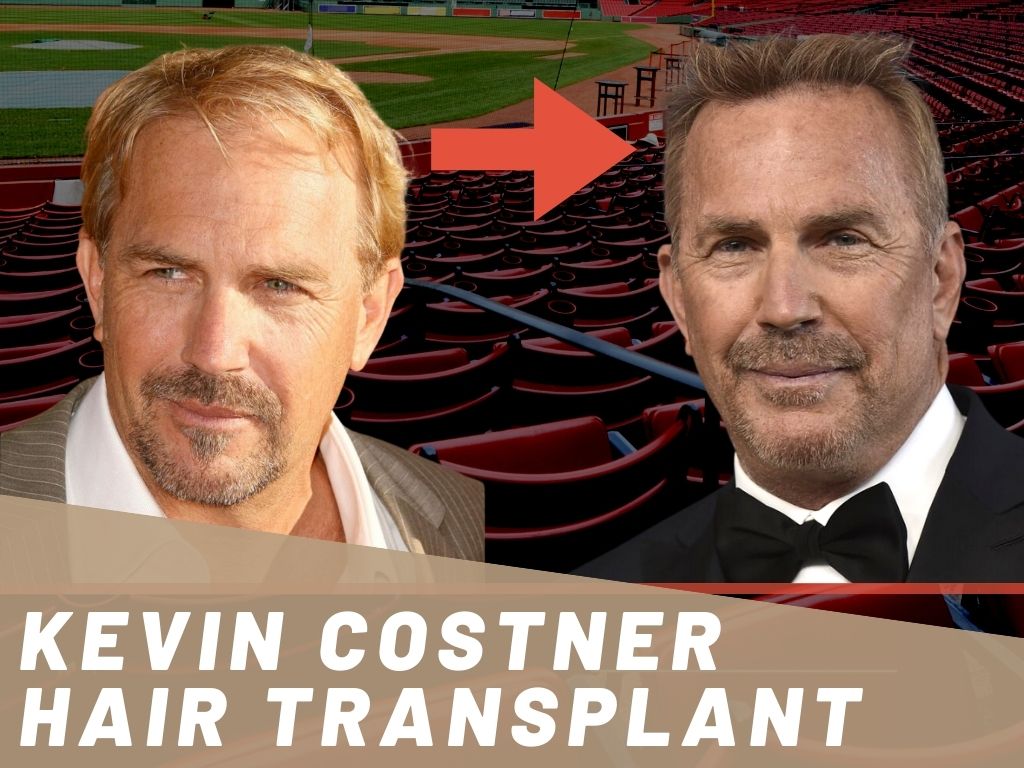 We all know about Kevin Costner's very successful acting career and that he's a producer and director at the same time. Among the lesser known facts about Costner is that he may have long joined the crowd of celebrities who underwent hair transplant surgery.
Other little-known interesting facts about his authentic personality are best observed when we take a look at his earlier years; he sang in the Baptist church choir as a teen for example. He also wrote poems and attended writing workshops. At the age of 18, he constructed his own kayak and journeyed down the rivers to the Pacific. Not just another shallow acting aficionado, Costner is also highly educated. He studied marketing and finance at California State University, just to end up with Golden Globes and Emmies.
Now aged 67, despite aging healthy and handsome, Costner has been suffering from alopecia and aged-based hair thinning. It is the result of the years well lived, just like any other older person, and nothing out of the ordinary.
Let's take a more detailed look at Kevin Costner's battle with hair loss, his hair journey, and the solutions he has come up with to feel and look as young as possible.
Kevin Costner hairstyles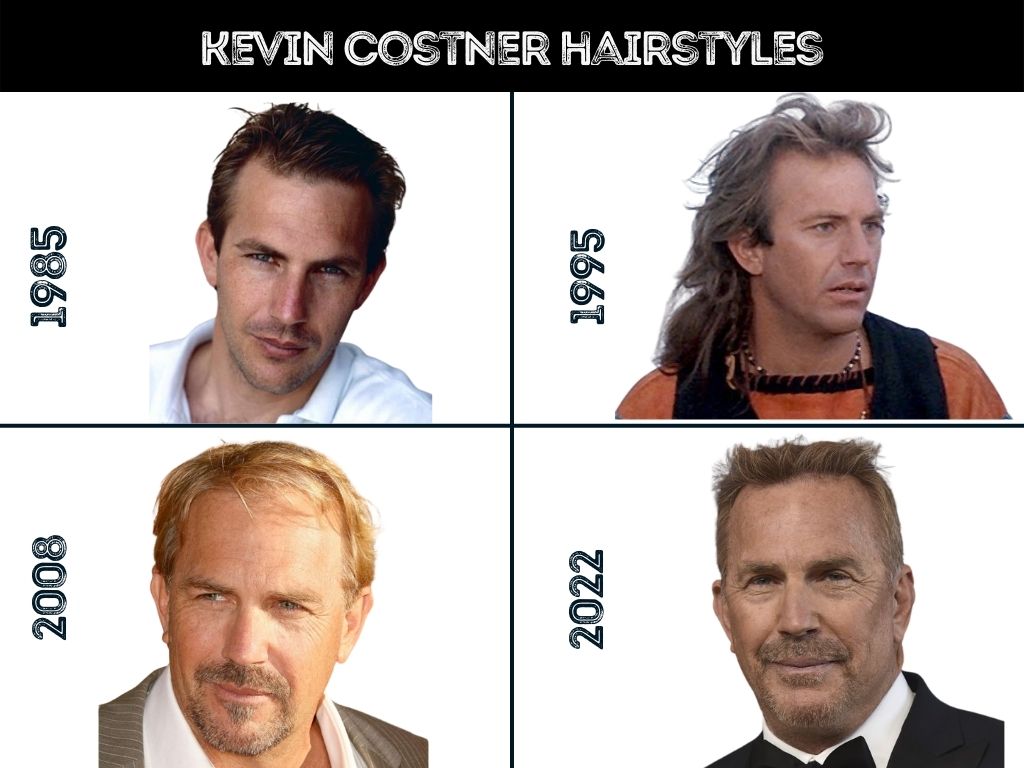 Kevin Costner Long Hair
Costner sported variations of the great hockey hair in several of his movies in the nineties. Interestingly, he never really had a full head of long hair.
The front part of his hair somehow remained shorter, even when the rest of his hair was long. We dived deep into Robin Hood, Dances with Wolves, The Postman, Fandango, and Silverado, only to have a flashback of different variations of the mullet.
Thus, Kevin Costner's long hair has been limited to the same style, probably cut according to what best suited the character he was playing at the time.
Kevin Costner Short Hair
We have mostly seen Kevin Costner with short hair over the decades. It doesn't only suit him handsomely but also sports a fresher look, highlighting his beautiful natural smile, unlike the rest of Hollywood.
It may be that his deep, meaningful, and charming eyes best stand out showcasing shorter hairstyles. Whatever the reason, Kevin Costner's short hair is and will always be iconic.
Kevin Costner Hair Loss
The majority of the mainstream public will support the idea that Costner looked better as he aged, until his mid 50ies. His personal and screen charisma definitely evolved from a young man with curious eyes to a perfectly mature actor over the years.
Meanwhile, he was facing hair loss… As an overly charismatic and successful actor, his success did not really depend solely on his looks or the fact that he was losing his hair.
The truth is that Kevin Costner's hair loss was quite obvious up until a few years ago. He had a near bald area specifically on his forehead to the point that he had made it a habit to comb his hair towards the front.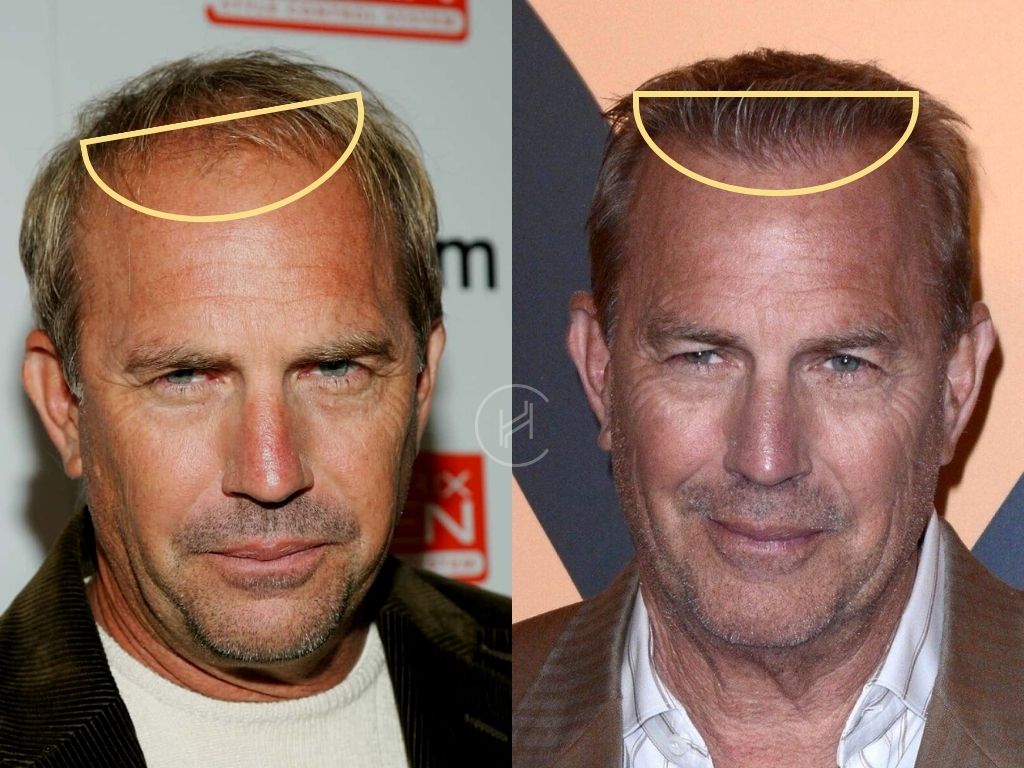 Has Kevin Costner Had A Hair Transplant?
Costner today entertains the audiences with a relatively thick and full head of hair. The fun part is that the difference between before and after photos is dramatic, but he must have planned the hair transplant procedure perfectly that unless you're an expert, it's hard to say he had a hair transplant procedure done.
When someone opts for long-term hair restoration, a hair transplant is the only permanent and most natural-looking option. Probably to make it worth the effort and the short-lived discomfort, the majority of those who chose to undergo a hair transplant operation want a distinct hairline.
Given that the patient has enough healthy hair grafts on their donor area, it was actually possible for a him to have the hairline of when he was in his 30s. However, the hair transplant procedure must have planned by an expert that his before and after hair transplant photos look completely natural.
For someone like Kevin Costner though, a star known to every single household in the world, things may be different. He may have opted for a gradually enhancing look rather than a dramatic change in his hairline.
We must say that his hair looks not only a whole lot more but also ultra natural with no signs of a defined, artificial-looking hairline even though it's there.
We therefore sincerely congratulate the surgeon who created this subtle, gradually enhancing look without an artificial-looking hairline.
The most likely scenario therefore is that the star has had at least one, if not numerous hair transplants.
He probably had the transplants done using the FUE technique which stands for Follicular Unit Extraction where hair grafts are relocated one by one without leaving any long term scar at all.
Because Costner at some stage was at Norwood stage 4 to 5 level of baldness, in our professional opinion, he must have had at least 4000 grafts transplanted on him over the course of many years.
Is Kevin Costner Bald?
Costner is definitely not bald nor has ever gone completely bald. It's just that after his fifties up until just a few years ago, it was observed that his hairline was receding to a degree that it must have been bothering him.
It coincides with the same period when he started combing his hair to the front, to create the illusion of a shorter distance on his forehead.
Even today after a curious but natural-looking hair transformation and despite visible hair thinning in several areas of his head, he certainly has not gone bald.
Does Kevin Costner Use A Hair Piece?
Kevin Costner wasn't spotted using a hairpiece even all those years when he was "front-combing".
It seems that he sorted out his hair loss problem by going through a hair transplant procedure instead, which is the only permanent solution to hair loss.
The best part of a hair transplant is that as we age, our transplanted hair, which is our own hair harvested from elsewhere on our scalp, naturally turns gray like the rest of our hair.
A typical hair transplant surgery is performed under local anesthetics and is over in two to six hours, depending on the coverage you desire. Results are seen in the first few months and the transplanted hair blends in fully after the first ten to twelve months following the procedure.
Planning to have a hair transplant? Reach us to achieve a better result than Kevin Costner!
At Heva Clinic, we offer a completely free online consultation so that you can set crystal clear expectations. Our friendly medical team is approachable and ready to answer all you may have in mind.
All you need to do is to book your free consultation and let us walk you through the best options personalized for your hair loss situation.
We encourage you to give yourself the gift of a hair transformation and lead a better quality of life. Given that the highest success rates of hair transplants are performed in Turkey, top expertise and unequaled hair transplant costs await!