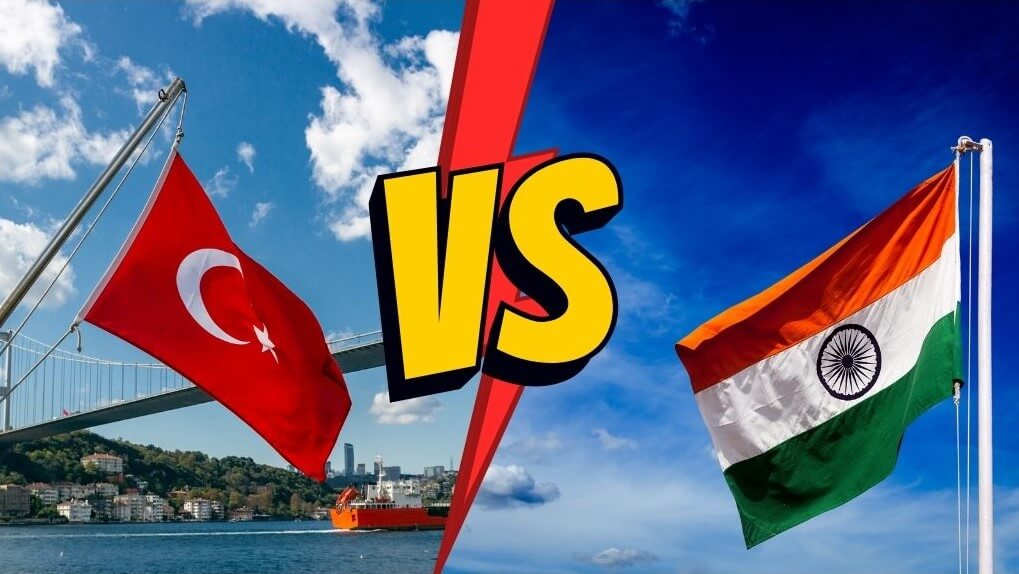 The mystic land of spices and ashrams, India nestles a complex culture for sure. On the travel bucket list of many, the country is full of colors, authentic smells and curious eyes.
On the other hand, there's a huge cultural mixing pot and a popular holiday destination, Turkey.
The touristic point of view aside, let's take a good look to put things on a scale and compare a hair transplant procedure in India vs Turkey.
1. Costs in India vs Turkey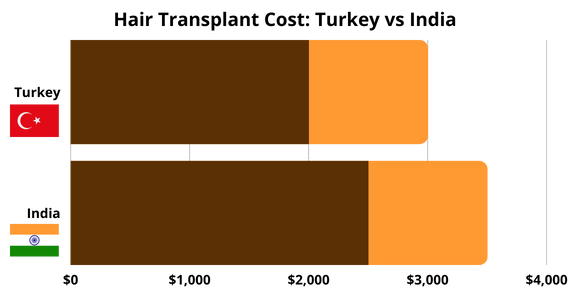 Easily confusing and sometimes even misleading, the total cost of a hair transplant differs from person to person. The reason for this is because the number of hair grafts every person needs is specific to each individual case.
The cost of the hair transplant operation also depends on the clinic facilities, expertise and technology used.
Although prices vary throughout the country, at a mediocre clinic in India you can expect to pay US$2200 for a 3000 graft hair transplant with FUE technique. When you collect price info from clinics in India, ask if tax, consultation and medications are included as things can get a little tricky.
In Turkey, expect a world class hair transplant journey and state of the art facilities. As the number one destination specifically for hair transplants, Turkey's global fame and success stems from expertise. Offering the best cost/price performance, the lowest cost of a high quality FUE hair transplant surgery in Turkey starts at US$2000.
2. Surgeons in India vs Turkey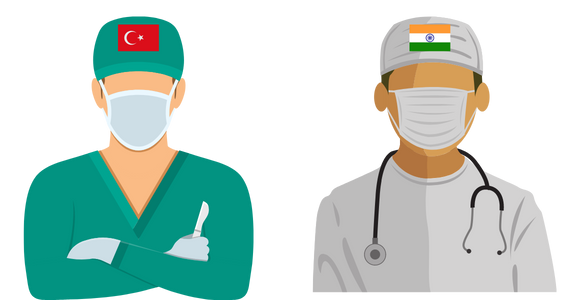 According to statistics, compared to the world average of 150 doctors per 100k population, India has 86 doctors registered for practice and some of them are surgeons. At the same time, India has long been a popular destination for heart and kidney surgeries.
Turkey on the other hand offers specific expertise in hair transplant procedures. The country harbors probably the best environment for younger surgeons and medical teams to learn, practice and actually become hair transplant experts. This is due to the country's long standing history of transplanting hair and the rising global demand for skilled hair transplant surgeons. As a result, the majority of hair transplant surgeons in Turkey focus on transplanting hair only and thus, stand out from their international counterparts.
3. Expertise in India vs Turkey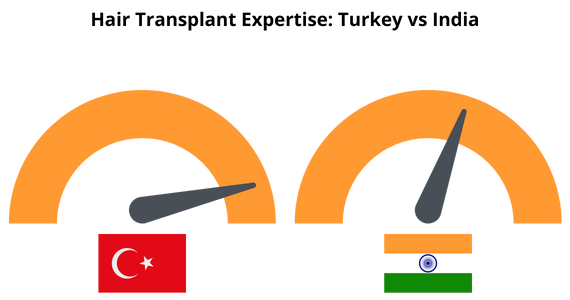 India joined the hair transplant race in the past few years and is still working on a global image to establish Indian clinics in the hair transplant arena.
Turkey has a long standing history and a wealth of knowledge built over the past two decades. Turkish surgeons set the bar in the latest hair transplant technologies and most are experts in using specific hair transplant tools.
4. Hair Transplant Results in India vs Turkey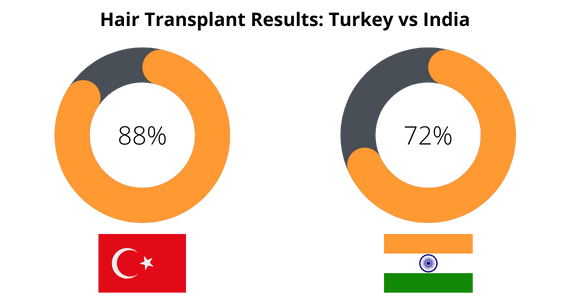 While India is on its way to achieving good, long-lasting results in hair transplant procedures, things are quite advanced in Turkey. Shining bright with the highest success rates in the world, most clinics in Turkey provide lifetime post-surgery support.
Turkey also stands out with expertise and high success rates in transplanting curly and afro-type hair. Patients leave with soothing comfort with a kit that contains medical shampoo, a hair band, an inflatable pillow and all other medications that they need post-op. Top-notch customer service and world-class hospitality are also in the picture.
5. Safety in India vs Turkey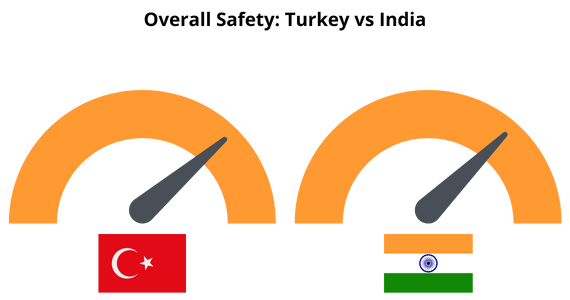 When we travel abroad, especially for medical reasons, we unconsciously search for familiarity. From the way people communicate to the smell of the streets, India is most certainly an exotic destination. When the familiarity level is low, it affects our own feeling of safety.
Standing between Europe and Asia, Turkey boosts a mixed culture of the West and the East with a mild-context communication style. Although more vocal than most of Europe, there certainly exists more familiarity in Turkey for westerners in comparison with the way people communicate in India.
This is an important aspect of how safe we feel in a distant environment while lowering the chances for miscommunication with a cab driver or a vendor.
6. Tourism in India vs Turkey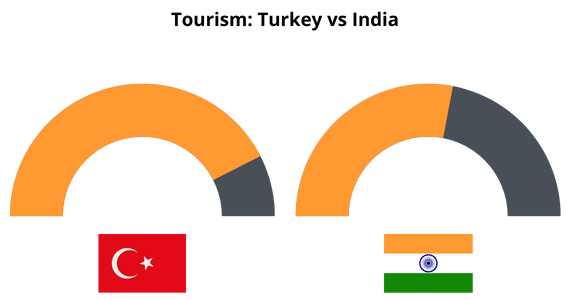 Visibly polluted, the spicy oriental aura of India has been an attraction to many. Crowded streets, never-ending traffic, infinite number of temples, daily rituals, women dressed in their colorful sari, children running around barefoot, regional cuisines and exotic smells attract the curious traveller. India stands as the 54th most visited country according to the world tourism ranking.
Turkey, with an eclectic mix of excitement right outside your doorstep, is in 6th place in the same ranking. The country has established itself as a desired tourism destination with at least half a century of tourism investments, infrastructure and skilled human resources. Alongside the many heaven-like beaches, pleasing nature, cultural sites and delicious cuisine, Turkey stands out with its high standards in the service industry.
7. Travelling to India vs Turkey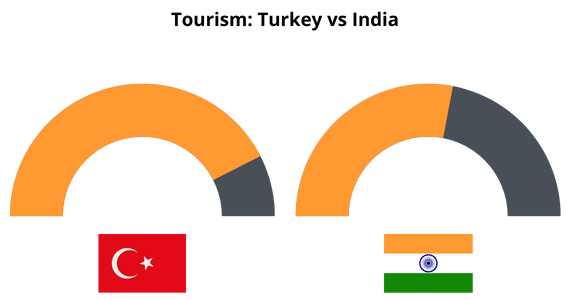 There is no shortage of scheduled flights to India. Depending on where you are travelling from, you may have to transit via Istanbul or Dubai. It's a highly populated country so expect crowded airports and cab lineups.
Turkey's new Istanbul airport is a hub for connecting flights from all around the world. It's well organized and Turkish Airlines flies the largest number of direct flights, so it is highly likely that you can get to Turkey on a direct flight.
Conclusion
Offering wholesome packages that are designed specifically to make hair transplant patients feel at home, Turkey is very advanced in providing hair transplant journeys.
Having created a balanced blend of luxury, hospitality and top-notch medical expertise, patients are looked after from the moment they step into Istanbul airport.
There are obvious reasons why Turkey ranks #1 as a hair transplant destination.
While India is working on it, Turkey seems to be the choice for those who are after a smooth, enjoyable experience.