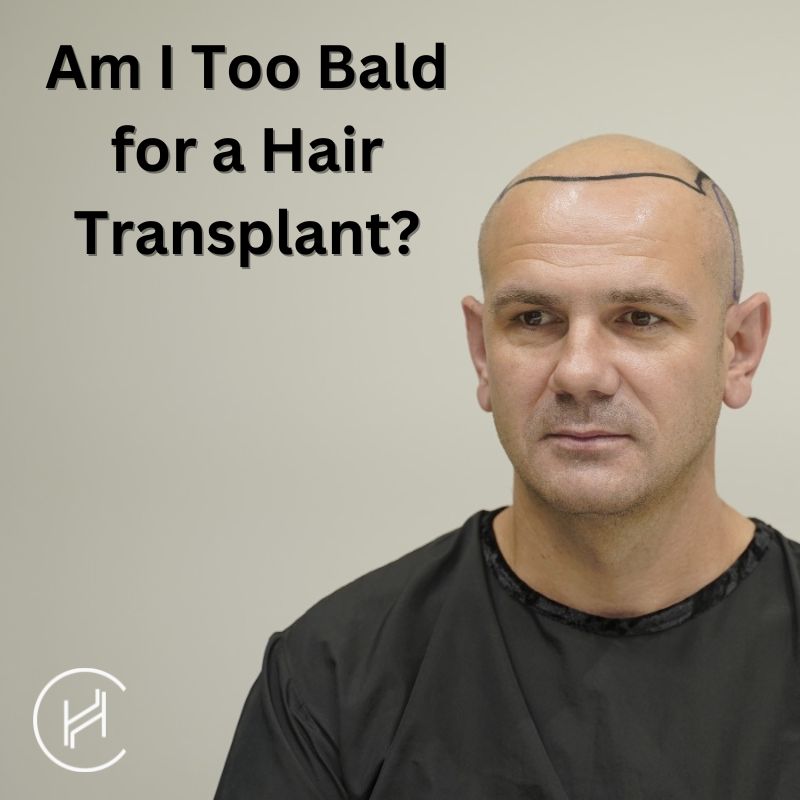 Hair transplant operations have attracted an immense amount of attention due to the increasing success rates and better results. This success is owed to the improved techniques and highly experienced hair surgeons that has gained a lot of knowledge on hair transplant operations over the years. This is why many people who suffer from severe hair loss wonder if a hair transplant operation can give them the solution they have been looking for. Among these people, some people have lost most of their hair, leaving a significant bald area.
If you have been experiencing baldness, you might be wondering: Am I too bald for a hair transplant?
Can you get a hair transplant if you are bald?
People who are in the advanced stages of hair loss experience baldness. To some people, this appearance might not be desirable. But can you get a hair transplant if you are bald? In order to find an answer to your question, you need to understand the limitations of hair transplant.
Hair transplant limitations
Even though well-planned hair transplant operations generally provide great results, they don't offer guaranteed success under every condition. As with any other aesthetic operation, hair transplant has limitations.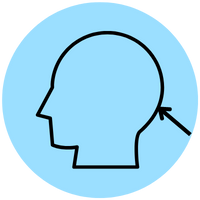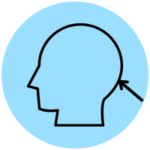 Donor area limitation
One of the most important limitations of hair transplants is the availability of healthy donor grafts in the donor area. The safe donor area that can contain healthy donor grafts is considerably small compared to the rest of the scalp. This donor area is located at the back of the head. Of course, this area is not an endless pool of donor grafts. On the contrary, there is a limited amount of donor grafts that can be extracted. Any hair grafts taken outside of this area can be prone to fall out.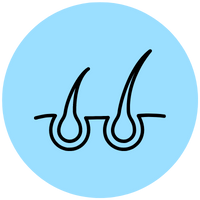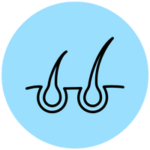 Number of transplanted hair limitation
Furthermore, there is a limit to the number of grafts that can be transplanted per square centimetre of the scalp. Transplanted hair grafts require an adequate blood supply to be able to settle in successfully and grow. This limits the density of transplanted hair. Overcrowding a transplanted area may result in lower viability rates. That's why it's not recommended to have more than 5000 grafts transplanted in one session.
How many grafts do I need if I am completely bald?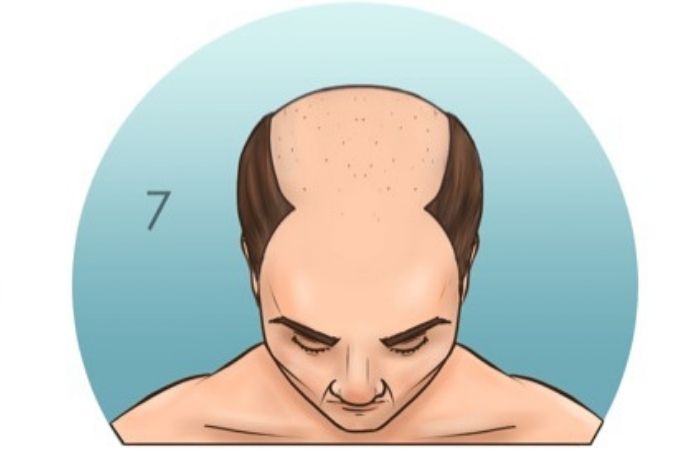 The most severe case of hair loss can be identified as Norwood stage 7. Even at this stage, there is some hair left at the back of the head and slightly at the lower side areas. The Norwood stage 7 requires over 7000 grafts to be transplanted in order to achieve full coverage. Keep in mind that this coverage also has limitations and is not likely to look voluminous.
On the other hand, if you don't have any hair left in these areas, you may consider using beard or chest hair. Otherwise, it might not be possible to achieve a full head of hair through hair transplant.
How much hair can be transplanted?
The number of hair grafts that can be successfully transplanted in a single session is limited. In order to protect the donor area and achieve a high success rate at the transplant area, up to 5000 grafts can be transplanted in a single session. If you need more than that, multiple sessions spread over an adequate amount of time for recovery might be required.
Alternatively, you can consider having a second hair transplant down the line.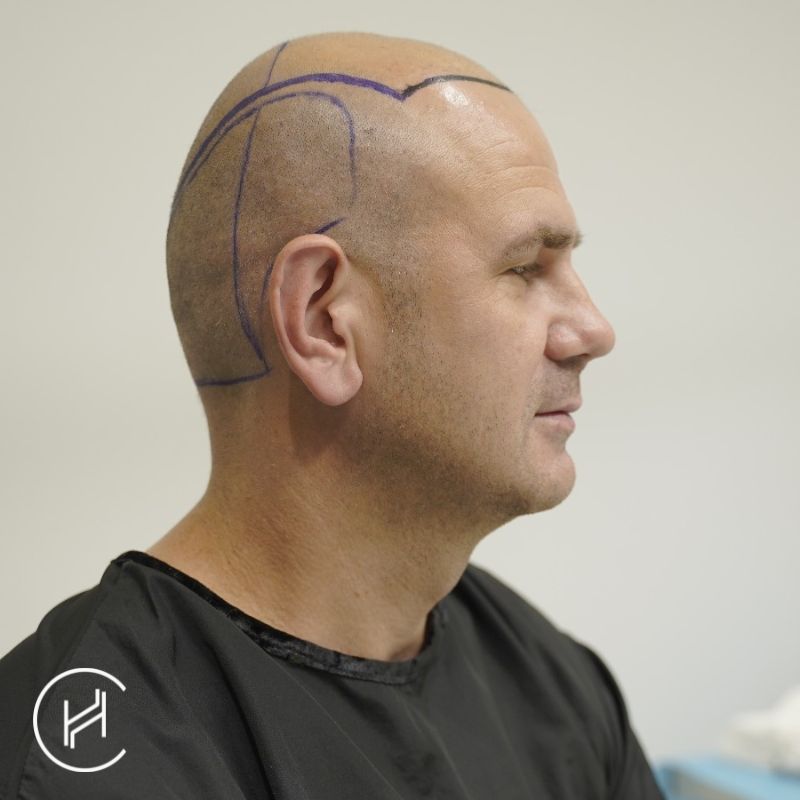 Which method is suitable for a completely bald hair transplant?
Choosing the most suitable method for your specific condition is extremely important to achieve successful results. In the 2020s, follicular unit extraction (FUE) has become the most popular method for hair transplant since it does not cause scarring and provide a high number of grafts in a shorter period of time. Follicular unit transplantation (FUT), on the other hand, may cause permanent scarring and require stitches, which makes it less appealing for a completely bald hair transplant. Have a look at our FUT vs FUE Comparison for more information.
Nevertheless, the most important factor for a fully bald hair transplant is to extract hair grafts from the safe donor area where hair grafts are not prone to fall out after transplantation.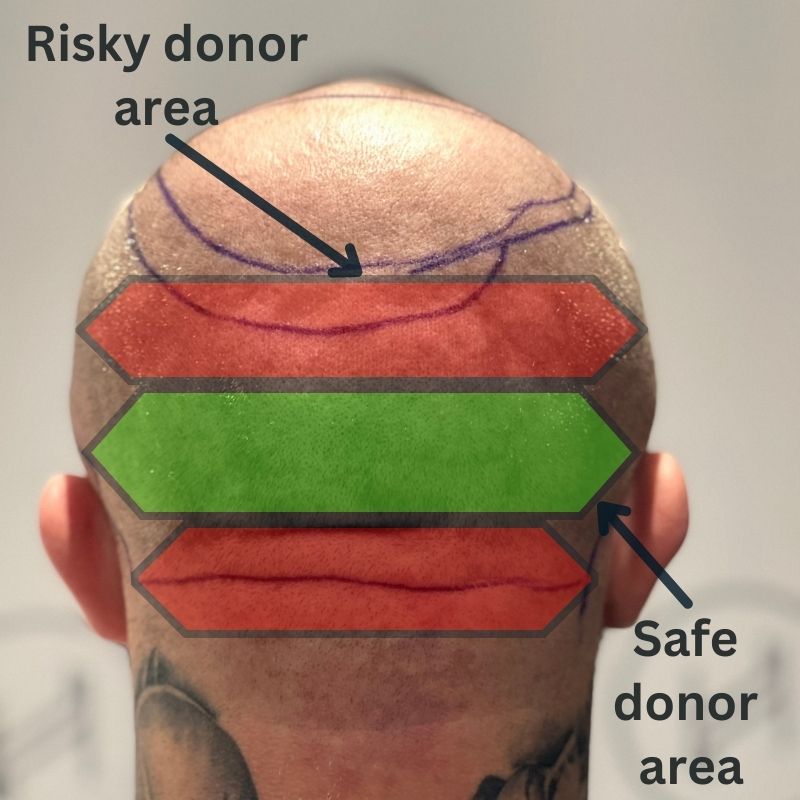 Whether you choose to go for FUT or FUE methods, make sure that the donor grafts are extracted from the safe area.
Can you still go bald after a hair transplant?
One of the most asked questions about the fully bald hair transplant is: Can you go bald after a hair transplant? The most important factor that affects the results of a hair transplant operation is the quality of donor grafts.
Provided that the donor grafts are extracted from the safe donor area, you won't be experiencing hair fallout after your operation. However, your existing native hair can still continue to fall out if you have some left outside the donor area. Furthermore, if the hair follicles are harvested from outside of the safe donor area, they might be prone to fall out -which is not likely if your hair transplant surgeon is experienced.
What can I do to maximise my hair transplant results?
In most cases, using some other supplementary treatment after a hair transplant can have a great benefit in maximising the hair transplant results. These treatments can help improve hair density, reduce to chance of further hair loss or improve the appearance of hair. Scalp micropigmentation (SMP), medications, and platelet rich plasma (PRP) treatments are among these supplementary treatments you can resort to.
SMP is essentially a tattoo for your scalp applied to create the look of denser hair. This non-invasive method involves the use of a special tattooing technique to imitate the look of the hair follicle. A natural appearance is achieved by using different shades of colour and a fine needle for the application. This method is especially effective for improving hair density in the transplanted areas and for achieving a full head of shaved hair look. Read more about SMP treatment in Turkey.
In order to improve hair viability and quality after a hair transplant, medications such as minoxidil and finasteride can be great options. Minoxidil is a topical treatment that extends the growth phase of hair. This delays the resting phase and allows you to maintain hair density for longer.
Finasteride, on the other hand, is an oral medication that inhibits the conversion of testosterone to dihydrotestosterone (DHT) which plays an active role in male pattern baldness. Therefore, Finasteride can be used to prevent further hair loss.
Keep in mind that, these medications need to be used regularly to show their effect.
Read more about finasteride before and after a hair transplant.
Read more about minoxidil before and after a hair transplant.
PRP utilizes the powerful nature of blood plasma which is full of growth agents and nutrients. This treatment involves the separation of plasma from your blood and injecting it into the scalp to promote hair growth. PRP can be effective for maintaining hair growth after a fully bald hair transplant. Read more about PRP hair treatment in Turkey
How can I hide my hair transplant?
If you are already bald, you should have no problem hiding your hair transplant. However, there are some options to hide your hair transplant:
Cut your hair short before for a gradual transition
Wear a hat after the surgery
Have a vacation for 10 days
When can I shave my head after a hair transplant?
If you plan to achieve a full head of shaven hair look, you can shave your hair after a certain period. However, these periods differ for donor and recipient areas.
Shaving recipient area
You should wait for the full recovery of the recipient area before you can shave the hair. This recovery period might take up to 30-40 days. Shaving the recipient area before this recommended period might decrease the success rate of your procedure.
Conclusion: Can hair transplant cure baldness?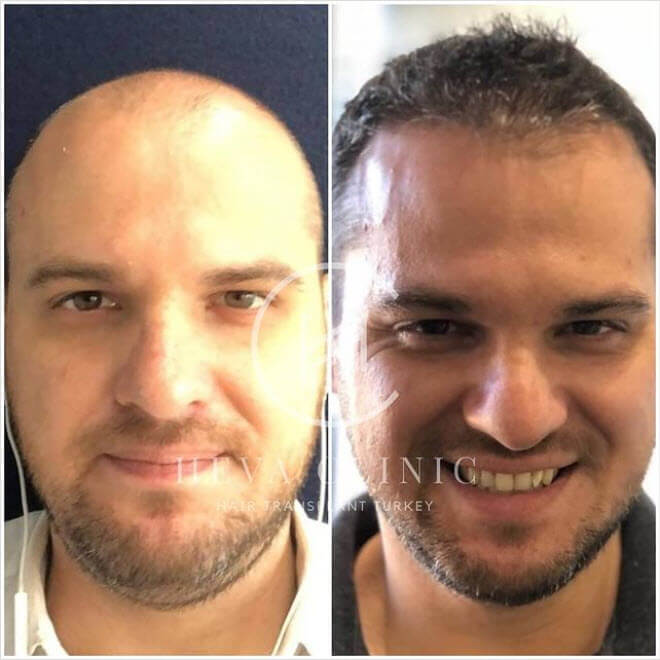 A hair transplant can give you a better look if you set your expectations correctly regardless of being bald or not. It is important to remember that fully bald hair transplants have limitations and you might be too bald for certain hair transplant results. However, you will definitely achieve a better look if you plan your hair transplant wisely. Our hair transplant experts are ready to advise you on a free medical consultation.