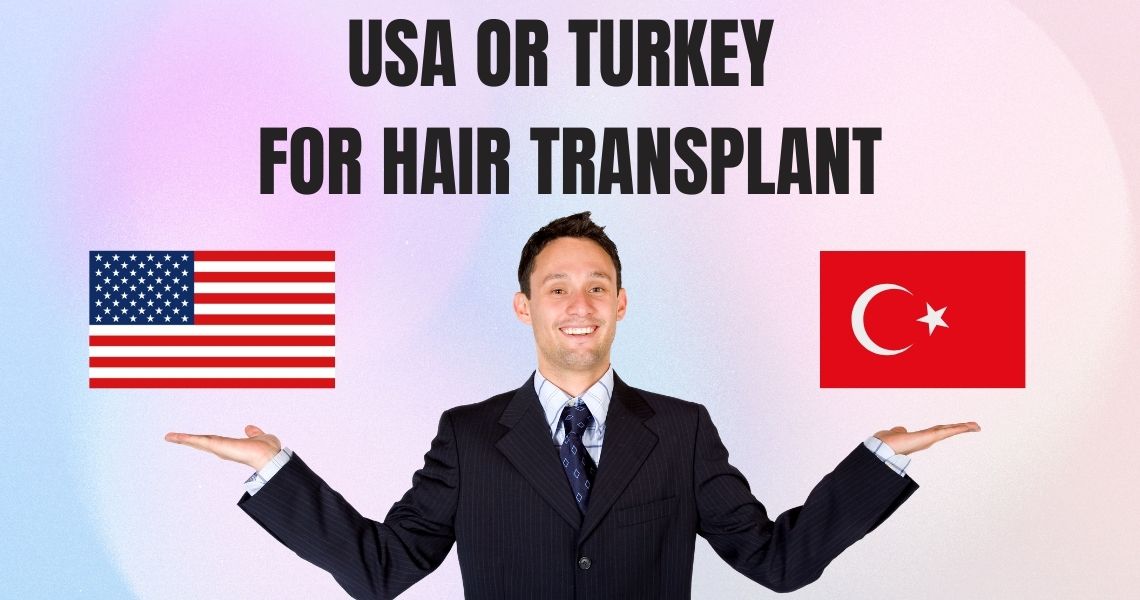 The world capital of capitalism, the United States of America is a country that has established itself to lead the world economy with its gold-backed US dollar. Once considered the land of opportunities, the USA has shown strong signals of a failed medical system during the pandemic. It is where all doors are open and everything is possible if you have money. In fact, it wouldn't be wrong to say that it's all about money all the time in the US.
Turkey, on the other hand, has a mixed culture of the West and the Middle East and is home to one of the most welcoming cultures in the world. Opposite to the US, in Turkey, you will get free mezze plates with your meal with no charge or an expectation to tip. Random people on the street may help you carry your luggage or find directions.
We prepared this guide to help out those who are considering undergoing a hair transplant either in USA or Turkey. When we know better, we choose better.
1. Costs in USA vs Turkey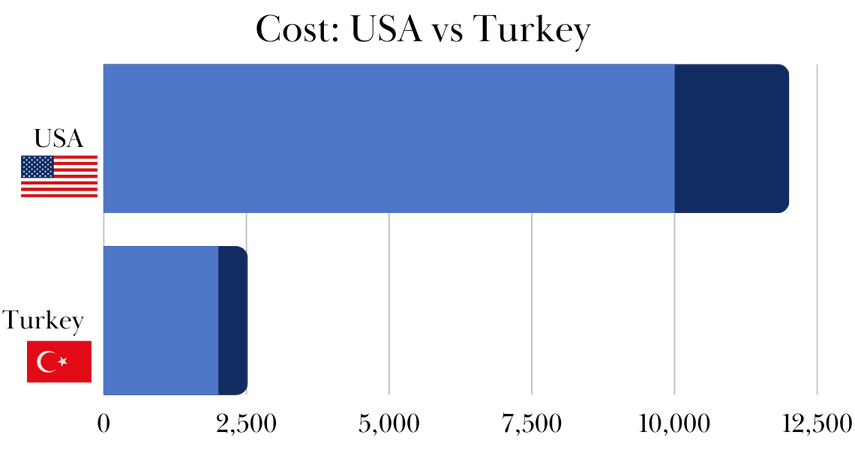 The cost of hair transplant is one of the most important variables for most of the patients. The hair transplant prices in the United States has a higher tendency; no need to say that if you wish to choose a surgeon/clinic because you heard that it is the one which celebs frequent, think twice. Just know that celebrity clinics will charge ordinary citizens an unfair amount when celebrities are probably paying nothing to promote those clinics in return.
A mediocre, non-celeb clinic in the US will not move a finger for anything below $4,000 for the minimum number of grafts to be transplanted. To give you a better idea, the average cost of a hair transplant in the US per graft floats around $2 so you can do the math in line with how many grafts you need to be transplanted. As an example 5000 grafts hair transplant will cost you approx. $10,000 in the US.
In Turkey, the cost per graft ranges between $0,55 to $1 depending on the technique used and the expertise level of your surgeon; meaning that 5000 grafts will cost you roughly $3,000. Although competitive pricing is one of the reasons that made Turkey the number 1 destination worldwide for the most trusted hair transplants, it is definitely not the only reason.
2. Surgeons in USA vs Turkey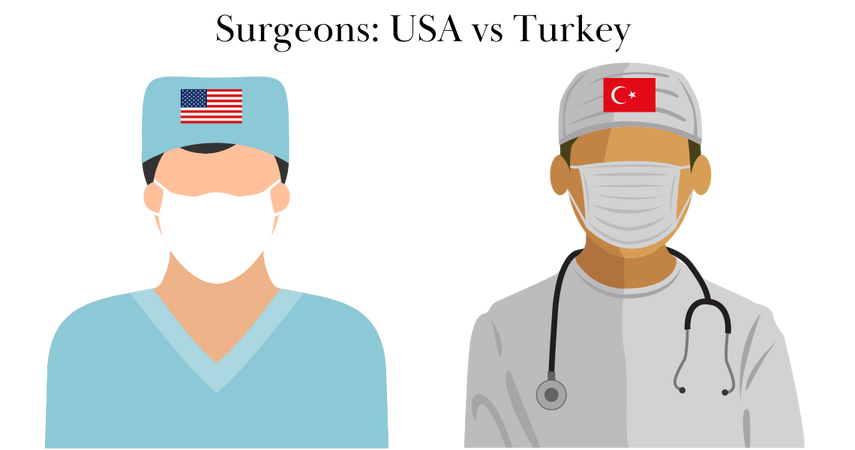 Both countries are home to excellent medical schools. Nevertheless, it is highly costly to study medicine in the States, and surgeons, therefore, charge upmarket fares and supervise technicians to perform the hair transplant procedure in the US.
In contrast, hair transplant surgeries are carried out by highly experienced surgeons in Turkey. Because of the increased volume of patients, hair transplant doctors in Turkey typically have far more developed skills and high attention to detail.
3. Expertise in USA vs Turkey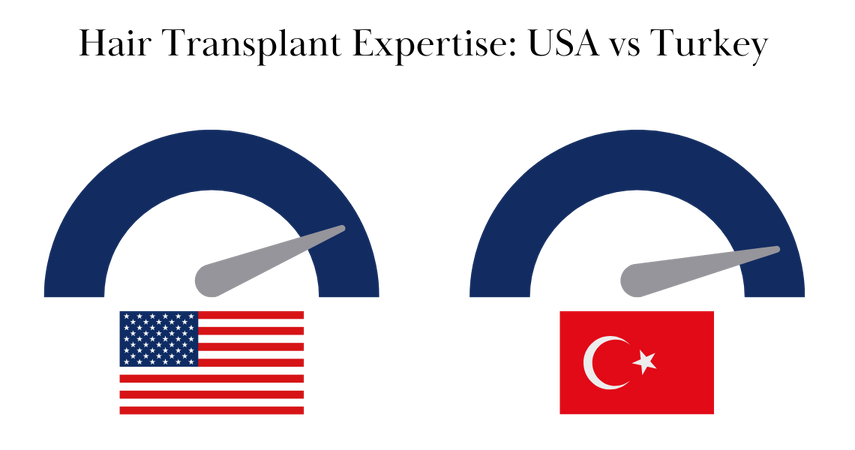 Like in most developed nations, medical treatment is expensive in the US, thus most surgeons don't get to practice with as many patients as in developing countries like Turkey. That, of course, does not mean that they are not expert.
When it comes to hair transplants, it is a very specific kind of practice. Turkish surgeons who specialize in transplanting hair only, are the most referred with the longest accumulated hours of expertise and skill.
In a nutshell, you can find expert surgeons in both countries.
4. Hair Transplant Results in USA vs Turkey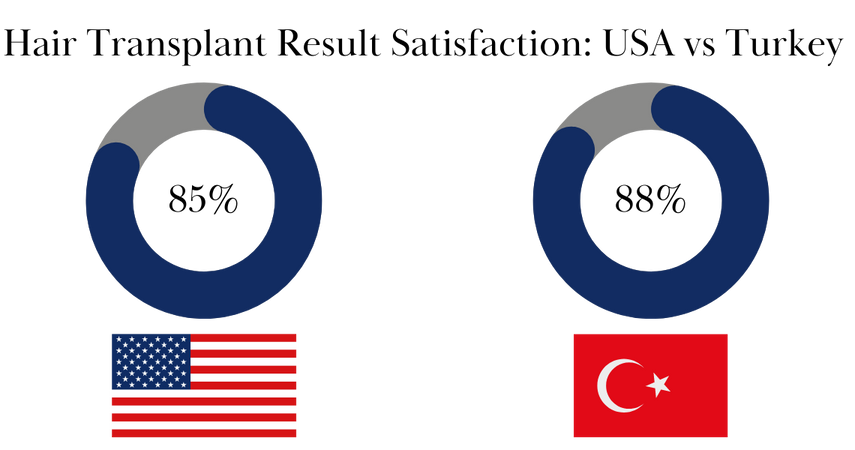 5. Safety in USA vs Turkey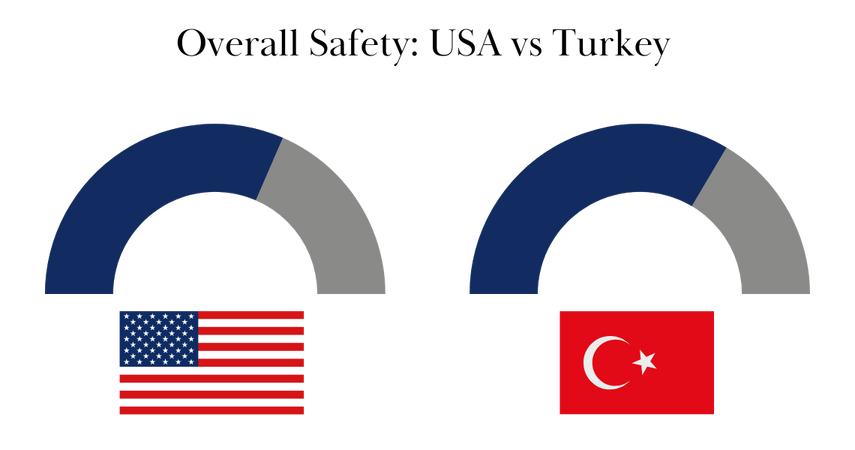 In terms of the general crime rate and drug abuse-related matters, crime index of Turkey is lower than USA. Of course, specific locations and cities play an important role in determining total crime and safety, it is thus harder to judge countries as a whole.
When it comes to safety of the operation, the risks are the same as long as you choose an established clinic in Turkey.
6. Tourism in USA vs Turkey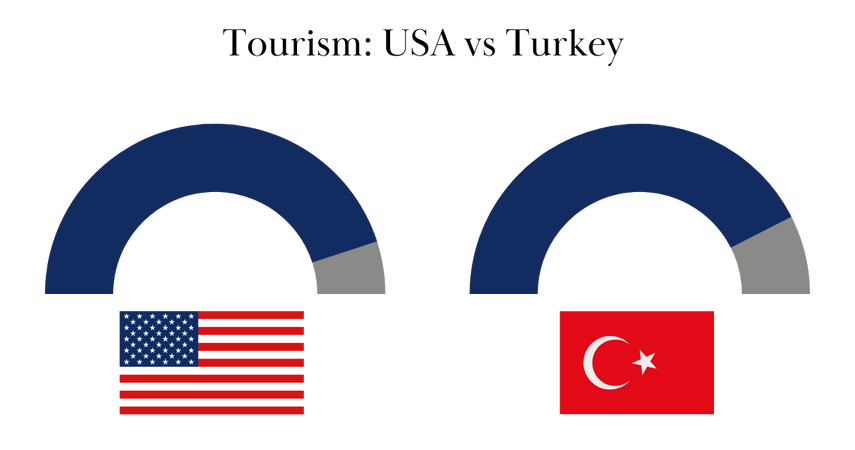 It is important to acknowledge that how a country is perceived from the outside and how the actual experience feels once there, may be different.
While the US sits in 3rd place on the global list of most visited countries, Turkey has 6th place. Authentic and unique, Turkey has a lot to offer to the cultural tourist with numerous museums, ancient sites, pristine beaches, and its rich culinary heritage.
Also, if you are an american and comparing USA and Turkey, you'll know that visiting Istanbul will be significantly more interesting!
7. Travelling to USA vs Turkey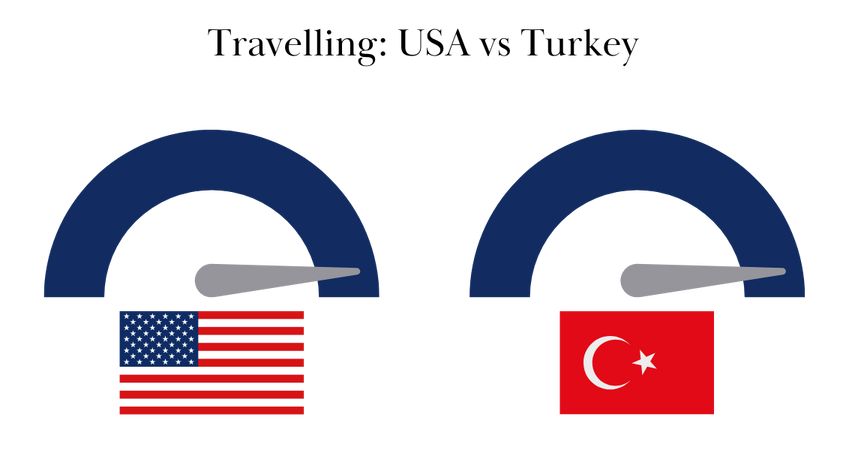 If you are a US resident, having the operation in your country will be the most convinient option.
However, non-US citizens will know that the USA is one of the countries that makes visitors go through a painful visa application phase, even if they are just a tourist. The same goes for the type of visa you'll need to visit a US physician. If you want to travel to the US for medical reasons you must apply for a different type of visa at your local US embassy or consulate where you will be asked to provide the necessary bookings and confirmations from your US-based clinic and hotel.
Turkey does not require a visa from nationals of 161 countries at the time of this writing. Non-invasive aesthetic treatments aren't necessarily considered a medical procedure and may therefore not require you to apply for a medical visa. If you are traveling to Turkey for medical reasons and to undergo an operation, you should seek information about obtaining a medical visa, unless you are a citizen of a visa-exempt country.
Regarding flight and travel access to the US and Turkey, both countries are equally uncomplicated to travel to. Depending on your departing city and country, you can search for the best suitable flight connections, routes, and prices online.
Conclusion
All in all, keep in mind that most clinics in Turkey offer all-inclusive packages for hair transplant patients, and take charge of your full journey in the country with VIP transfers and luxury hotel stays.
Turkey is a great choice is you are willing to spend less for your hair transplant operation and you are happy to travel to another country. The US, on the other hand, is a relatively expensive choice for patients who are not willing to travel outside.
Both countries are successful and unsuccessful results; that's why, as a patient, you should be allocationg good amount of time to find what's best for you.