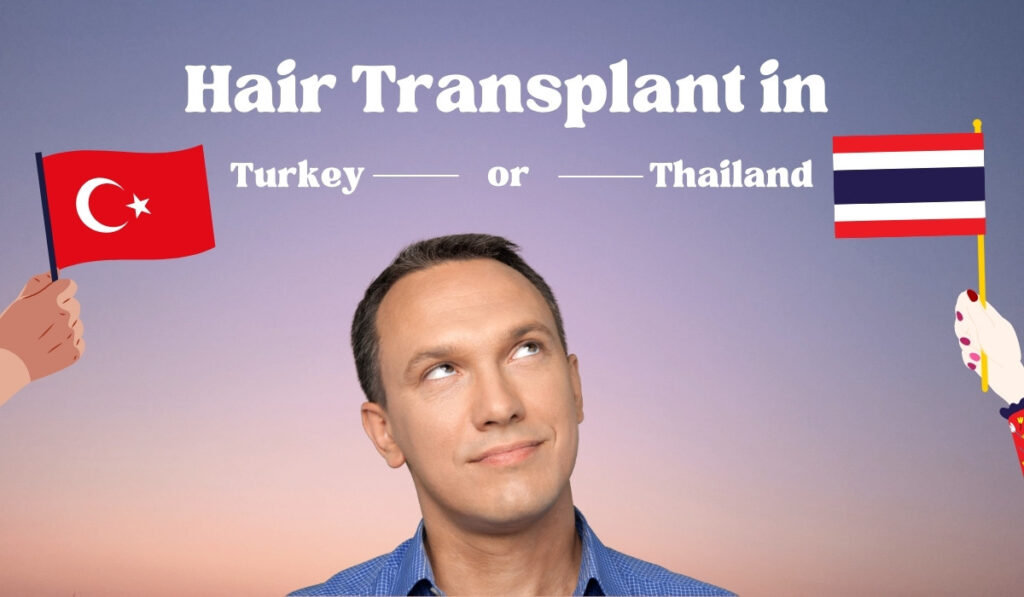 Hot and humid, Thailand is one of the top tropical destinations in South East Asia well known for its spicy cuisine. With its more or less close proximity to Australia and New Zealand, Thailand has also become one of the options for plastic surgery and a variety of other cosmetic treatments along with Singapore.
Turkey, on the other hand, bridging Europe and Asia lies at a convenient location with distinct seasons for Summer, Fall, Winter, and Spring time. Crowned as the top destination specifically for hair transplant operations, the country has built a great reputation with the highest customer satisfaction levels along with the highest success rates. Let's compare Thailand and Turkey in terms of hair transplant costs, surgeons, expertise and surgery satisfaction, safety, tourism, and travelling.
1. Costs in Thailand vs Turkey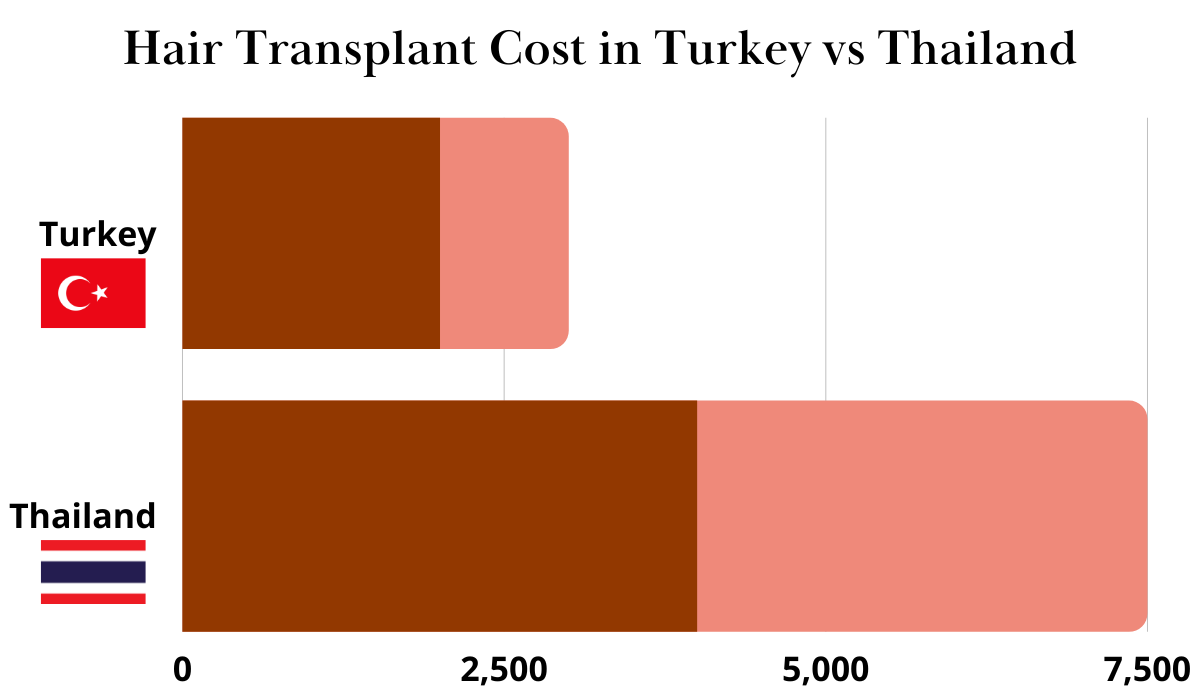 Offering a variety of techniques that differ in technology and cost, the average spending for a hair transplant in Thailand is around $7,500 with the lowest impact procedure starting at $4,000.
In Turkey, the lowest cost of a high-quality hair transplant procedure with FUE method starts at $2,000, and costs are usually calculated per hair graft transplanted. In 2023, the cost for one graft which may carry up to 4 hair follicles is 56 cents.
According to the statistics, Turkey seems to be a more affordable option than Thailand when it comes to hair transplant prices.
2. Surgeons in Thailand vs Turkey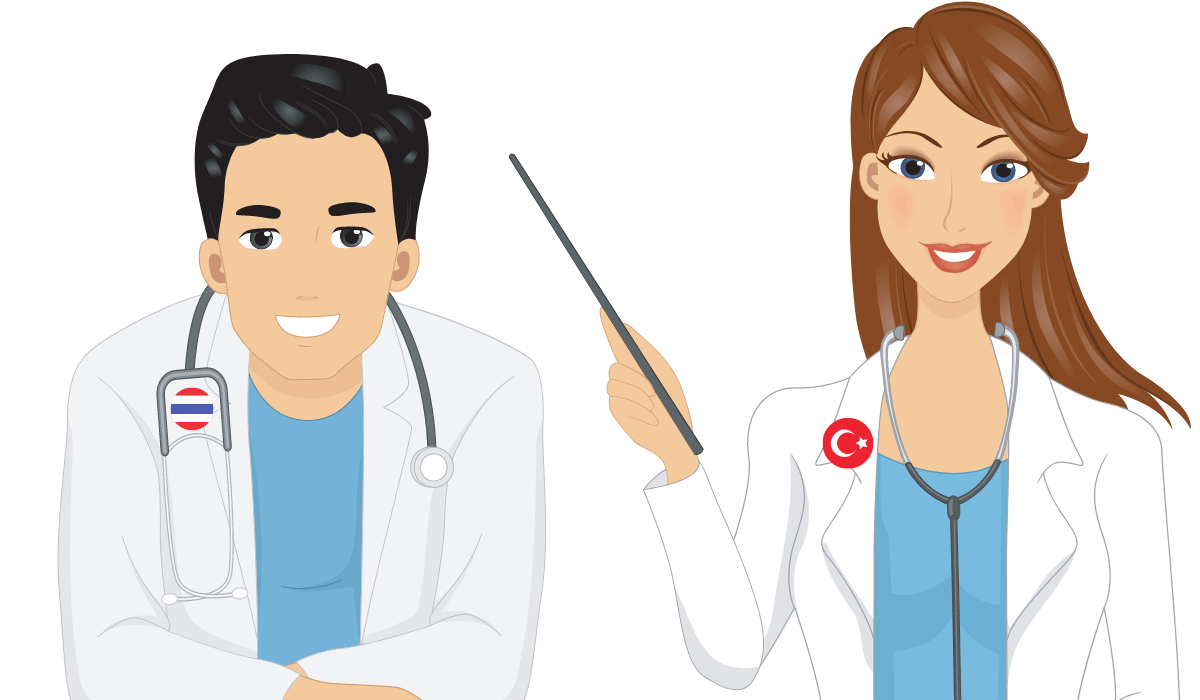 Both countries have top-notch plastic/cosmetic surgeons. However, surgeons who are involved in hair transplant operations in Thailand are general surgeons who provide guidance to technicians.
Whereas in Turkey, hair transplant surgeons conduct hair transplants and technicians only help them. Hair transplant has become an unauthenticated sub-category of cosmetic surgery in Turkey. Also, hair transplant surgeons in Turkey generally have much more experience since the number of cases is higher.
3. Medical Expertise in Thailand vs Turkey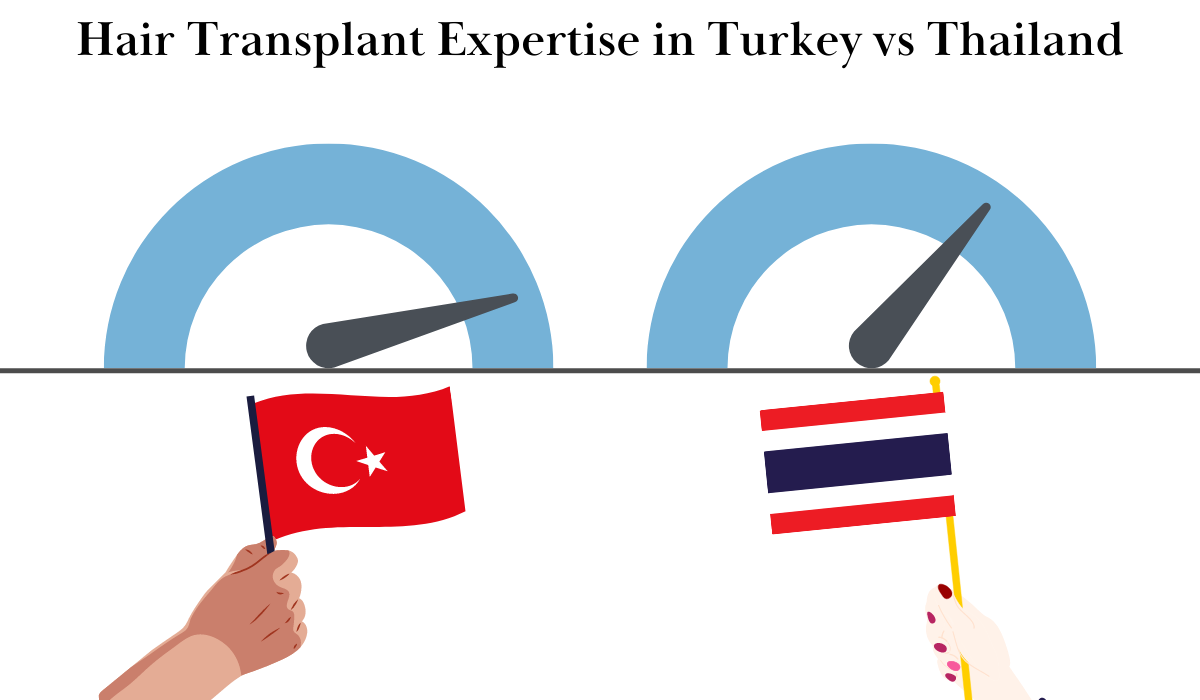 Patients who chose Thailand for a hair transplant are often from the region due to its close proximity. The country is not necessarily well-known for hair transplant operations however other cosmetic treatments such as nose jobs and eyelid lifts are common.
There's substantial growth in cosmetic surgeries and medical tourism in Turkey. Most of it is international hair transplant patients from all around the world due to the great reputation and long-standing history of the country in this particular area. Turkey comes out as the number one country on search engines for a hair transplant and offers a delicious combo of cost-effective, customer service-oriented, and well-organized journeys.
4. Hair Transplant Results in Thailand vs Turkey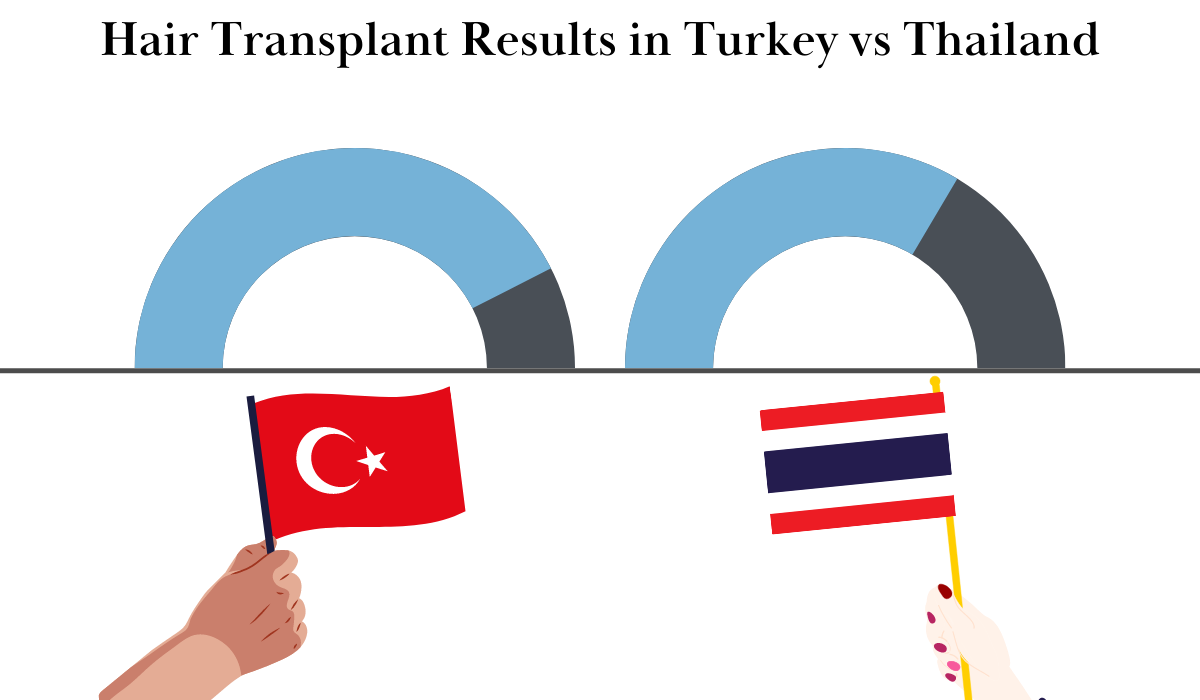 When it comes to high hair transplant success rates, Thailand appears as a mediocre option. On the other hand, most clinics in Turkey offer a lifetime guarantee and a 24/7 aftercare service online or over the phone even after patients return to their country of residence.
Turkey also has the highest success rates and thus, a top-notch reputation due to tens of thousands of satisfied patients make Turkey a more safe option over Thailand.
5. Safety in Thailand vs Turkey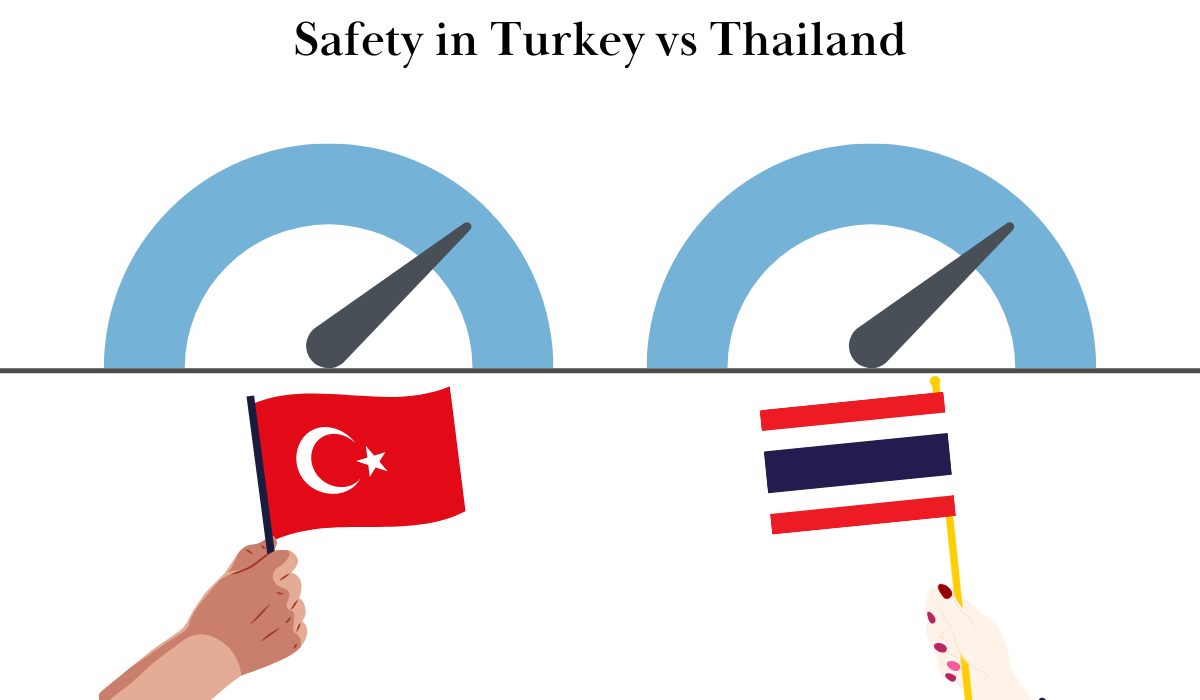 Thailand and Turkey both rank high as popular destinations for tourism and are ranked equally in terms of safety and crime. It's always good to remember to be alert in any travel destination, however, hair transplant packages in Turkey offer VIP airport and hotel–clinic transfers, thus reducing the chances of any misunderstandings with cab drivers or dodgy accommodations.
6. Tourism in Thailand vs Turkey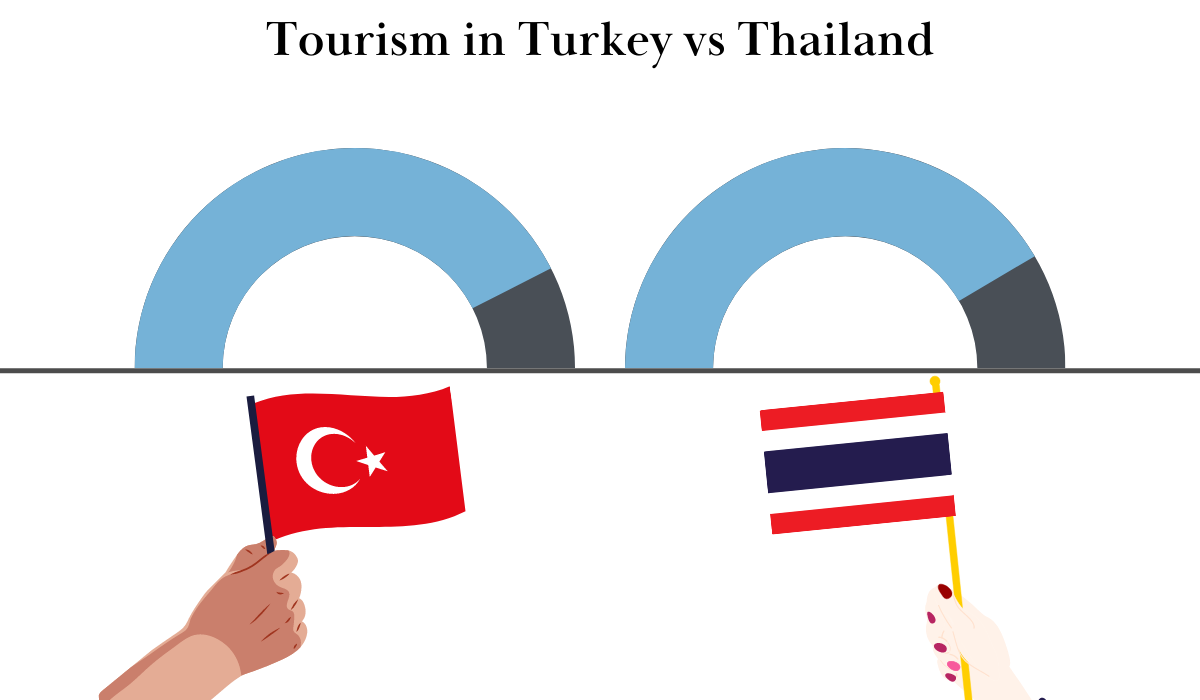 Temples, culture, food, and beaches are the common features of both countries and they are equally touristy. In Turkey, there are also ancient cities and open-air museums, natural thermal baths, and the food is less spicy compared to Thailand and yet still delicious.
While Turkey ranks 6th as the most visited country in the world, Thailand is in 9th place on the list. Showcasing different cultures, both countries are worth the visit depending on what you are looking for.
For those into shopping, Turkey offers a great experience for affordable high-end fashion, shoes, and bags. Most internationally known brands get their highest quality garments manufactured in Turkey.
7. Travelling to Thailand vs Turkey
Both countries are easily accessible by plane from anywhere in the world on trustworthy airlines. Thailand is closer to Australasia whereas Turkey is geographically closer to the US, and Europe with shorter flight times and direct flights.
Conclusion
While both countries are equally touristy and pleasant in terms of the overall experience and plastic surgeries, Turkey ranks number one from a hair transplant perspective.
Wherever you search, the information leads towards Turkey as the most reliable destination for a hair transplant with highly skilled surgeons, an outstanding customer service experience, and the most cost-effective treatments with a lifetime guarantee.
It's still important to note that not all clinics are the same in Turkey and Thailand. In order to prevent a potential failed hair transplant, you should do your research well to find the best options for your hair type and loss.