People of all genders find hair loss to be a draining experience, which leads many to seek out hair transplant surgeries as the most logical and permanent solution.
To help those considering a hair transplant, we will examine the typical cost of hair transplants in Colombia. We will look into the price ranges for 2000, 3000, and 5000 hair grafts, the main factors that have a say on the total cost, and make a comparison of hair transplants in Colombia and Turkey in this extensive blog article.
We'll also go over financing possibilities for individuals considering a hair transplant procedure and point out the main variations between the hair transplant packages provided in these two destinations. We advise you to read the full knowledge and fact packed article so that you can make an informed decision to change your life for the better.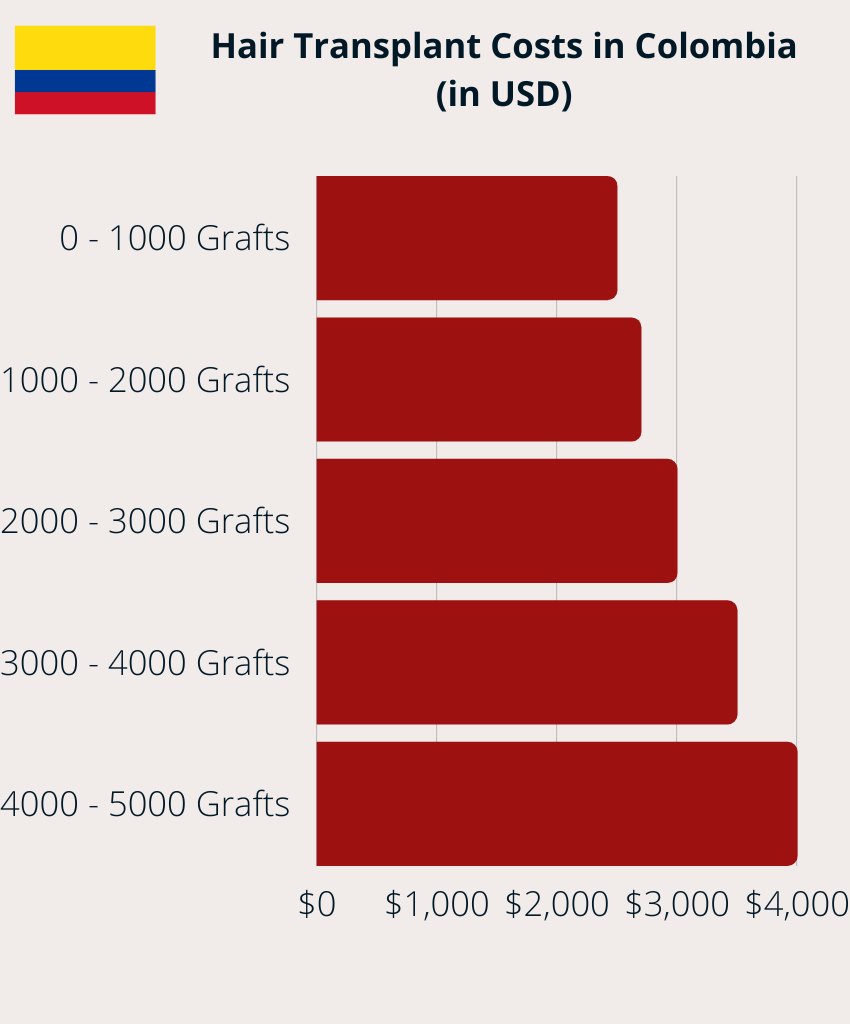 Average hair transplant cost in Colombia
Colombia has an established image as a popular destination in South America for cosmetic surgeries, and hair transplant procedures are the new addition.
The average cost of a hair transplant in Colombia can range from $2,000 to $5,000 USD. However, it's essential to remember that these prices may vary depending on several variables such as the number of grafts needed, experience of the surgeon and the package type.
How much does 2000 hair grafts cost in the Colombia?
The cost of 2000 hair grafts in Colombia generally falls within the range of $2,500 to $3,500 USD. This price often includes the basics, being; consultation fees, surgeon charges, anesthesia, and post-operative care.
How much does 3000 hair grafts cost in Colombia?
For those considering 3000 hair grafts, the price in Colombia typically starts from $3,500 going up to $5,000 USD. The increase in cost is due to the additional grafts and the extended surgical time required.
How much does 5000 hair grafts cost in Colombia?
A hair transplant involving 5000 hair grafts is a more elaborate procedure, and the cost in Colombia can range from $4,000 to $8,000 USD. The higher price is attributed to the increased number of grafts and the complexity of the surgery.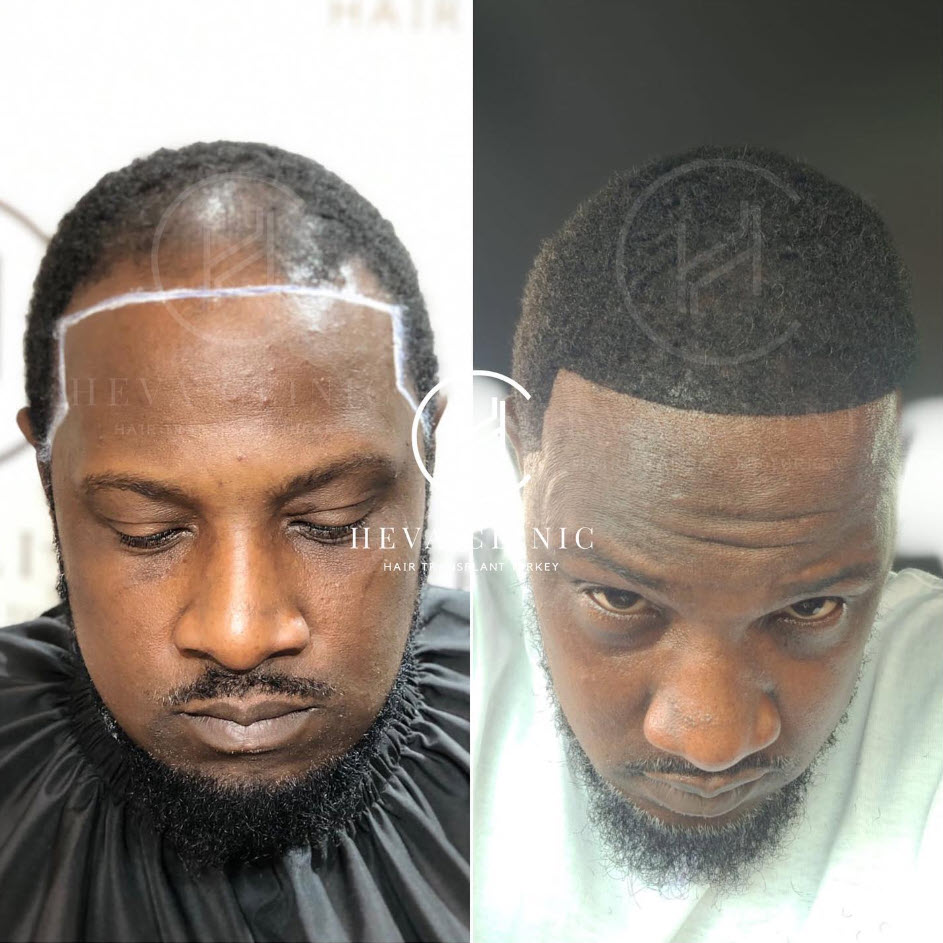 What variables impact a hair transplant's price?
Several factors influence the cost of a hair transplant, such as the clinic's reputation, the experience of the surgeon, the classification of the facility or clinic where it's performed, and the type of technique used. Additionally, the level of hair loss and the desired hair density play a significant role in determining the final cost.
What qualifies a clinic as the top hair transplant facility in Colombia? The Shakira Effect!
Let's get it right; a hair transplant is a delicate procedure that calls for extreme precision, especially when managing hair grafts.
Only great surgeons are able to plan a procedure that will provide results that are natural-looking by positioning the hair root angles right, the depth of the transplants, and the proper arrangement of grafts on various sections of the scalp. This is only possible through experience and aesthetic expertise.
The unwanted pluggy appearance is avoided by surgeons who adhere to a well defined process, as opposed to low-cost clinics.
Normally, the best hair transplant facilities in any given country are characterized by a few key factors. These include having board-certified and experienced surgeons, state-of-the-art equipment, adherence to international safety standards, positive patient reviews, and a track record of successful hair transplant procedures.
However, in Colombia, we see that top hair transplant clinics have ties with Turkey and are supervised or consulted by Turkish surgeons. We call this The Shakira Effect (referring to her ties with the Middle East). These clinics proudly announce that their clinical staff are connected to Europe, receiving their training from European surgeons. What it really is, is that they receive know-how and guidance from top hair transplant surgeons in Turkey as the leading hair transplant destination.
How to finance a hair transplant?
To make hair transplant procedures more affordable, many clinics offer financing options. Patients can explore installment plans, medical loans, or payment packages that spread the cost over several months or years.
It is crucial to choose a financing option with favorable terms to avoid unnecessary financial strain. Also, this may not be available in every country or for foreigners, so do check before you make an assumption based budget.
How do hair transplants in Turkey and Colombia compare?
Turkey has the longest standing history in transplanting hair and emerged as a leading destination for hair transplant treatments due to its reputation for expertise, quality, and affordability.
Because Colombia is quite new in hair transplants, and most highly regarded Colombian hair transplant clinics receive their training from Turkish surgical teams, the two countries aren't quite in the same league.
It is therefore unfair to compare the two countries based on expertise, precision, and quality.
How is hair transplant in Turkey compared to Colombia?
In Turkey, the average cost of a hair transplant is generally lower than in Colombia, despite providing top expertise and the highest success rates in the world.
With prices ranging from $2,200 to $3,500 USD, the lower cost in Turkey is primarily due to the slightly lower cost of living and more competitive pricing in the country's medical sector.
What extras are available in Turkey?
Airport-hotel-clinic transfers
High-level customer service
Pre and post consultations
These extras enhance the overall experience and convenience for international patients. Clinics in Turkey are well aware of the concerns of patients traveling from abroad and they therefore have an emphatetic approach to create a seamless experience.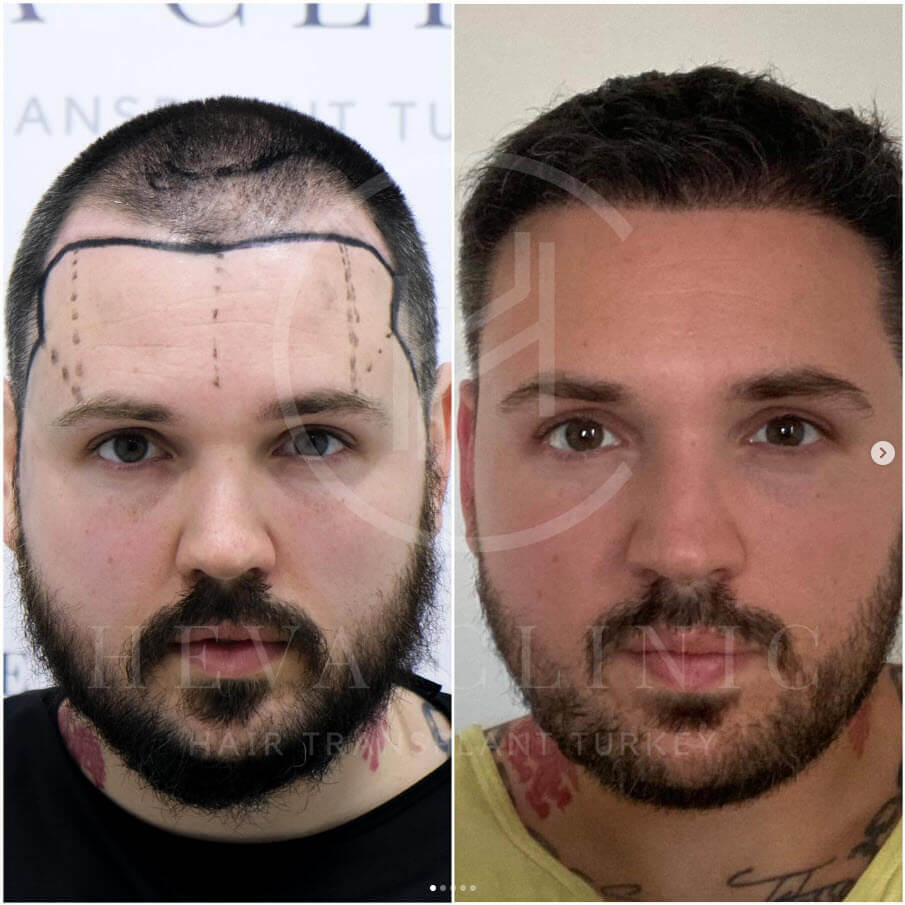 How affordable is Turkey?
The price/performance on offer by Turkish clinics is a significant draw for patients seeking hair transplant treatments in the country.
However, it isn't just the affordable cost that allows patients to achieve their desired results. It is knowing that they get the best hair transplant available worldwide, for the best price offered. When it comes to hair transplants, Turkey attracts individuals from all walks of life from A-list celebrities to the average citizen.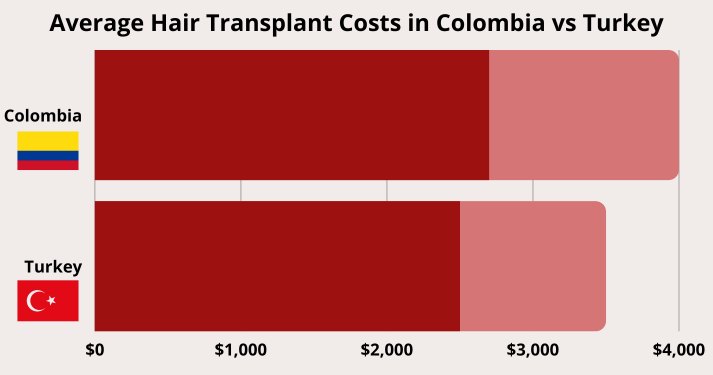 Why is Turkey more affordable than Colombia?
Turkey's lower cost is due to various factors, including lower labor and operating expenses, favorable exchange rates, and government support for medical tourism.
On another note, we must add that you may find matching pricing in Colombia and Turkey but this will be relative due to the difference in quality and expertise, meaning that you always get the most out of it in Turkey.
Conclusion
Deciding to undergo a hair transplant is a significant step towards regaining confidence and self-esteem but don't forget that it provides a permanent solution.
While Colombia is the new kid in the hair transplant game, Turkey is the seasoned big brother training Colombian surgeons. Offering high-quality hair transplant procedures and unmatched before and after results, Turkey stands out as not only the more affordable option but also the best.
If you would like to find out what Turkish surgeons can do for you, grab the opportunity to book a FREE online consultation to move forward and onward in life.