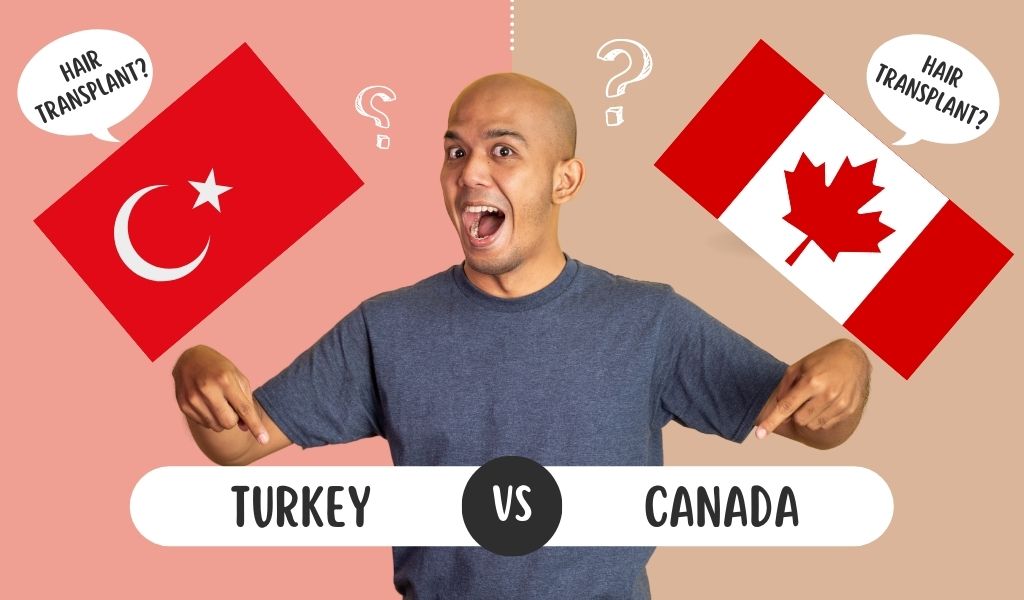 When it comes to getting a hair transplant done for life, some countries have gained a better reputation for providing top-notch treatments than others. The reason is that there are several factors that set these countries apart.
When you read this article till the very end, you will gain a good idea from costs and expertise to results and safety of hair transplants. We will also explore the key differences and advantages of getting a hair transplant in Turkey over Canada to understand what the hype is all about.
1. Costs in Canada vs Turkey
One of the most significant considerations for anyone seeking a hair transplant is the cost of it. In Canada, medical procedures are typically much more expensive due to higher operating costs and healthcare expenses. Hair transplant treatment price in Canada can range from $6,000 to $30,000, depending on the extent of the procedure and the clinic's location, reputation, etc.
On the other hand, Turkey is renowned for offering exceptional hair transplant expertise at a fraction of what it costs in Canada. The affordable prices are primarily due to the lower cost of living in the country. A hair transplant in Turkey can cost as low as $2200 to $5000, making it an attractive option for those seeking high-quality treatment without worrying about breaking the bank.
2. Surgeons in Canada vs Turkey
Both Canada and Turkey boast well-educated and competent hair transplant surgeons. In Canada, you can find a number of qualified professionals who have undergone extensive training and hold certifications from reputable institutions. However, in Canada, this expertise comes at a premium, which is reflected in the higher costs of procedures.
Turkey, on the other hand, has gained international recognition for its talent pool of highly trained and experienced hair transplant doctors. Many of them have completed their education and training in the top medical schools worldwide and contribute to the booming medical tourism industry.
Turkish surgeons are known for their artistic approach to hair transplants, creating natural and aesthetically pleasing results. The volume they treat per doctor is also unmatched, and as a result, practice makes perfect…
3. Expertise in Canada vs Turkey
While Canada is undoubtedly home to equally reputable surgeons, the sheer number of hair transplant cases handled in Turkey has given Turkish specialists a unique edge.
In the last two decades, the country already had high demand within the local market. But now, it has become a global leader in hair transplant procedures, with clinics catering to thousands of international patients every year.
This high volume of cases has allowed Turkish surgeons to refine their skills and lead the way in the latest advancements in the field.
On top of that, the Turkish government has shown strong support for the medical tourism industry, supporting investments in cutting-edge medical tech and creating an environment conducive to medical excellence. As a result, Turkey is today a hub for medical tourists seeking expert and affordable hair transplant treatment.
4. Hair Transplant Results in Canada vs Turkey
The ultimate goal of a hair transplant is to achieve natural-looking and satisfying results that suit your features. Both Canada and Turkey deliver noteworthy outcomes, but the key differentiator lies in the density of the transplanted hair and the overall cost-effectiveness.
In Turkey, due to the lower cost of procedures and the competitive market, patients receive up to three times more grafts for the same amount spent compared to Canada. This means that individuals can enjoy fuller and more satisfying results at a fraction of the cost they might spend in Canada.
5. Safety in Canada vs Turkey
Safety is the predominant concern for any medical procedure, and both Canada and Turkey take it seriously. Canada has a well-established healthcare system and follows meticulous safety standards. However, these safety measures also contribute to the higher costs of procedures.
Turkey, too, maintains a high level of safety and adheres to international medical standards. Clinics that have a good reputation in Turkey are accredited by well respected organizations like the International Society of Hair Restoration Surgery (ISHRS) and the Joint Commission International (JCI). These accreditations ensure that patients receive top-notch care and safety during their hair transplant journey.
6. Tourism in Canada vs Turkey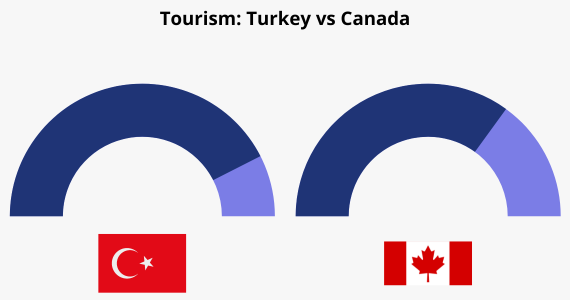 Apart from seeking hair transplant treatments, some patients also consider the tourism potential of the country they choose. Canada is a stunning country with diverse landscapes, ranging from the majestic Rocky Mountains to beautiful coastal regions. The country offers a plethora of outdoor activities and cultural experiences, making it an attractive destination for tourists.
Just keep in mind that ticket prices may be high, depending on where you're traveling from. Acquiring to get a visa for Canada is also a problem for anyone who does not hold a passport from the EU, US, Australia, and some other countries with a strong passport.
Turkey's unique advantage on the other hand lies in its rich history and cultural heritage, bridging the gap between Europe and Asia. From the bustling streets of Istanbul, where ancient architecture meets the modern facade of the city, to the surreal landscapes of Cappadocia, Turkey offers an unforgettable experience for visitors.
The cultural richness and warm hospitality of the Turkish people add to the allure of the country, making it an ideal choice for a hair transplant combined with an enriching travel experience. Even more so if you like the beach. Turkey consists of two very large peninsulas and is surrounded by an infinite number of stunning beaches.
7. Travelling to Canada vs Turkey
If you are an international patient, depending on your choice, traveling to another country for a hair transplant may involve careful planning and considerations given that you have to organize everything by yourself.
Canada has a well-developed infrastructure and is easily accessible from many parts of the world. However, as discussed above, the visa process and higher travel and accommodation expenses may be a discouragement for many patients.
Turkey, on the other hand, has taken significant steps in easing travel for medical tourists. Moreover, the affordability of flights and accommodation in Turkey makes it a highly accessible and attractive option for medical tourism.
When it comes to luxury hotel stays in 4 and 5-star hotels that are centrally located, the most well-organized hair transplant clinics in Turkey will arrange that for you. As a matter of fact, in most cases where you buy a hair transplant package, luxury accommodation, and VIP transfers are already included. This is a lifesaver for those who aren't good at planning a trip to a foreign country.
In case you think you will feel more comfortable in Canada because of the language, Turkish clinics provide licensed interpreters upon request and for no extra cost.
Conclusion
In conclusion, both Canada and Turkey provide excellent hair transplant services with skilled surgeons and high safety standards. However, Turkey emerges as a compelling choice due to its cost-effectiveness, the expertise of its surgeons, and their smart move for using the country's experience in tourism with medical services, creating wholesome journeys.
Remember, a hair transplant is not only about the physical transformation but also about the journey that leads to newfound confidence and self-assurance. If a hair transplant is something that you consider undergoing, your part of the lesson is to educate yourself about it. It's in your right to seek free online consultations with reputable clinics to find out what's on offer.