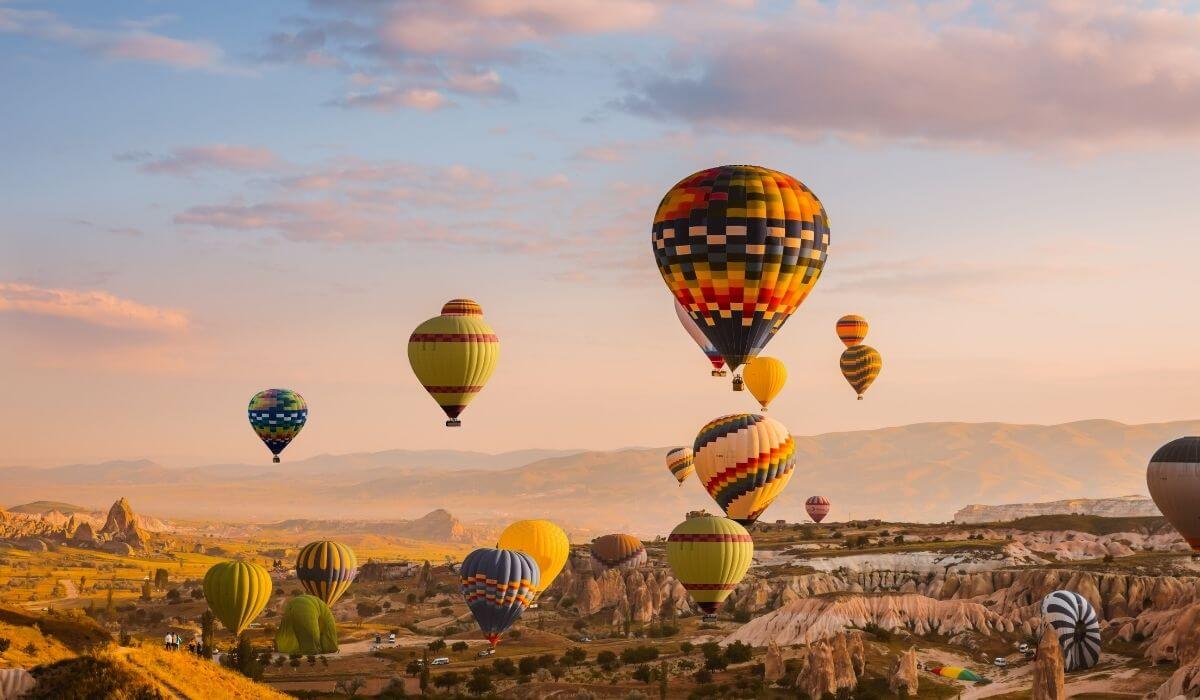 Getting your dental treatments or check-ups doesn't have to be something you dread. Dental treatments offered by the dental clinics in Turkey is a great way to combine a delightful holiday with your boresome dental work. This is why dental tourism in Turkey has become one of the most popular medical tourism options.
Dental tourism allows you to enjoy the beauty and rich culture of Turkey whilst you are getting your dental treatments done at an affordable price. Dental services at Heva Clinic includes but not limited to the services below:
Nearly half a million people visit Turkey for dental treatments. This speaks for the reliability and popularity of dental tourism in Turkey. If you are interested in dental surgery or dental care in Turkey, keep on reading to find out more information.
How much do dental treatments cost in Turkey?
The cost of dental treatments in Turkey is one of the best that is offered in many countries. The popularity of Turkey, a high number of experts graduated from top medical schools in Turkey, government support, and high exchange rates make Turkey one of the most affordable countries for dental treatments in Europe.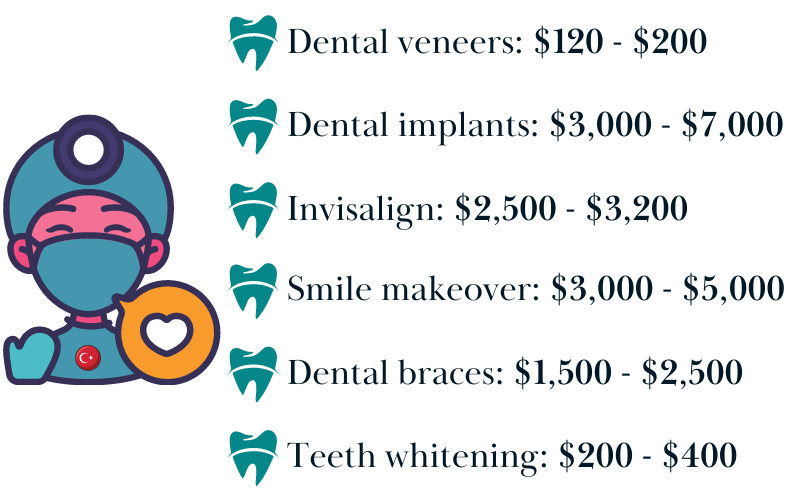 The cost of dental treatments in Turkey starts from $150 and can go up to $7,000 depending on the treatment you are getting.
Dental veneers can cost between $120 – $200;
Dental implants can cost around $3,000 – $5,000;
Invisalign cost in Turkey varies between $2,500 – $3,200;
Smile makeover costs can vary between $3,000 – $5,000;
Dental braces can cost around $1,000 – $2,500;
Price of teeth whitening treatment in Turkey is around $200 – $400.

Dental implant holiday in Turkey
A dental implant is a great solution if you need the whole structure of your tooth to be replaced. Implants offer a durable and natural-looking option for the missing teeth and give you that perfect smile back. A dental implant holiday in Turkey can be a great way to reduce the stress involved with the dental implant procedure and get a relaxing holiday during your treatment.
Dental implant holiday package in Turkey
In Heva Clinic, you can get a single implant, multiple implants, or full mouth dental implants. Whichever treatment you need, you can benefit from our dental implant holiday packages that include native interpreter, free hotel stays, transportation from and back to the airport, medical consultations, the cost of the dental implant procedure, panoramic x-ray, volumetric tomography, and temporary crowns used during the implant process. Click here to read more about dental implants.

Dental veneer holiday in Turkey
Dental veneer holiday in Turkey offers you the benefits of the veneer treatment with a side benefit of a relaxing holiday. Dental veneers are used to improve the aesthetics of your smile. If you have been looking to correct the colour of your teeth or you are bothered by the uneven look of your smile, dental veneers can offer a long-lasting solution. Veneers, which are thin shells placed over your teeth, can be made up of different materials such as composite, porcelain, E.max, and laminate. You can choose between these options based on your surgeon's recommendation and your personal expectations. Dental veneer treatment in Turkey can take 3-5 days on average. So, it is the perfect opportunity to take a refreshing holiday in Turkey, while getting your veneer treatment done.
Veneer treatment holiday package in Turkey
You can relieve the stress of arranging your travel to Turkey for your dental veneer treatment by using our veneer treatment holiday package. This package makes sure you have the best accommodation and travel options to choose from. The veneer treatment holiday package in Turkey includes native interpreter, free consultation and planning, accommodation and travel, transfers and top-quality veneer treatment. We will make sure that you have the best hotel location that allows you to easily travel to and from our clinic while taking in the amazing opportunities Turkey has to offer. Enjoy the city sights between your sessions and discover the hidden gems of the city. Click here to read more about dental veneer treatments.
How safe are dental treatments in Turkey?
Dental treatments in Turkey are not only affordable but also, they are safe and high-quality. Dentists and orthodontists in Turkey graduate from top-notch medical schools and are experts in their fields. A professional clinic in Turkey will make sure that the maximum safety standards are met and that you receive the best treatment possible. So, if you are considering getting your dental treatment holiday in Turkey, you don't have to be worried about the safety of dental treatment. You just need to make sure that your chosen clinic is qualified.