Female hair loss is a common problem across all ages and ethnicities. Especially because of certain hairstyles, excessive colouring, genetic problems, or deficiency of particular nutrients, most women suffer from rapid hair loss. Usually, new hairs naturally grow back and make up for the hair loss. However, this is not always the case. Even though male hair loss is more significant because of the low hair densities of men, female hair loss should not be overlooked.
Another reason for women hair loss is female pattern baldness which is similar to male pattern baldness but causes hair loss in different areas. Female pattern baldness is hereditary and often accelerates after menopause. Since it can affect women's confidence and life quality, hair transplant for female pattern baldness has become a permanent solution for that problem.
If you suffer from excessive hair loss or female pattern baldness you might want to think about a female hair transplant in Turkey with Heva Clinic.
Reach us for a free medical consultation
African American female hair transplant
Black females can suffer from different types of hair loss in addition to other general reasons of hair loss. Black women are prone to a type of hair loss called traction alopecia which may be caused by using tight hairstyles such as weaves, braids, or dreadlocks for a long time, or due to hair relaxer damage. Traction alopecia can cause hairline to widened hairline and thinned hair. Because of these reasons black female hair transplant has become a popular treatment with the improvement of hair transplant technologies.


How does a female hair transplant process work?
Hair transplant procedure for women is similar to hair transplant procedure for men. A donor area with healthy hair follicles must be selected before the procedure with the advice of your surgeon. Contrary to men shaving the whole head is not necessary for women a small patch of the donor area is usually shaved which can be easily covered with the rest of the hair so that you can resume their daily life without interruption.
Follicular unit extraction (FUE) and direct hair implantation (DHI) methods are the most common hair transplant technique for female hair transplant in Turkey. These techniques are similar to each other in terms of hair follicle extraction but differ in the transplantation technique. In the FUE method hair follicles are extracted by creating small incisions in the donor area and collected in a suitable environment before the plantation procedure. On the other hand, the DHI technique uses a special pen called the Choi pen to extract and load individual hair follicles simultaneously. Then the hair follicles are planted to the desired area with the help of Choi pen.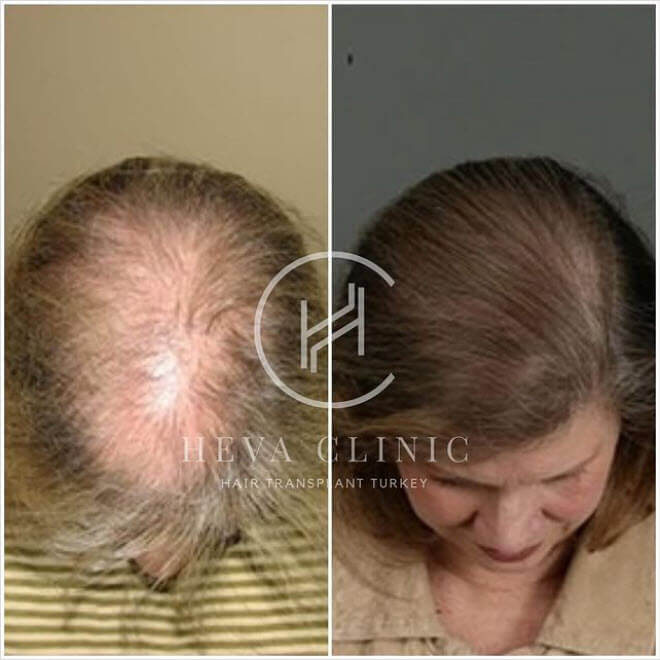 Am I eligible for a hair transplant operation?
If you suffer from hair loss and considering getting a hair transplant you might be wondering if you are a suitable candidate for a hair transplant operation.
Women who are affected by female pattern baldness and have lost a patch of hair or have thinning hairline and women who suffer from traction alopecia and have a receding hairline are considered as suitable candidates for hair transplant. In addition to these conditions, a hair transplant is suitable for women who have gone through a trauma involving burn or severe damage as well as hair loss due to imbalanced hormone levels are eligible for a hair transplant procedure.
The important factor for women hair transplant is the density and condition of available donor hair follicles. Because women do not have a safe donor area such as the back of the neck for male patients, the quality of available hair follicles should be assessed properly. You can consult your surgeon to learn if you have suitable hair follicles for a hair transplant operation.
Reach us for a free medical consultation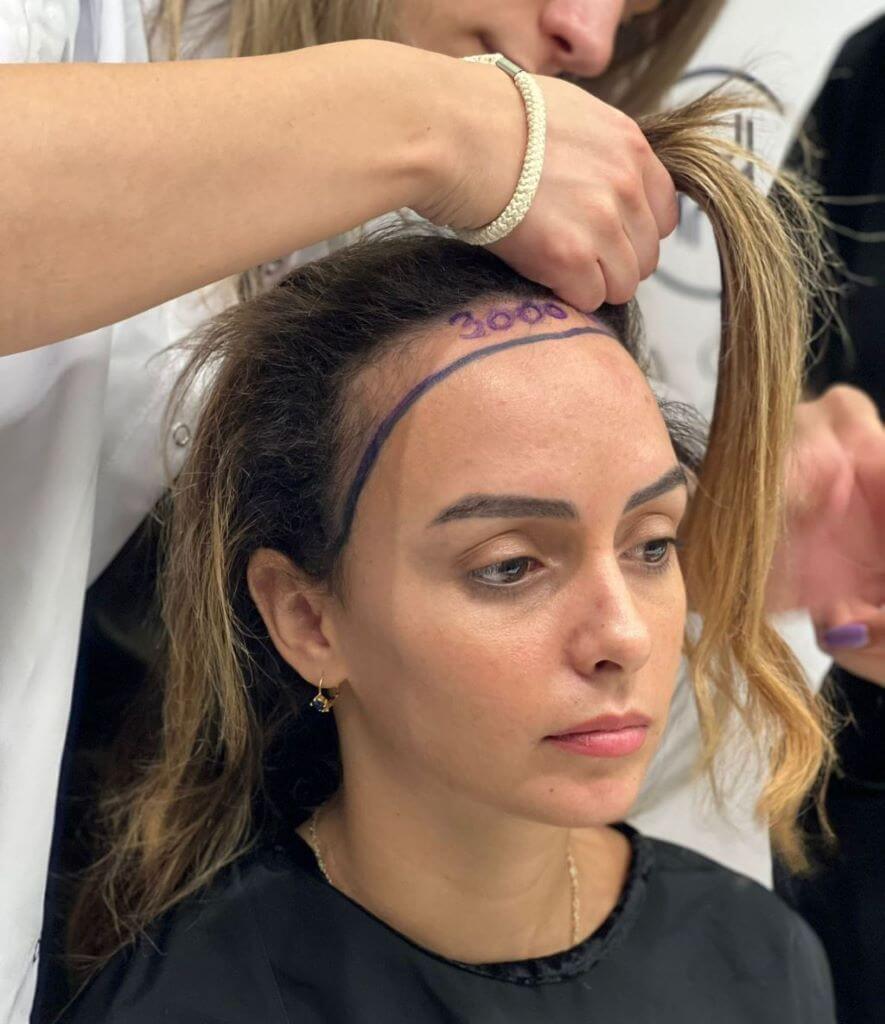 How long does it take for a transplanted hair to grow?
You are probably wanting your new hair to grow and give you that healthy hair back in a short amount of time. But, in reality, newly transplanted hair follicles might take a few weeks to settle. In some cases, your new hair might shed after 3-4 weeks and grow back after that. Usually, it takes 3-4 months to see the significant results of a hair transplant. The full effect of a hair transplant kicks in after 12-18 months. At this point, your hair can grow up to 15 centimetres. The pace of hair growth strongly depends on your body's hair growth cycle and its reaction to the hair transplant procedure.
How is the female hair transplant recovery process?
The aftercare of a female hair transplant procedure is important for a comfortable recovery process. Your surgeon can place a soft bandage on the donor area after the surgery to protect this area from external factors. Your scalp might feel sore and sensitive for a few days after your hair transplant operation. During the healing period, you should follow your surgeon's orders on aftercare to ensure healthy hair growth. You should avoid direct UV contact and harsh chemical to the donor and transplanted area to avoid any irritation. Also, your surgeons might prescribe you some pain medicine, antibiotics, or anti-inflammatory medicine to help with the recovery process and improve your comfort after the surgery. The recovery process tends to be quicker for the DHI hair transplant methods because this technique is a non-invasive hair transplant technique that does not involve any incisions. Usually, women can go back to their daily life without any discomfort after a few days of a hair transplant operation.
Reach us for a free medical consultation
Is female hair transplant safe?
It is quite natural if you are worried about the safety of a hair transplant procedure. After all, it is a surgical operation. Luckily, a female hair transplant in Turkey is considered a safe operation. Both FUE and DHI hair transplant methods have low operational and post-surgery risks since they do not involve any cuts or stitches. Female hair transplant in Turkey is done by experienced surgeons and their teams specializing in hair transplant. Provided that you follow the advice of your surgeon on the aftercare process, your journey to a healthy hair recovery should be safe and smooth.
Is a female hair transplant painful?
Most women shy away from hair transplant because having an operation sounds intimidating and potentially painful. If you have been feeling the same way and refraining from getting a hair transplant operation, good news, you do not need to be worried about the pain. Because both FUE and DHI hair transplant methods do not require any cuts and stitches, hair transplant operations are considered non-invasive operations. Local anaesthesia is used for both procedures to minimize the discomfort during the hair transplant operation.
DHI hair transplant is especially known to be a comfortable operation because contrary to the FUE technique it does not involve any incisions. This is why, both the operation and healing process is much comfortable for the DHI hair transplant technique. Having said that, the small incisions in the FUE technique are also known to be non-invasive and quick healing. These incisions can cause some sensitivity and redness in the donor area.
How much does a female hair transplant cost in Turkey?
The popularity of Turkey in medical tourism and qualified hair transplant experts make Turkey a great destination for your hair transplant operation. If you are planning to regain your healthy hair but do not spend excess amount of money, you might want to think about getting a female hair transplant in Turkey with Heva Clinic. Thanks to the government policies on medical tourism and currency exchange rates, female hair transplant in Turkey is more affordable than other European and North American countries. The cost of a female hair transplant in turkey ranges from $1,500 to $4,000 depending on the transplant area, desired hair density, and the popularity of your surgeon. You can reach us for the details.