Who hasn't heard of Ari Gold, the star of Entourage, who was so expertly portrayed by the skilled and animated Hollywood actor Jeremy Piven? We all know that the celeb and charisma narrative works best when the rich'n famous take care of themselves, physically and mentally, portraying their best selves for the public.
Sticking to our area of expertise, in this informative and interesting read we will be putting the Golden Globe and multiple Emmy winner Piven's scalp under the microscope to see if he is among celebrities who had a hair transplant.
Jeremy Piven Hair Transformation
Sometimes, a hair transformation is so apparent that it defies the rules of nature. In the 1990s, Piven's hair was beginning to thin, his hairline was quite high, and his forehead was a brilliant lighthouse. This has only gotten worse towards the end of the 20th century.
But then, when he landed the prestigious part of Ari Gold, the vicious agent on Entourage, his hairline mysteriously changed, his hair lengthened, and his shiny forehead was no longer the center of attention.
It's a fascinating thing, isn't it? Let's take a close look at how Piven's hair has changed over the course of his career.
When Did His Hair Loss Start?
The short answer is that Jeremy started losing his hair relatively early in his career and way before he became world-famous in the eyes of the global audience. Suffering from probably hereditary male pattern baldness, Jeremy must have been in his mid to late twenties when the first signs of hair loss started appearing.
We can confidently say this because, throughout the mid-1990s, Jeremy Piven seemed to already get thinning, weakening hair, visibly losing his hairline.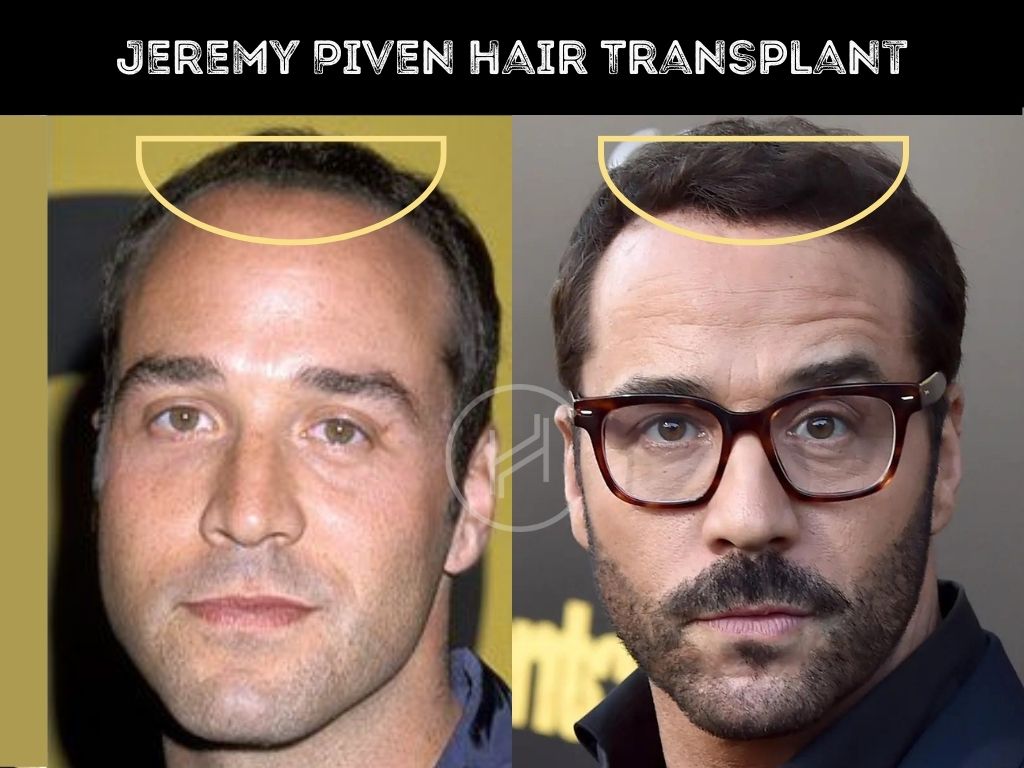 Has Jeremy Piven Had a Hair Transplant?
Jeremy Piven never acknowledged getting a hair transplant, despite the obvious difference in his before and after photos. The truth is, he is a different person when we compare his pictures from the mid to late 90s and now, as in a good way with more hair and certainly looking sharper.
Jeremy Piven Hair Transplant Scar
A long long time ago in 2010, Piven was spotted with a deep, visible scar cutting through the back of his head. He was holidaying in Hawaii when the first pictures were taken by the paparazzi. The only explanation for this scarring, based on its length, positioning, and the fact that Piven was diagnosed with male pattern baldness at the time, was that it was a scar caused by an FUT hair transplant procedure.
Jeremy Piven Before and After Hair Transplant
Despite the fact that his before and after pictures show a huge difference, Jeremy Piven never admitted to having undergone a hair transplant. The thing is; when you go all Brad Pitt hair from a very shiny, bald forehead, uhm, it's just noticeable…
We see the first changes in Jeremy's hairline in the early 2000s. His hairline then goes through a gradual transformation from show to show. There's no denying that some of it may have been hair fibers and temporary plugs among other techniques used in his movies and shows to enhance the actor's appearance.
There's also no denying that it didn't just stay there. He is highly likely to have had hair transplanted in his hairline to redensify the balding front region.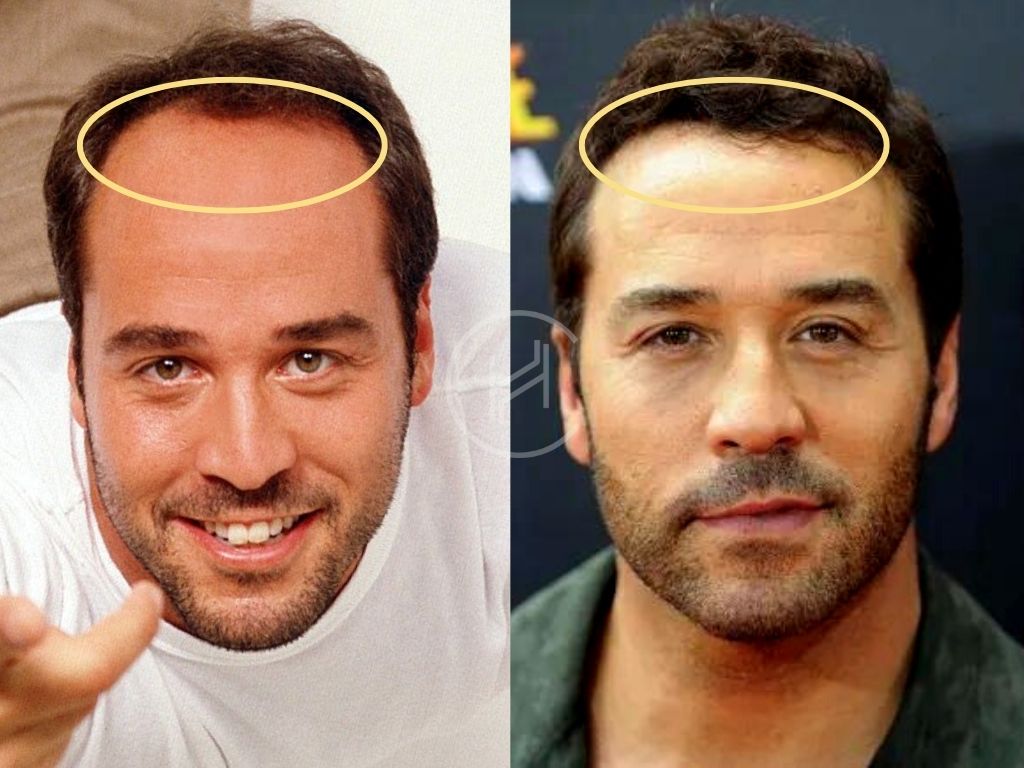 Which Technique Might Have Been Used?
Sadly, many are afraid of botched hair transplants since they might cause horrific scarring. The iconic photo of Jeremy Piven's scar taken in Hawaii has undoubtedly garnered a lot of attention.
It forces us to write that the technique was FUT and why proper harvesting procedures should prevent scars that are as unsightly as his. Even if the Hawaii event happened a while ago and hair transplant procedures have advanced tremendously since then, the scars should seem much better than they do in his photo. In fact, scarring following a hair transplant should be very difficult to discern, even up close.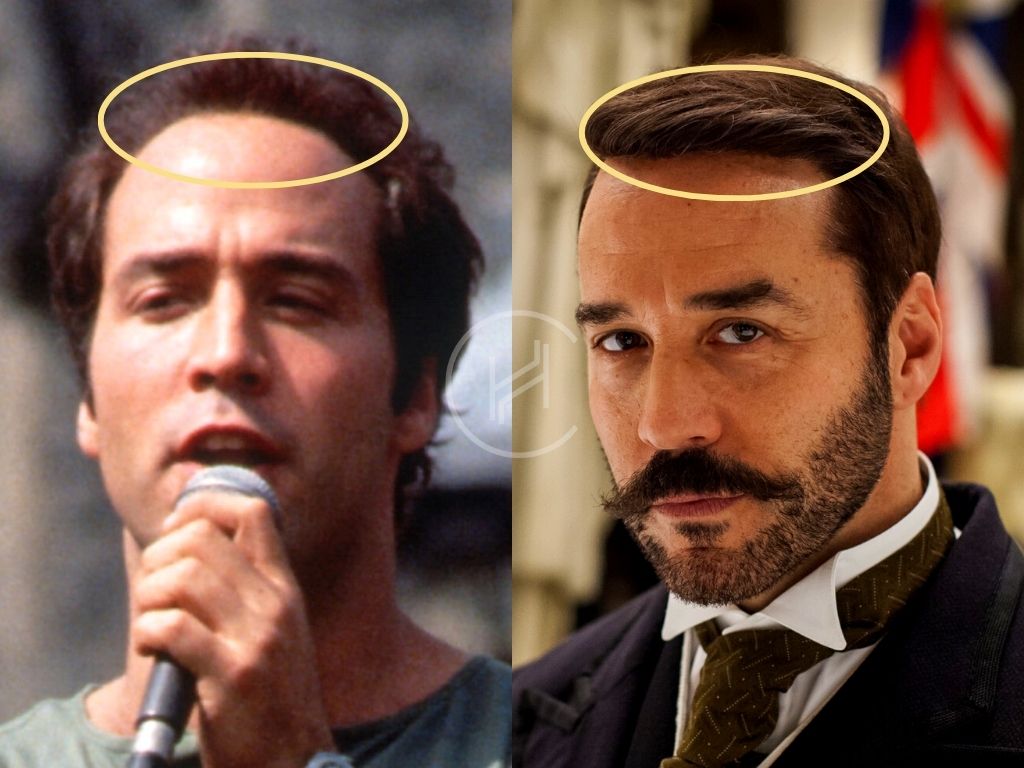 Although a different harvesting method called Follicular Unit Extraction (FUE) is more popular these days, based on Jeremy's scar we can confidently say that it is the result of what is called the FUT (Follicular Unit Transplant) or STRIP method.
The strip technique of hair restoration is slicing off a strip of tissue from the rear of the scalp, and transplanting it into bald or thinning parts of the head and this was exactly the case for Piven. Under normal circumstances, transplanted hair follicles should establish themselves fast and start to develop after a brief time of dormancy.
How Many Grafts Might Have Been Transplanted?
Talking about an individual with typical donor density, there are around one hundred follicular hair units per square centimeter of the scalp. It can be roughly calculated that a 10 cm long strip would carry around 1000 grafts.
In Jeremy Piven's case, his scar cuts through the entire back of his head almost like a baseball cap mark. When the scar pictures are taken into consideration along with the improvement on his hairline, we can comfortably talk about a 3000 graft transplant if not more.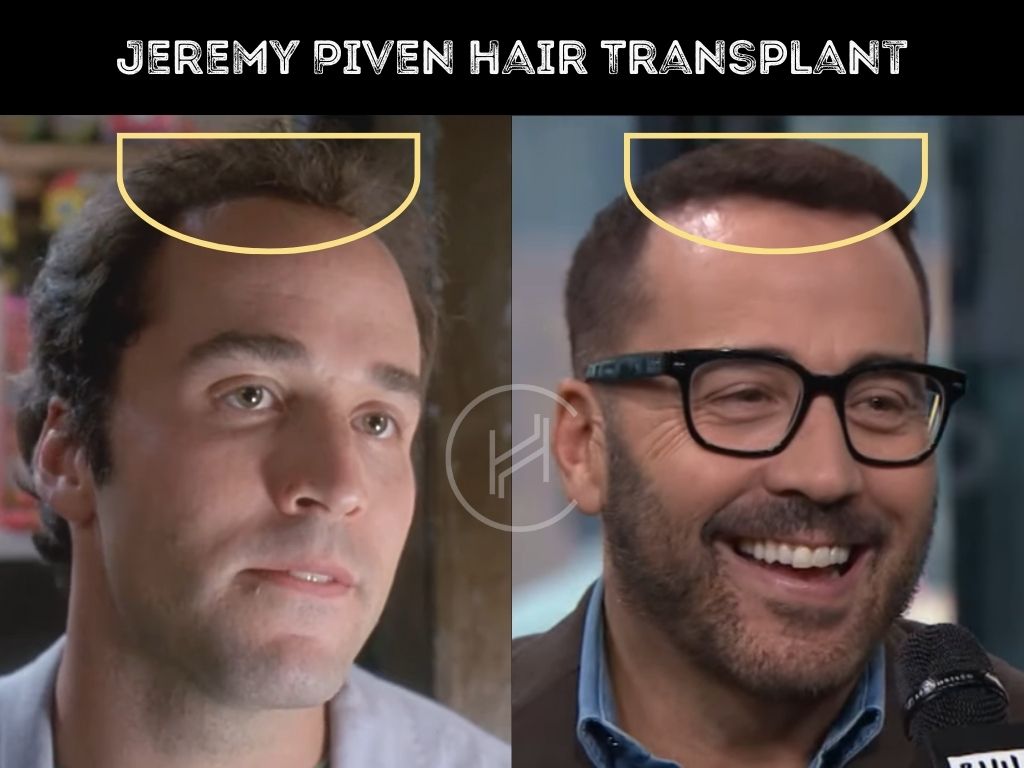 Planning To Have A Hair Transplant? Reach Us To Achieve A Better Result Than Jeremy Piven!
As we stated before, hair transplant methods and technology have come a long way since Jeremy Piven's Hawaii photos in 2010. Surgeons gained more clarity and experience in transplanting all types of hair. Performing a successful hair transplant on even the most difficult coiling afro-hair is now common practice. You just need to figure out where to go, and no it's not a pricey Hollywood surgeon…
The leading country in performing the most successful hair transplants using cutting-edge tech, and the most experienced surgeons in the world is Turkiye (Turkey).
Heva Clinic in the heart of Istanbul, Turkey is a sought-after clinic worldwide, offering top-rated customer care, the best surgeons in the industry, and even offering extra perks.
Heva Clinic has taken the standard hair transplant practice up a notch and provides international patients with a full package that includes luxury accommodation and VIP transfers.
If you are considering a hair transplant, rest assured that Heva Clinic achieved a 98% success rate while offering the best price/performance at an ultra-modern facility.
Also on offer is a completely FREE online consultation for a limited time. Book yours today!