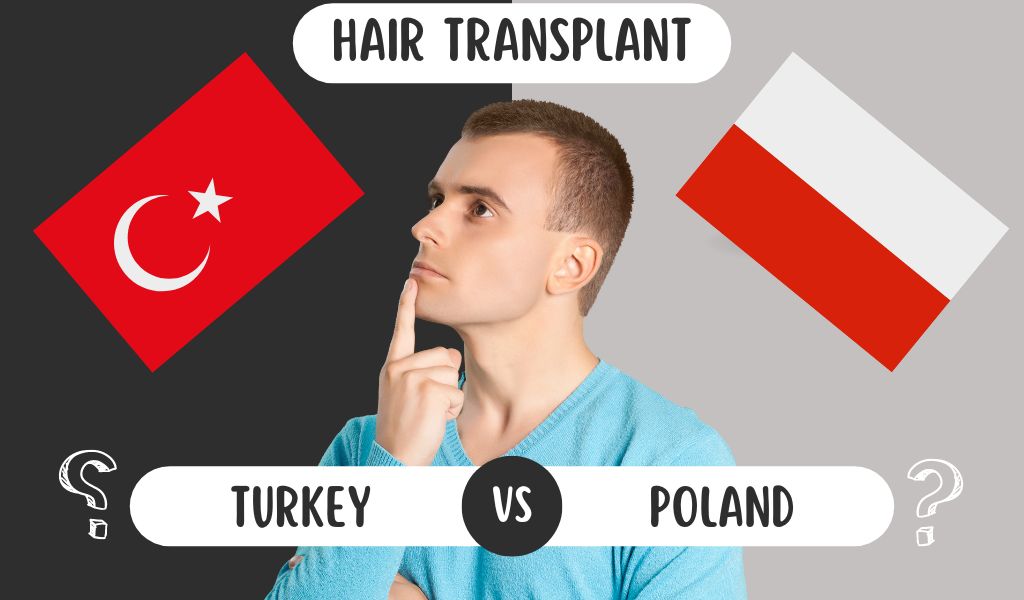 Displaying beautiful scenery, Poland is home to some of the oldest woodlands in Europe. Political history shows that in 1991, Poland made the transition from communist party control to a liberal democratic political system structured after the West. After that shift, the country modernised itself and enriched its own strong industries.
Following this brief country intro, it's important to note Poland's efforts to mark its place in medical tourism. The purpose of this guide is to help those who are looking for the best place for hair transplants. We will compare Poland to Turkey, the top hair transplant destination in the world, in terms of price, facilities, expertise, accommodation options, and travel time.
1. Costs in Turkey vs Poland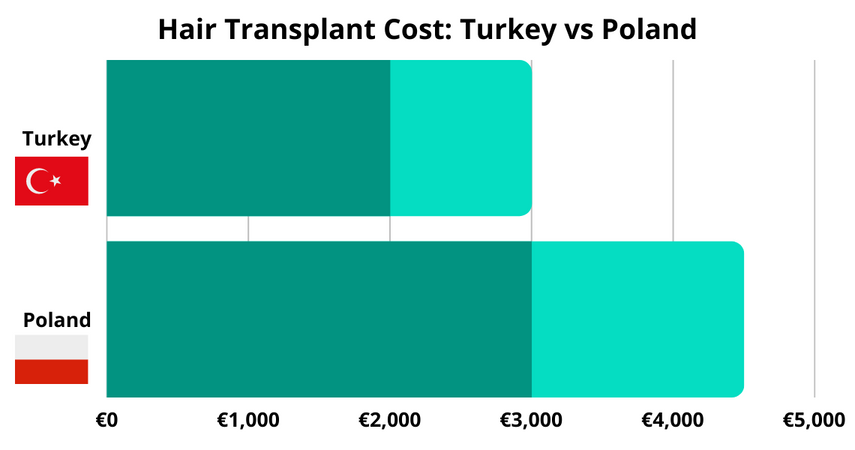 Poland joining the hair transplant revolution was in fact inevitable in that a vast majority of hair transplant patients who travel to Turkey are Polish men aged 25 to 50.
Poland is a relatively cheap country in terms of the cost of living, compared to other European nations. Turkey, almost next door a mere two hours by flight from Poland, is much cheaper though. Turkey offers additional value such as luxury hotel stays usually included in your hair transplant package is unbeatable in the world compared to expensive hotels without many options in hand in Poland.
The cost for a hair transplant only starts from $2800 in Poland averaging at $3550. Your stay at a below-average hotel per night in Poland would start at $50 with luxury hotels ranging from $450 and above.
A hair transplant in Turkey starts at $2200 at a reputable facility with a lifetime warranty. The majority of hair transplant clinics in Turkey offer international patient packages that make the hair transplant journey an unforgettable and valuable experience. These packages typically include VIP airport and clinic transfers, luxurious hotel stays, doctor consultations, pre-operation health checks, all medications, aftercare, and the best customer service in the world.
2. Surgeons in Turkey vs Poland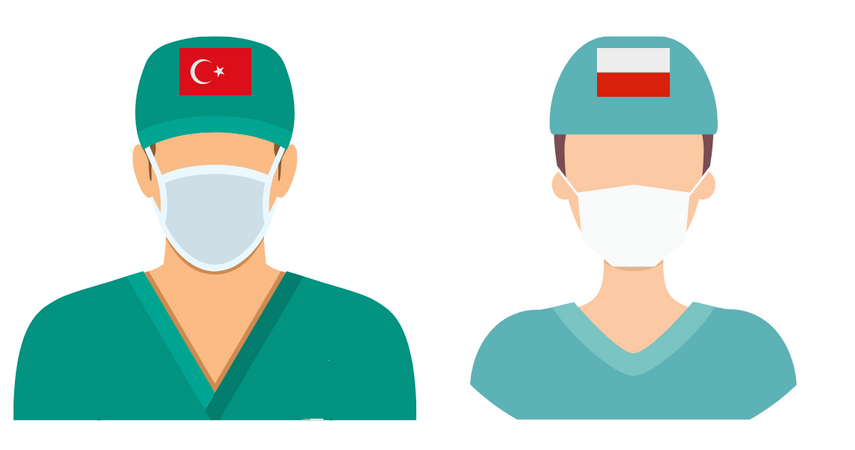 A hair transplant operation must be properly managed by qualified and experienced surgeons, just like any other treatment. Although there hasn't been much time or experience in Poland specifically related to hair transplants, it can be said that the medical institutions are reputable and the surgeons receive quality training.
Turkish surgeons, however, are unequaled in terms of talent and years of experience. Surgeons that do hair transplants oversee teams of professionals with significant experience in the collection and implantation of hair grafts of different types and genders.
3. Medical Expertise in Turkey vs Poland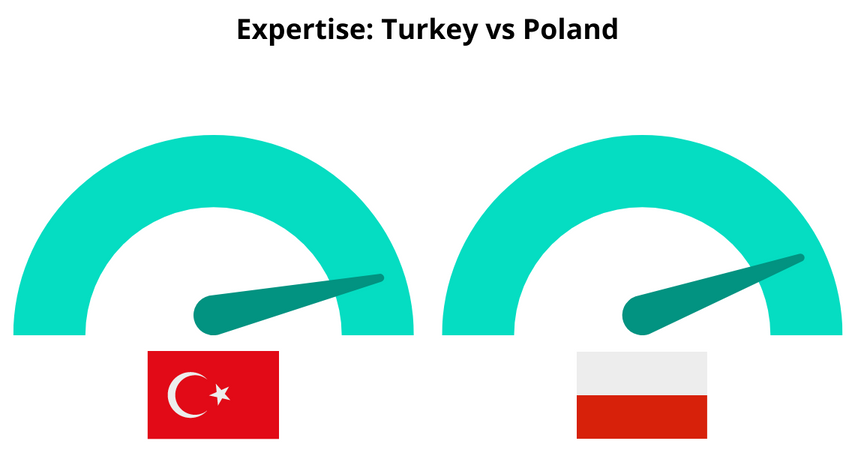 As surgeons in Turkey have extensive mastery of the subject and the ability to explain the approaches appropriate for each patient, surgeons frequently have the power to fascinate patients during their initial face-to-face appointment.
Statistics demonstrate that Poland's history of competence in the particular subject of hair transplants is constrained to that of Turkey's lengthy history.
On the contrary, international organizations and the Turkish Ministry of Health conduct thorough inspections of both clinics and hospitals in Turkey. Although both counties have high-level clinics, you have more options in Turkey.
4. Hair Transplant Results in Turkey vs Poland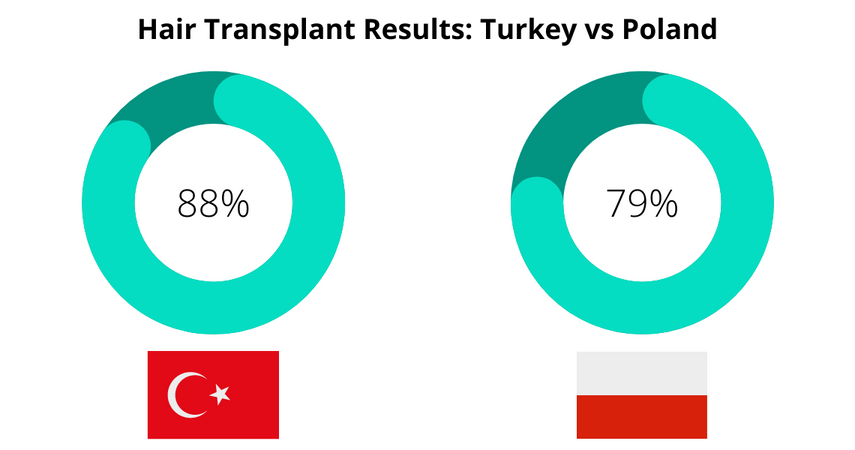 It's a good idea to ask your specialist every single concern you may have in mind so that you can grasp an idea about the surgeon's experience and aesthetic talent. You might wish to find out the following information about your surgeon: how long they have been in practice, how many hours they have particularly performed hair transplants, their license, whether they are a member of any international medical organizations, etc.
After this is all done, read the testimonials of real patients and examine hair transplant before & after results of the clinics in these countries. Opinions of real people are reliable, and you can even ask for the contact information of former clients of any given clinic to ask all the questions your heart desires.
When we look at the stats, there isn't enough data that measures the success rate of hair transplant operations in Poland. In Turkey, the same rate stands high. In terms of overall satisfaction, Turkey looks better than Poland, which could be the result of high number of operations and competitive market.
5. Safety in Turkey vs Poland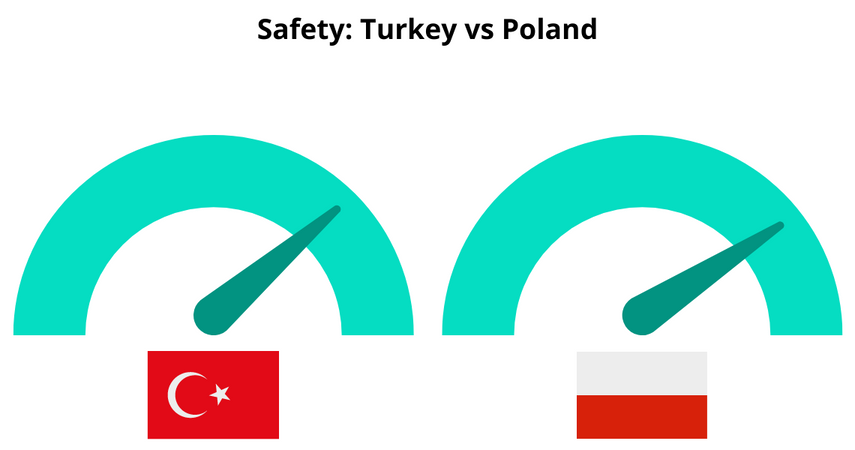 Depending on the cities one chooses to visit for the hair transplant, both nations are ranked fairly similar in terms of security and criminality. Country-wise, Poland is slightly safer than Turkey however city-wise they look equal. Krakow and Istanbul, for instance, have both comparable crime rates that range from moderate to low.
Turkish people are known for their friendliness and may approach tourists to ask if they need any help to get around, just out of courtesy and their culture of hospitality. In Poland, the same will happen but you may need to approach for help by yourself.
6. Tourism in Turkey vs Poland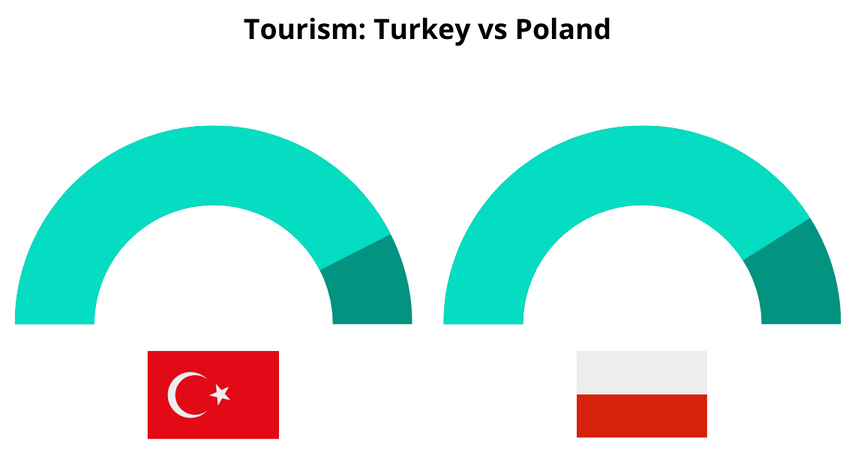 Offering beautiful natural scenery and adventure walks in the countryside and mesmerizing tourists with amazing old structures and buildings in the cities, Poland's tourism is mainly based around Krakow, Warsaw, and Gdansk. The world's oldest salt mine and bicycle tours are also popular tourist attractions in the country.
Back to the statistics, Turkey still stands as the 6th most visited country in terms of tourism while Poland ranks number 18.
7. Traveling to Turkey vs Poland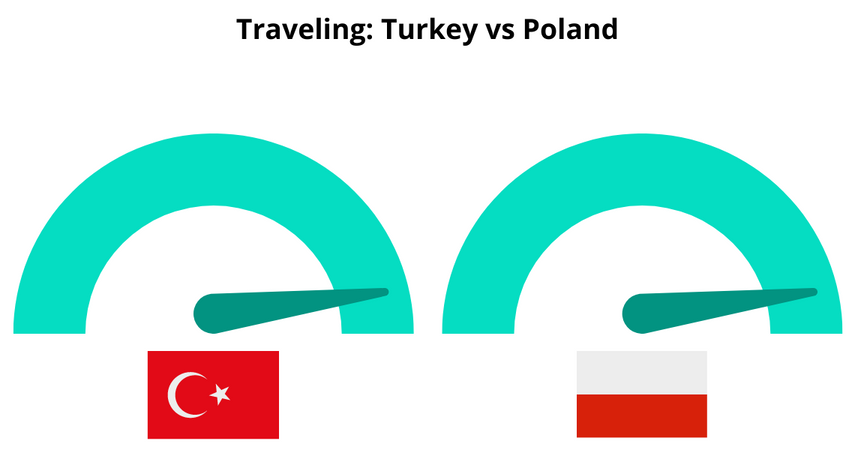 Both nations are easily reachable by air, road, and rail. Depending on the country that you'll be taking your flight, you might need to transit in Turkey, Germany, the UK, or Netherlands to reach Poland.
Istanbul is probably only one flight away from wherever you are in the globe thanks to Turkish Airlines' largest fleet in the world, which offers direct flights to 267 foreign destinations in 125 countries.
Conclusion
Despite the fact that both countries are reputable from a hair transplant procedure perspective, Turkey tops the list when it comes to pricing, luxury accommodation options, VIP transfer inclusive packages, cuisine, and overall attractiveness of the country.
As a result, wherever you search, the information leads to Turkey as the most reliable destination for the highest quality hair transplant. Offering highly skilled medical professionals, excellent client care, and the most economical operations supported by lifetime warranties in the majority of high-quality facilities are all found in Turkey.
It's always important to remember that the clinic, not the country is the most important variable for the success of your hair transplant journey.